Surely you know LinkedIn, the largest networking platform for professionals. But did you know that a few years ago the company decided to focus more on education and bought a well-known MOOC (Massive Open Online Course) provider Lynda.com?
Fast forward to today, and we see that LinkedIn Learning is now considered one of the best e-learning platforms with more than 16,000 business, creative and technology video courses for beginner, intermediate and advanced level students.
What is LinkedIn Learning?
LinkedIn Learning is a learning platform online that enables professionals to achieve their career goals and aspirations by acquiring new skills or propping up existing ones through a self-paced learning experience.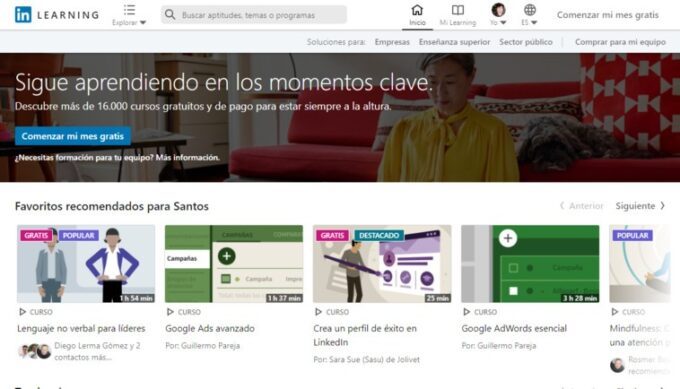 Lynda.com, the industry leader in online education, was co-founded in 1995 by Lynda Weinman and Bruce Heavin. LinkedIn acquired Lynda.com in April 2015 at a cost of $ 1.5 billion.
In September 2016 LinkedIn incorporated the Lynda.com courses to the LinkedIn platform, as 'LinkedIn Learning'. Until recently, content was published simultaneously on both platforms. Now all Lynda.com courses are on LinkedIn Learning.
The course library is updated weekly and covers a wide range of business, creative and technical topics, from leadership "soft skills" to programming. Each LinkedIn Learning course is made up of a series of small videos that can be viewed in sequence or individually.
LinkedIn can use data to make course recommendations to its members, and courses can be viewed anytime, on any device, online and offline. At the end of each training, learners receive certificates of completion that can be added to a LinkedIn profile with just one click.
Learning you can trust
LinkedIn Learning offers in-depth courses and short video tutorials, making it easy to learn at your own pace. The courses are designed for people who want to learn new skills or expand their experience, and organizations looking for a training source for their employees.
One of the key benefits of LinkedIn Learning is that you will only find one course per subject.
Each course is thoroughly researched and produced prior to launch. Each course instructor is selected based on their real life experience and subject matter expertise and a course is created through collaboration with a team of top producers and editors.
Students can follow the instructors on LinkedIn and submit questions and answers and comments on the course to make it a truly interactive learning experience.
How much does LinkedIn Learning cost?
LinkedIn Learning is a subscription service, which means that, for a fixed monthly fee, you get unlimited access to all the courses in the library. Even some free LinkedIn Learning courses They are free and can be accessed by any LinkedIn user.
LinkedIn Learning Premium subscription costs $ 29.99 per month, which is less than what some online learning websites charge for a single course. And if you opt for an annual subscription, you will get a discount of the 17% and pay only $ 299.88 for the whole year, which means you will get 2 months free.
You can also buy individual courses on LinkedIn Learning. This could be a good option for people who want to train in a specific subject.
Nothing better than lifelong learning
The world moves too fast not to be in a constant state of learning.
When I graduated from Graphic Designer in 1998, there was no Facebook, Twitter, Instagram or LinkedIn. By this I mean that many of today's students will have jobs that don't exist yet!
LinkedIn's goal is to connect the world's professionals to make them more productive and successful, so it makes sense to have a learning platform to complement personal profiles, company pages, and other elements that make LinkedIn the networking platform. number one for companies.