Millions of professionals interact on LinkedIn every day. One of the first steps that many users take when interacting with a company or another user is to access the LinkedIn profile or page to obtain information. For this reason, maintaining an optimized and complete profile is essential for you and your company.
Benefits of having a Professional LinkedIn Profile
When someone searches for people, jobs, companies, or groups, LinkedIn provides the most relevant results based on the following:
Professional Identity.
Your Network of Contacts.
The way people in your network interact on LinkedIn.
If you don't think it's necessary, we invite you to read this interesting testimony; What I got from a good LinkedIn profile
How you benefit, if you have an optimized profile.
As a marketer, you can use LinkedIn to network and advance your career. Whether you are actively looking for a
new position as if you want to make the most of your current position:
Make sure your profile is set up to maximize exposure and engagement.
Add multimedia content, such as videos and infographics, to offer visual resources to those who visit your profile.
How your company benefits, if you have an optimized profile.
An optimized profile can increase the visibility of your company and its content in search results, both on and off the web.
Search engines like Google scour pages and URLs for keywords, and LinkedIn profiles offer numerous
opportunities to include them, for example:
At the LinkedIn URL and other URLs that you list on your profile.
Charges and descriptions.
Links to the content you include.
In an age when anyone can post recommendations or advice on social media, it is important to build credibility.
- Heidi Bullock, Chief Marketing Officer, Engagio
Tips for give more strength to your LinkedIn profile
Get the most out of your LinkedIn profile with these three expert tips: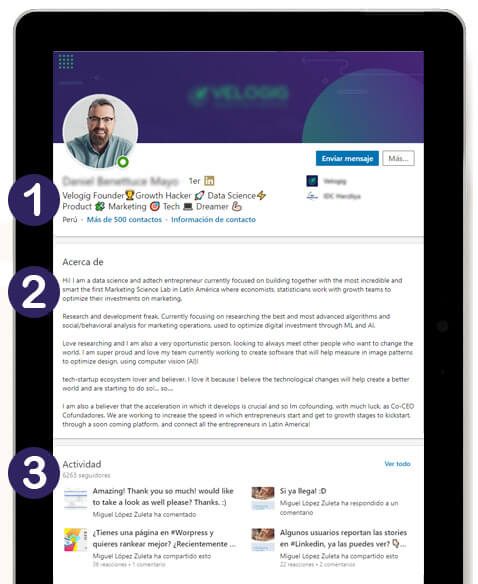 Write a headline that is instantly recognizable. Synthesize your specialty or focus, and support the professional brand you are nurturing. For example, Katie Martell describes herself as someone who "tells the truth about marketing."
Write an excerpt on the profile that supports your goals. Consider the excerpt as a quick presentation and use it to describe your purpose as a professional.
Create a seamless discovery experience for those who visit your profile. Use multimedia content, including presentations, videos you helped create, web pages you authored, and campaigns you designed, as proof of your professional knowledge and experience.
Take advantage of advantages of posting on LinkedIn
Get noticed by your peers and write your own posts to interact with like-minded professionals. By posting on LinkedIn, professionals have the ability to share their knowledge with the world.
Every day, millions of posts, videos and articles cross the LinkedIn feed, generating tens of thousands of comments every hour, and
they are shared and recommended tens of millions of times.
Make your content stand out through multimedia material. Engaging content goes a long way towards reaching the right audience, so we make it easy for you to create posts that will grab your readers' attention.
Add hashtags to make content discovery easier. To help the people you care about most find your content in search, always add relevant hashtags. The use of hashtags will guarantee that, when users search for information on a certain topic or a specific event, your article will appear among the options offered.
Research shows that when people receive information, probably three days later they only remember the 10%. However, if the same information is accompanied by an image
relevant, they retain the 65% of the information three days later. "
- Brain rules, by John Medina
Benefits of long-term posts on linkedin:
The content you post is attached to and becomes part of your LinkedIn profile, positioning you as an expert and thought leader.
You can create a continuous communication strategy with the management team, experts and employees, delivering your message with credibility and authenticity.
Your posts can be spread across popular topics and recommended to a much larger group of users.
Observe the results obtained and make adjustments if necessary
With audience insights on your mobile device, you can easily understand who sees the posts you shared and the articles you wrote. Just by tapping "I" on the LinkedIn mobile app, you will find information in real time about the publications you shared and the articles you wrote, being able to get to know the public better:
In which companies do they work?
What positions do they hold?
Where they live.
How they found your post.
With this information, you can better understand if your post optimization was effective in gaining visibility with the right people. In addition, this information offers a simple access point that will allow you to:
Get in touch with relevant people for your sector.
Start conversations that will increase your productivity and your professional success.
I hope this post has been useful for you to establish new work and / or professional relationships on LinkedIn.