Today, not having an internet presence and the digital world is simply not an option. 
And having the correct marketing communication channels represents not only good news for your business, but also for your customers, and for your pocket!
Read on to find out how SendPulse it can be the best option to solve all your marketing needs from the same platform.
What is SendPulse?
SendPulse is an all-in-one communication platform that will allow you to connect with your customers, potential customers and followers at the right time and on the channel of your choice. 
And what does this mean?
Well, some of us prefer to have businesses contact us via email, others still prefer SMS text messages, others web push notifications, etc. And what SendPulse offers you is the opportunity to communicate with your customers through their favorite channel or channels (including but not limited to the aforementioned examples) from the same platform.
SendPulse benefits
SendPulse has quickly become the best option for SMB owners and entrepreneurs thanks to its great benefits such as:
Automations:

You can schedule all your campaigns to be sent to your contacts at the right time without having to be chained to your desk to send them manually.

Segmentation:

It is not the same to address an audience of older adults than a child audience, right? That is why SendPulse has the tools so that you can send campaigns that are as relevant as possible to your contacts.

Personalization:

Nobody likes to feel like one of the bunch, that's why we have tools so that you can address each of their followers by name and based on their interests.

A / B tests:

There is no exact formula to achieve a successful marketing, however the tool of

SendPulse A / B Testing

It is excellent to experiment and define which is the most favorable version of our campaigns.

Subscription forms:

SendPulse allows you to design and implement your own subscription form to collect data from your new subscribers and automatically add it to your SendPulse lists.

Easy to use interface: 

SendPulse's interface is very friendly and easy to understand even for those who are still beginners in the world of digital marketing.

Technical support in your language:

With SendPulse you can receive the support of our

technical team

in Spanish via email and chat (and also by phone for our paid plans). We also have

tutorials

,

Blog

and

knowledge base

in multiple languages.

And of course, the greatest benefit that no other online service offers you: The possibility of combining more than one marketing channel on the same platform. What do you think if we explore what these channels are in more detail?
Multichannel marketing
E-mail service
In accordance with Statista, 49% of consumers have shown interest in receiving promotional emails from their favorite brands on a weekly basis. And it has also been shown that email marketing yields very high percentages of return on investment.
SendPulse allows you to create personalized campaigns for your clients either using one of our predesigned templates or one template created by yourself in our convenient drag and drop editor which is very easy to use.
You can also schedule your shipments so that they reach your customers on the right day and time and you can use the tools of segmentation, personalization and A / B testing that we mentioned at the beginning to make your emails as relevant as possible for your followers and thus guarantee the most optimal results.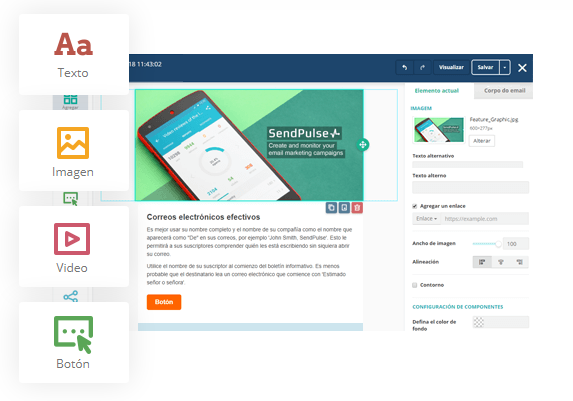 And of course, once your campaigns have been sent, you can review the statistics Detailed information that we have for you so that you will know how to optimize your future shipments so that the results are better and better.
We also have the ability to send transactional emails with which you can send automated campaigns according to the actions taken by your customers within your website, such as emails from welcome, give account updates or orders, make reminders of an event or a abandoned cart, etc.
Web Push Service.
The web push notifications They have quickly become a great option to invite your followers to return to your website. It's a great way to keep your customers informed about the latest brand news, special offers, order status, or other important events.
Once your subscribers sign up, you can start sending campaigns with web push notifications from SendPulse that are compatible with all browsers, tablets and smartphones with access to Google Chrome, Firefox and Opera.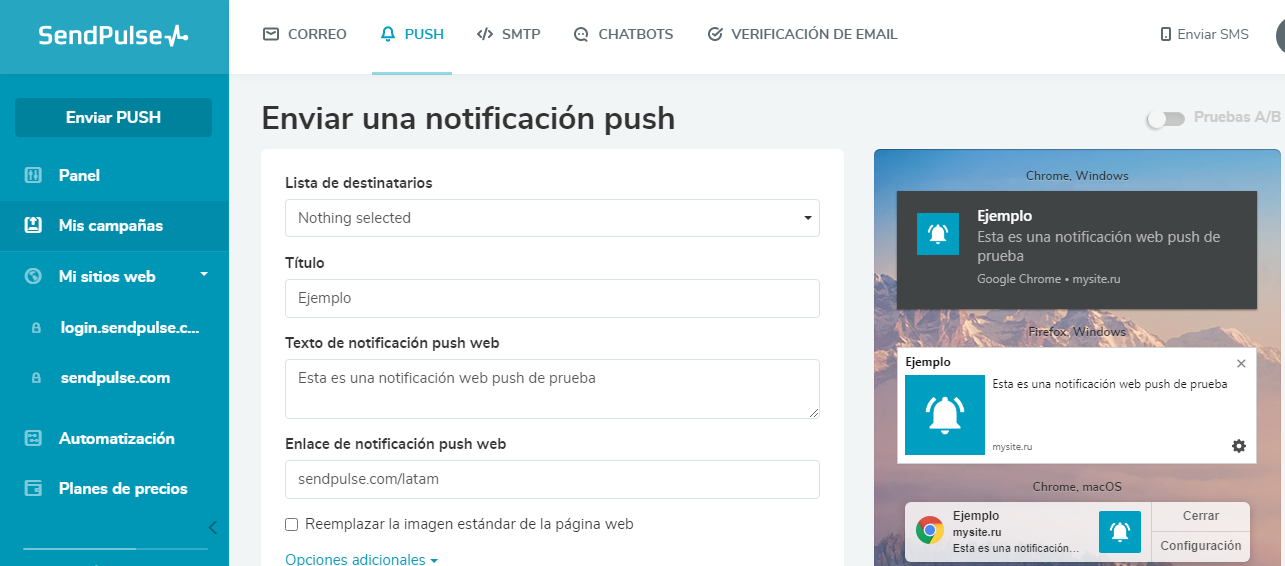 And in addition to having access to the tools we mentioned before segmentation, personalization and A / B testing you can also start monetize your website allowing advertisers to promote their products and services with web push. 
Facebook and Telegram chatbot
What hours do they open? What is your phone number? How much does that product / service cost? Don't waste any more time answering these kinds of generic questions and redirect your staff to take care of more complex and urgent issues with the help of a bot to Facebook Messenger I for Telegram
Currently users expect a practically immediate response from the businesses they contact, and this is where the usefulness of the chatbot. You can configure automatic response flows to greet your customers and solve their doubts easier to answer, flows to help you close sales and even accept payments with integrations to systems like PayPal.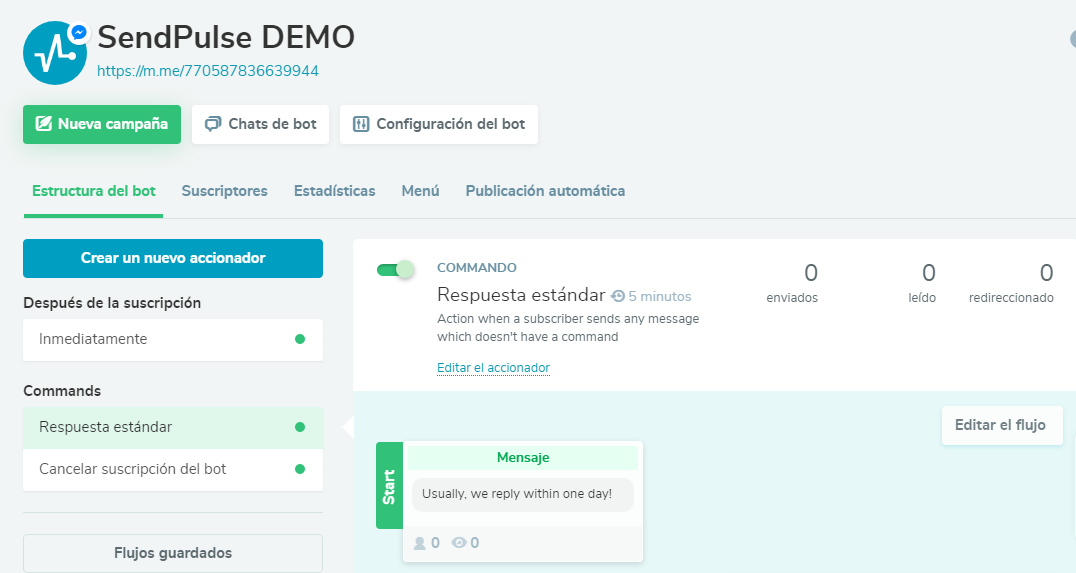 SMS service
Believe it or not, there are many users who still like to receive updates from brands through messaging SMS. This allows you to reach your customers even when they do not have an internet connection and that translates into open rates. quite high.
With the SendPulse service you can send SMS campaigns to more than 1,000 mobile network operators in more than 200 countries around the world. The shipping fees are quite accessible, deliveries are fast and you can also create campaigns SMS transactional based on specific actions of your customers on your website (reminders, updates, etc.) 
And of course you can make use of the aforementioned tools of segmentation, personalization and A / B testing and to consult all reports of complete results.
Channel combination
As we mentioned at the beginning, one of the greatest advantages of using the SendPulse service is that you can combine all these services to create much more complete multichannel marketing strategies, which will translate into much more optimal opportunities to achieve your goals in a period of time. shorter time than estimated.
We invite you to explore in more detail all the benefits of the 360 automation SendPulse and take a look at all integrations that we have available so that you forget about sending your campaigns manually and focus on continuing to grow your business to the fullest.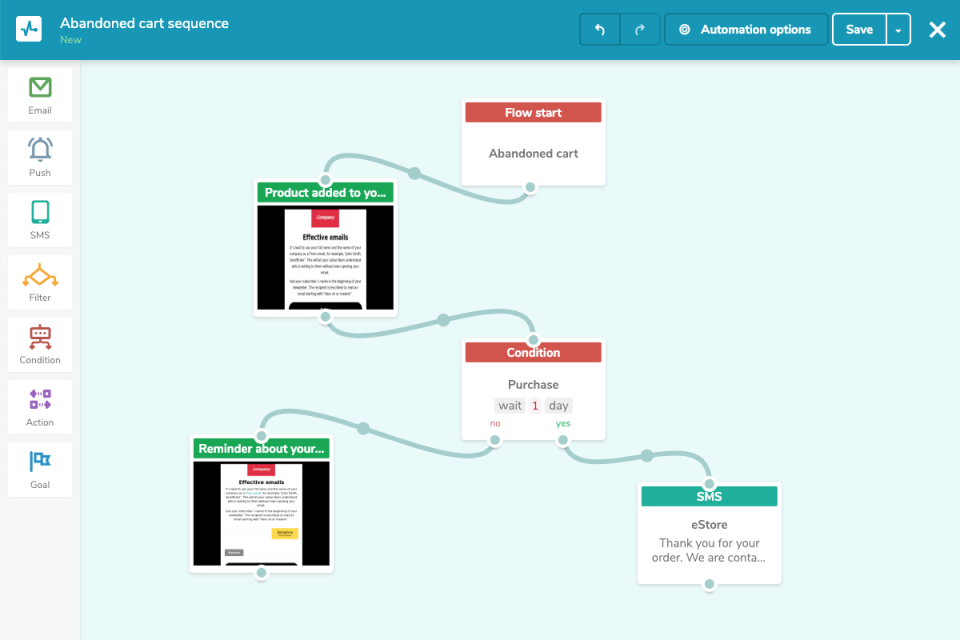 How about? Ready to take your business to the next level?Sign up free on SendPulse today and start exploring!