Data collection and monitoring
The first and foremost thing that HubSpot Marketing Hub does for you is data collection and tracking, which means that you can track user activity on your site and link directly to your contacts in the free CRM using cookies.
So instead of blindly flying and making decisions based on user behavior assumptions, HubSpot gives you measurable and actionable marketing intelligence.
For example, let's say someone fills out a form on your website to download a research report that you created. If you are using HubSpot, a contact record is immediately created in the CRM. From there, you can see which pages they have visited, which calls to action (CTAs) they have clicked on, and how many times they have visited your site and when: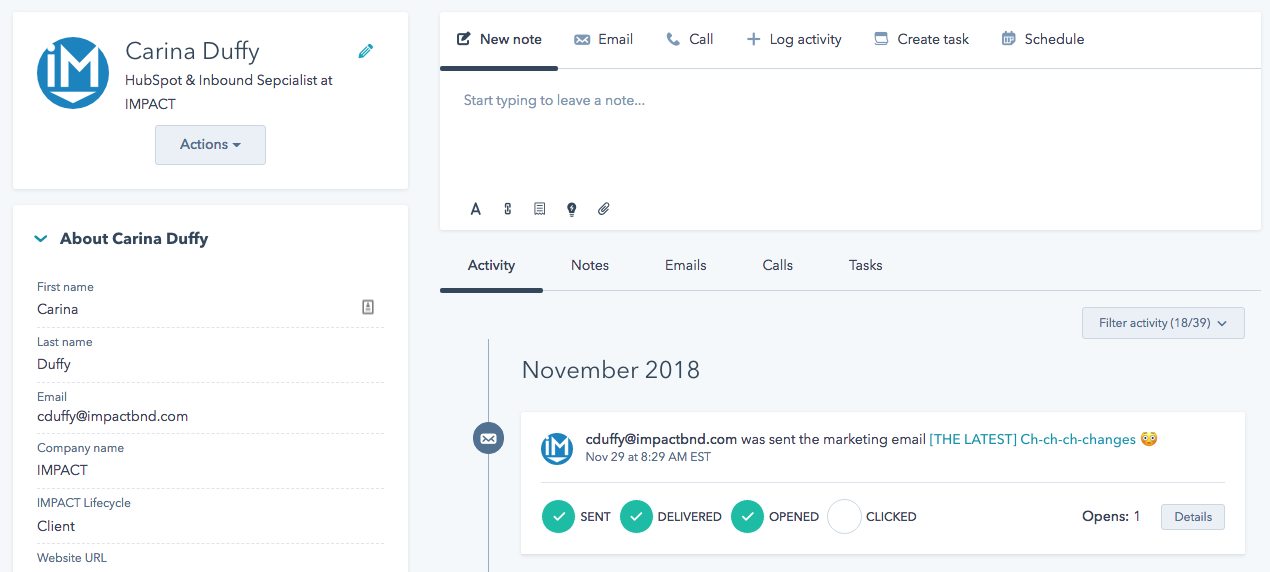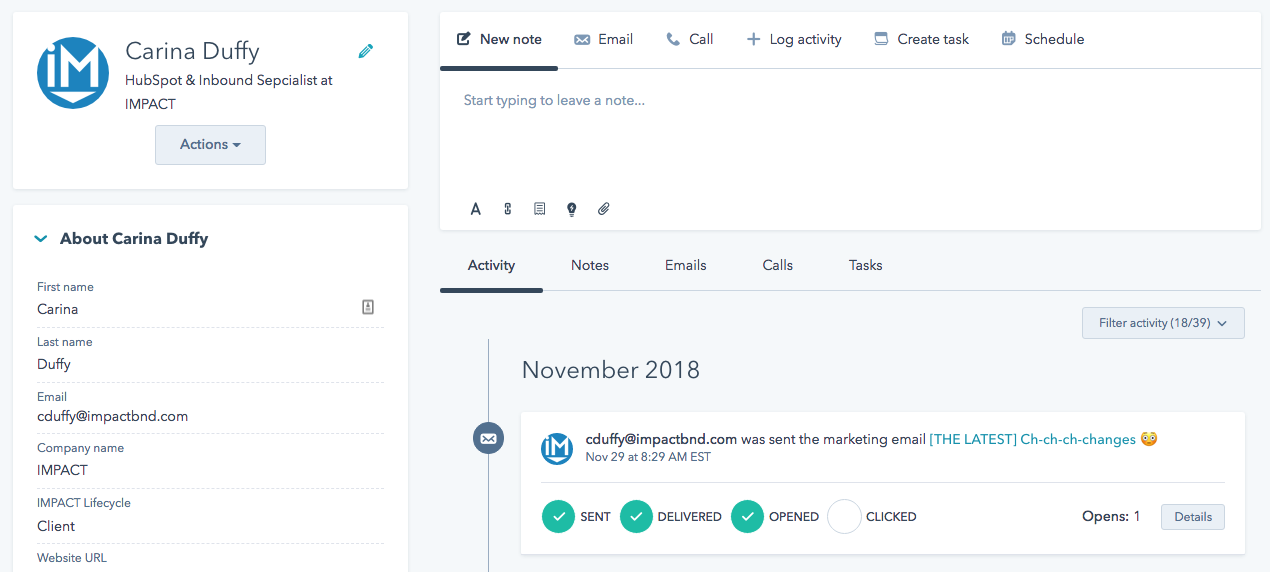 The meat and potatoes of what HubSpot does for you is built on that foundation: If you can see how your contacts have engaged with your brand, think of all the strategies you could create to better market to them.
With HubSpot's marketing tools, you can use the data you've collected from your contacts to do things like set up automatic interest-based email parenting campaigns or implement smart CTAs that change based on a visitor's location or personality.
And think about the intelligence a sales rep will have at their fingertips: They'll know someone is already interested in a website redesign if they've viewed or downloaded a business website redesign guide. (The older brother is always watching!)
In essence, HubSpot enables you to effectively automate marketing activities that spend unnecessary time on manual execution as a marketer, so you can spend more time on the most important activities and strategies.
Our Favorite HubSpot Marketing Features
The depth of functionality of the HubSpot Marketing tools depends on your subscription level. If you're looking for more specific information on what the different levels of HubSpot Marketing include, we've covered you in chapter three.
For now, here's a breakdown of the top HubSpot features that are included in any subscription level, including free:
HubSpot's "Forever Free" CRM
This is where your contacts are stored and managed. When you use HubSpot, any contact who gives you their information goes directly to the CRM, where you can view their individual contact record, see a timeline of their website activity, and see the contact properties that you have filled in for them.
Form creator
With the form builder tool, you can easily create and embed HubSpot forms to capture lead information that is once again recorded in the CRM. With the free and starter tools, you can even capture lead information from non-HubSpot forms.
Live Chat
With HubSpot's conversations tool, any level user can put live chat on their website and track those conversations within the CRM. You even have access to a universal inbox where you can track and monitor a team's email address.
Reporting Dashboards
Want to see if the marketing strategies you are executing really work? With HubSpot's reporting tools, you can create dashboards with the reports that matter to you and even send each other weekly report emails.
And if you get all of that free , you can imagine how much more you get with the paid levels of the tool. Here are some of the great added values of getting a paid HubSpot subscription:
E-mail
Blog
Landing pages
Work flows
Custom reports
Prospects valuation
Smart content
HubSpot Video
I must emphasize that this list is only scratching the surface of what HubSpot's marketing tools can do. (But don't worry, I'll dig into HubSpot's full capabilities throughout this guide.)
Common problems that HubSpot Marketing solves
"I just got into this inbound marketing thing, but I don't have the tools to do it."
HubSpot's marketing tools along with all of its HubSpot Connect partners will give you more than enough to get started with inbound marketing. One of the best things about HubSpot is that it grows with you - you can get wet with free tools, and as you grow in your inbound marketing efforts, you can scale your investment in HubSpot as needed.
"We don't know if our website is effective or if our inbound marketing strategies are working."
With HubSpot's traffic analytics tools and reports, you'll know exactly how your website is performing and your strategy over time, with clear visibility into critical marketing metrics like traffic volume and sources, and conversion rates.
In fact, virtually every tool in HubSpot has a built-in reporting feature, allowing you to see overall picture performance and analytics, and drill down into reports on individual pages or assets like forms, calls-to-action, and emails. .
"We don't know what content is being made and why."
HubSpot's page performance analytics break down your traffic and conversions for each page on your website. This means you can see how each individual page on your site performs over time, and see which pages are driving the most conversions.
"We have no idea how incoming contacts get to us and why."
This is where it gets really good. Any potential customer who comes through one of your HubSpot forms or live chat conversation will have a contact record telling you where they came from, what form they filled out, CTAs they clicked on, any pages they viewed, and more.
In HubSpot, you can segment your database based on any contact properties you've collected, such as the number of page views or specific URL visits.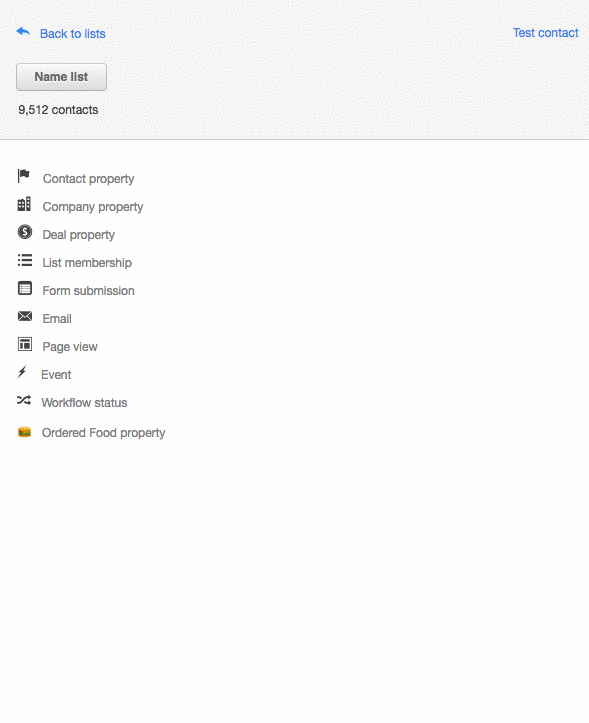 Cool right?
You can then use that targeting to enroll contacts in lead nurturing campaigns. Or you can even show them different content on your site using HubSpot's smart content tools.
"We don't have time to follow up on every entry we have."
Another piece of good news here: you can do a lot in terms of scoring and prioritizing your leads in HubSpot. When you do it right, you can free up a lot of time by automating follow-up with leads who aren't fully prepared yet and easily spot the leads you should focus on with more personal and individualized contact. points.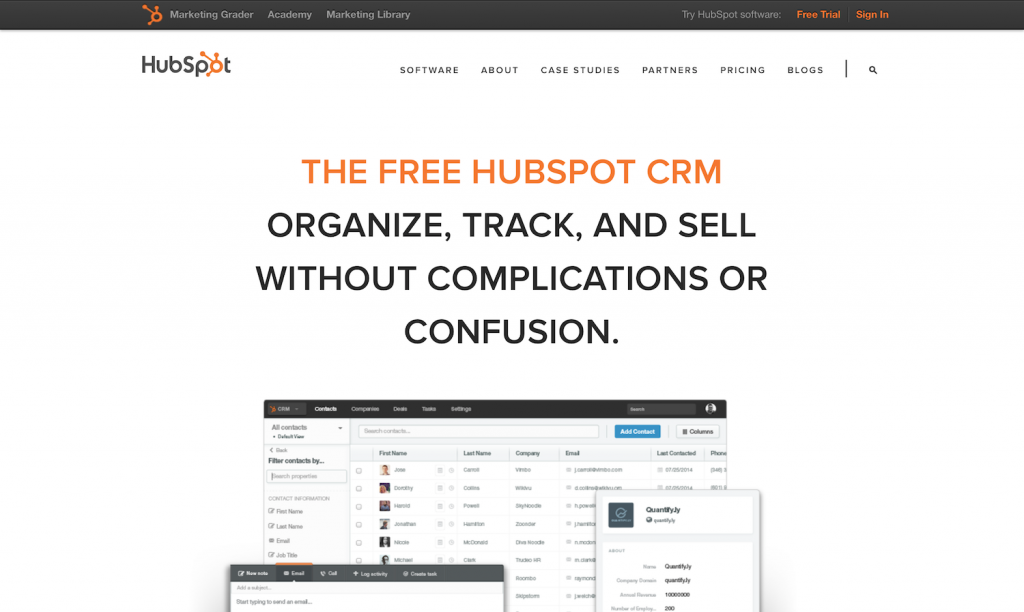 Should I be using HubSpot Marketing for my business?
So, you have heard of this new HubSpot and the incoming. Everybody keeps telling you that you are going to solve all your marketing problems and generate tons of business.
Still, you're not sure: should you dive into the sprocket-shaped pool?
Well, before you swipe your card, let's talk about what you need to know about HubSpot before you buy, and most importantly, who it is. and to who is not HubSpot.
What's the big deal with HubSpot?
Simply put, HubSpot is a tool that enables you to better execute your content and inbound marketing strategies. (Duh, we just talked about a bunch of cool things you can do with HubSpot in the previous chapter.)
But there are three big reasons why HubSpot has generated so much noise :
HubSpot changed the digital marketing game when they popularized the term "inbound marketing"  , and since then they have had a mission to make the world more "incoming."
HubSpot is not just a marketing platform , it is also a sales and service platform. Although the Marketing Hub was its first product, HubSpot has created a robust Sales Hub and a new Service Hub that your entire head office can start using.
HubSpot was initially created for small businesses, but since then his team has expanded platform capabilities to an enterprise level . Again, as your business grows, HubSpot can now grow with you.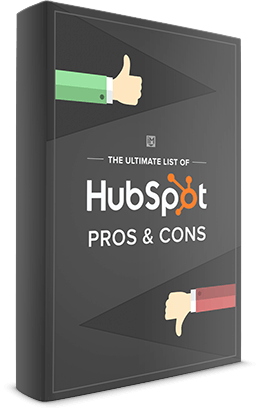 You are a good fit for HubSpot if ...
The more we help organizations implement HubSpot Marketing tools, the more we realize that there are common threads in the most successful teams.
You have a team member dedicated to inbound marketing
It's fine if you are a small organization and that person has other responsibilities, but you need to have someone who is ultimately the owner. When someone on your team owns their success with Inbound and HubSpot, they put momentum behind their team to overcome any hurdles, try new things, and keep growing with the tools.
You have time to learn and stay updated
HubSpot is not a static product - you don't just learn the tools once and it's good to start from there. Almost every time I go into the tools, something has changed - sometimes it's a change in UX, other times it's an added (or removed) functionality. There are also tons of HubSpot certifications, with more near-monthly or quarterly deployments, to help you learn the tool and master incoming best practices.
That's part of what makes the HubSpot platform so powerful. But if you're not ready to continually learn the tools, you will quickly become frustrated with all the changes.
You have a small to medium marketing team
As I mentioned earlier, HubSpot was initially envisioned as a solution for small businesses - it's only in the last few years that they have expanded the product for use by mid-level and enterprise organizations. That means it's ideal for small and medium-sized businesses with an agile marketing team looking for a solution that can grow with them.
You are not a good fit for HubSpot if ...
Of course, we've also seen shared traits among organizations struggling to make the most of HubSpot's stack of growth tools.
You don't have someone who "owns" the tool on your team
Buying HubSpot without having someone on your team take care of it is like buying a limo to drive you places but never hiring someone to drive it. You need to give one individual or team the responsibility for using the tools successfully, or else you'll end up letting the tool collect dust while everyone worries about their other responsibilities.
You are not ready or willing to grow with the tool
Once you really dig into HubSpot, it's easy to get addicted: I know from first hand experience . It won't be long before you realize how much you could be making if you had a higher subscription level. Not only that, but as your entry strategy grows, you will likely find that you don't have the ability to implement everything that should be in the tools.
Simply put, if you're not prepared to grow to higher subscription levels, or at least grow your marketing team, you'll be stuck with tools.
You have complex or legacy processes and large teams
While it is still possible to implement and be successful with HubSpot if you have complex processes or a business-sized marketing team, you will need to be flexible and expect that there will be some limitations and that you need to adjust some of your processes to fit the tools.
If this seems to you, I'm not saying that you should definitely avoid using HubSpot Just do your due diligence to make HubSpot fit your team first.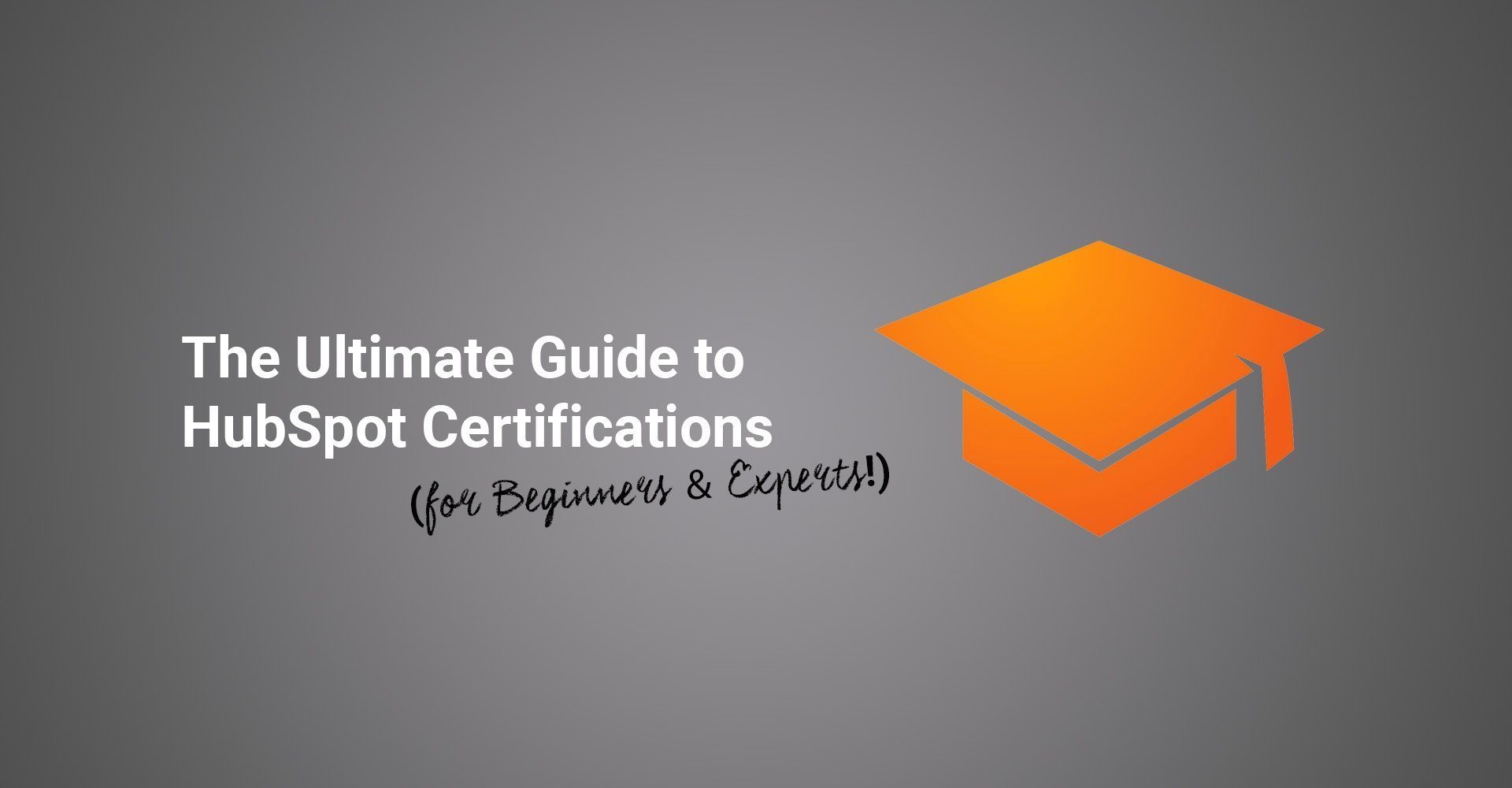 HubSpot is not your inbound marketing strategy
Above all else, HubSpot is a great choice for marketers who are passionate about inbound marketing and need the right toolkit to execute their inbound strategies. Getting started with HubSpot Marketing Hub won't make you a great inbound marketer, but great inbound marketers will get great value from the tools.
Make sure you're taking the steps to get buy-in from your entire team first, and avoiding the mindset that buying the tools will do the marketing for you. Ultimately, HubSpot will only be as powerful as your strategy and your commitment to using the tools.
Think of HubSpot as your complete toolbox and grow your business like building a house. Having all the tools you need to build your home will only take you so far. You need blueprints and plans. You need a goal and you must know how use really tools.
There's a lot of work to do outside of just owning and using the tools to be able to build an amazing house that does what you want it to do: keep warm, house your video games, make your family feel comfortable.
Likewise, there is a lot of work to be done outside of HubSpot if you want to be successful with it. Therefore, before you start using the tools, you must first understand and accept that HubSpot is not your entry strategy. Next, you need to come up with an entry strategy that your entire team agrees on. And finally, they'll work together to brainstorm how HubSpot can drive your strategy forward.
"How Much Does HubSpot Marketing Cost?"
Depending on the level of HubSpot Marketing Hub you choose, you will have access to different features. Unfortunately, it can be difficult to quickly understand what you do and don't get at each level of the pricing page. We won't get too far into weeds here, but we will go over the great added value for each one.
Please note, however, that the HubSpot pricing model can change quite frequently, although sometimes those changes are minor and may not affect you. We will make sure to come back and update this section whenever there is a change, but be sure to check  the HubSpot pricing page  if you have any question.
To hold! This is something that most people don't realize: when you start paying for HubSpot (Starter or higher), you pay for the number of contacts in your database, and once you disconnect a contact level for a cycle billing, can not go back out.
Starter and Pro have 1,000 contacts included, and Enterprise has 10,000 contacts included in their monthly price. On top of that, you pay for every 1,000 additional contacts, and the amount you pay for every 1,000 contacts can vary depending on how many contacts you have - the more contacts you have, the lower your price for every 1,000.
HubSpot Marketing Pricing: Free, Starter, Professional, Enterprise
Free HubSpot Marketing ($ 0 / month)
In the first chapter, we listed the main features of HubSpot's free tools, but here's an important thing to know about HubSpot's free tools: all of them. Assets you create on HubSpot will be branded HubSpot .
For example, all of your lead streams will have a bar on which it says: "Still not using HubSpot?"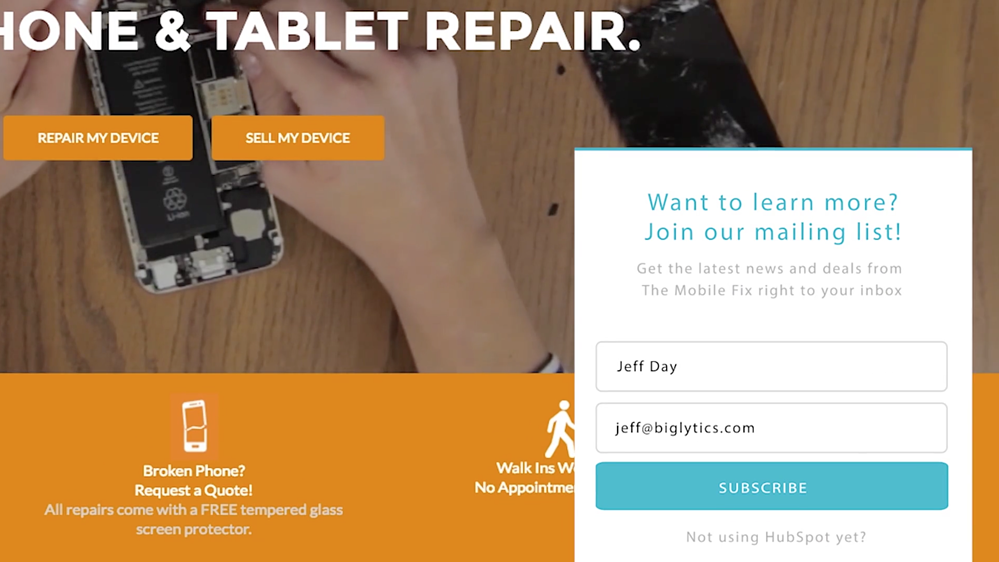 Photo credit: HubSpot
May be thinking "But is it really free?" The answer is yes. Really is.
However, if you're really serious about this inbound marketing thing, and you have the bandwidth on your team to push yourself to be successful, free tools just aren't going to cut it for long.
HubSpot Marketing Starter ($ 50 / mo)
Compare HubSpot Marketing Free vs. Starter comes down to one thing: email, email, email.
Marketing Starter gives you full access to HubSpot's email marketing tools, including a drag-and-drop editor that makes it easy to create things like newsletters or promotional emails. When you move to Starter, you can also start segmenting your database with HubSpot's Lists tool: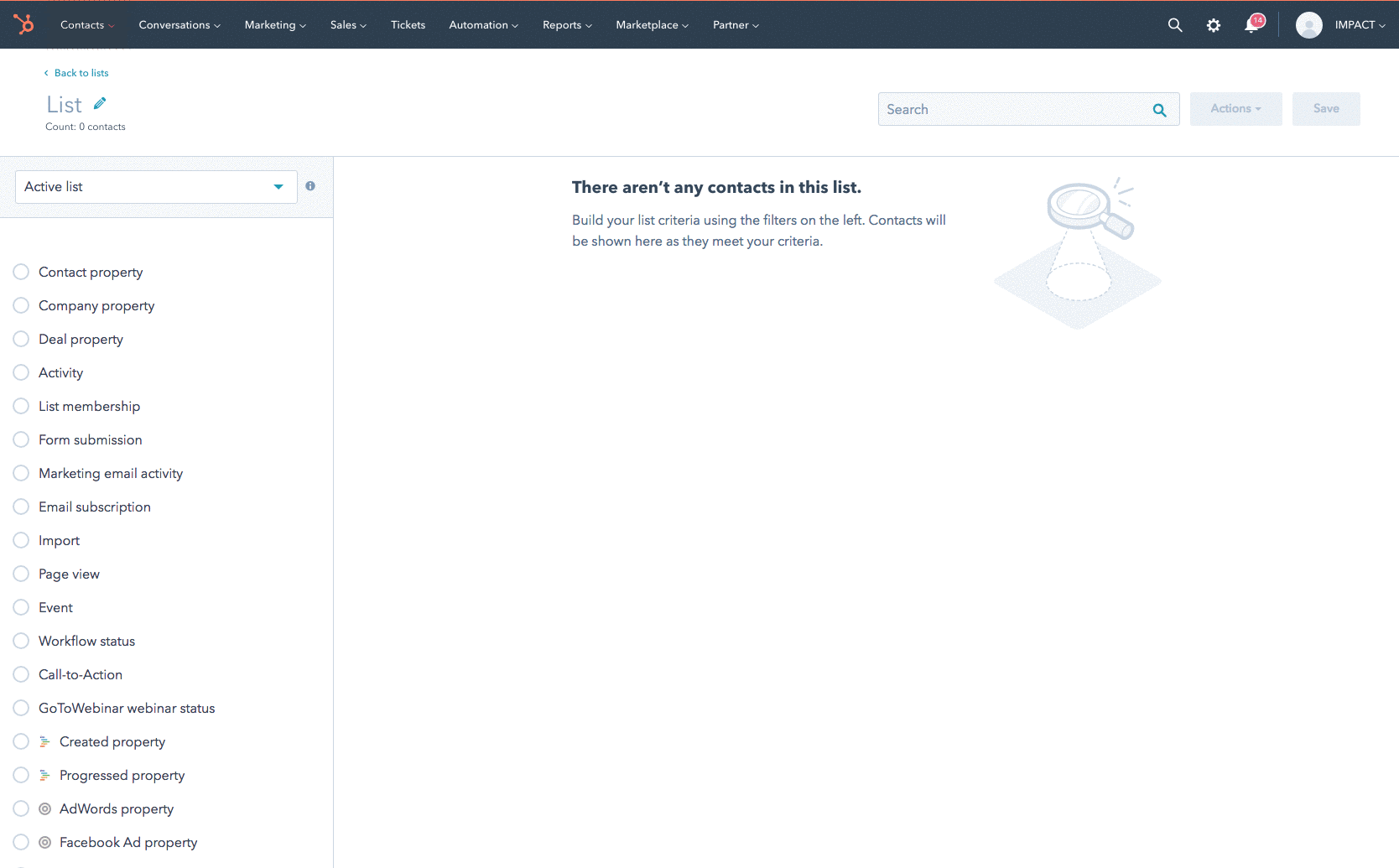 You'll also remove the HubSpot brand from all of your assets, so you don't have to worry about distracting people with promotions for HubSpot tools.
To break it down, this is what you get with Starter that you don't get with Free :
Email marketing (including email optimized for mobile devices);
Lists;
No HubSpot brand; Y
1,000 contacts included.
Remember, once you access a paid version of the tools, pay for every 1,000 contacts . So once you exceed 1,000 contacts in the CRM with HubSpot Starter, you will have to pay $ 20 / 1,000 contacts in addition to your normal monthly fee.
Once you reach 10,000 contacts in the CRM, it will drop to $ 10 / 1,000 contacts and will continue to decrease as your database grows.
HubSpot Marketing Professional ($ 800 / mo)
This is where it gets really good. While the free and starter tools are a great place to start for anyone just getting started with the entree, HubSpot Marketing Professional is for the serious inbound marketer . Professional-grade tools are where you can really start automating your processes, creating and tracking content on the HubSpot platform.
Here's an overview of the good stuff ...
Content tools
Blogging
Set up a blog for your website in minutes with HubSpot's turnkey blog template or a template from HubSpot's Template Marketplace, and start creating and publishing blog content. You can also create custom templates that are better suited to your needs.
Landing pages
No where to put your HubSpot forms to collect leads? Use the landing page tool to create template-based landings and thank you pages for content offers, reviews, and other conversion opportunities. The tool makes it easy to insert custom forms, create automated follow-up emails, and more.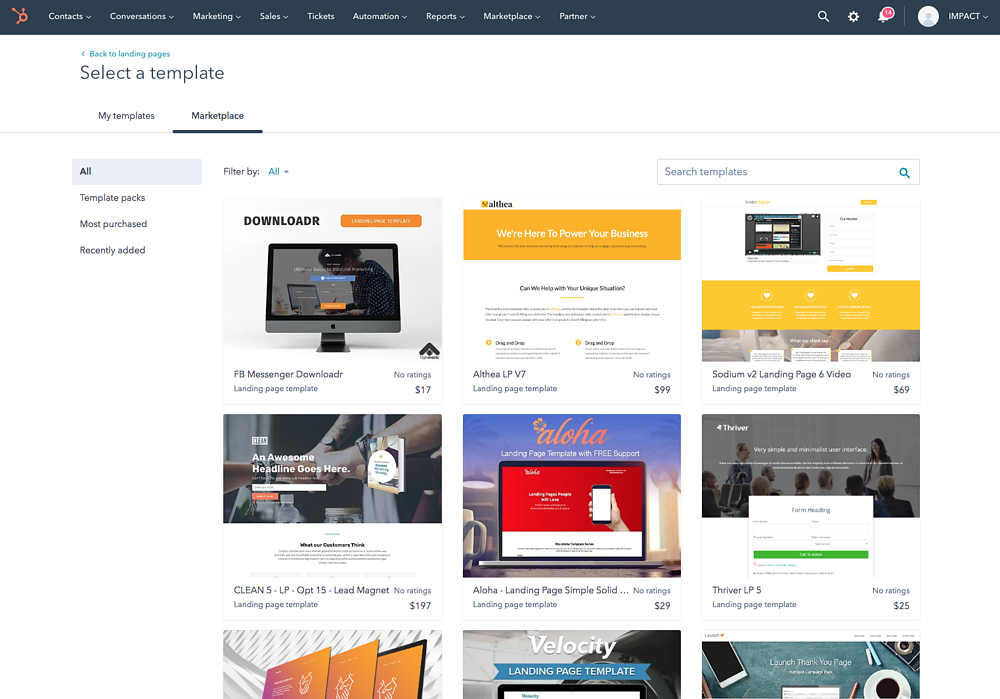 Like the blog tool, HubSpot provides default templates, as well as a marketplace where you can buy pre-made templates for your landing pages, as shown above.
Content strategy (SEO)
Creating a blog and landing pages aren't the only things you'll need to do to have a successful content strategy. That's why HubSpot has built-in search engine optimization tools and content strategies to help you map your content and analyze whether or not it's optimized for search engines.
(Please note that this tool will be renamed from "Content Strategy" to "SEO" sometime soon).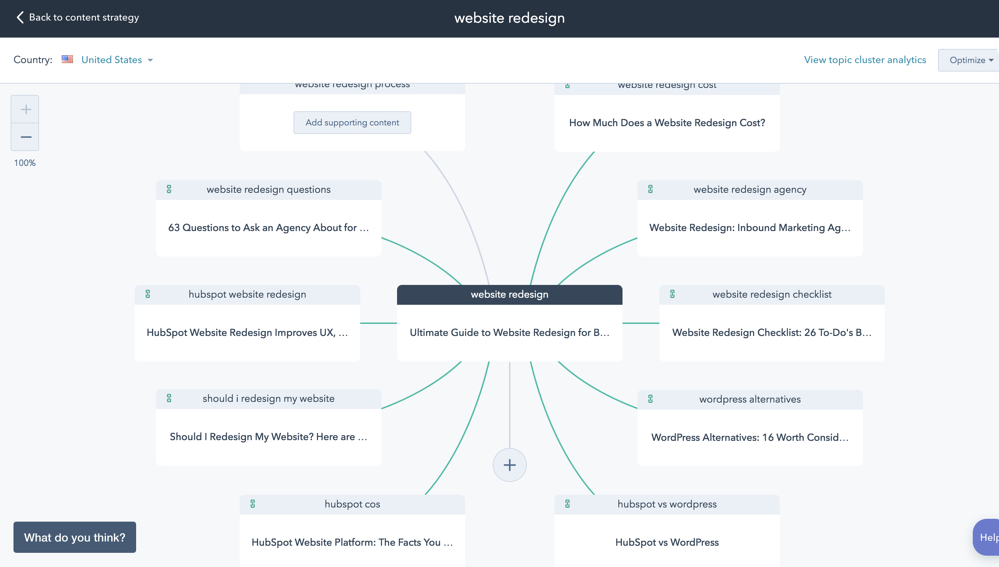 HubSpot's content strategy tool took the place of its now-defunct keyword tool. For those curious, the marketers were initially scared by this change, because many of them trusted it. It was a good move though, as the keyword tool was no longer terribly effective or representative of how marketers needed to think about their search strategies.
Social media
Tired of managing all your social accounts separately, on each native platform, or worse yet, disconnected social marketing automation platforms that don't speak to anything else? (Who is not?)
HubSpot has native social media tools for scheduling and posting to Facebook, Instagram, Twitter, and LinkedIn. You will also be able to monitor engagement on your social posts and analyze how your social media marketing efforts are performing with social reporting.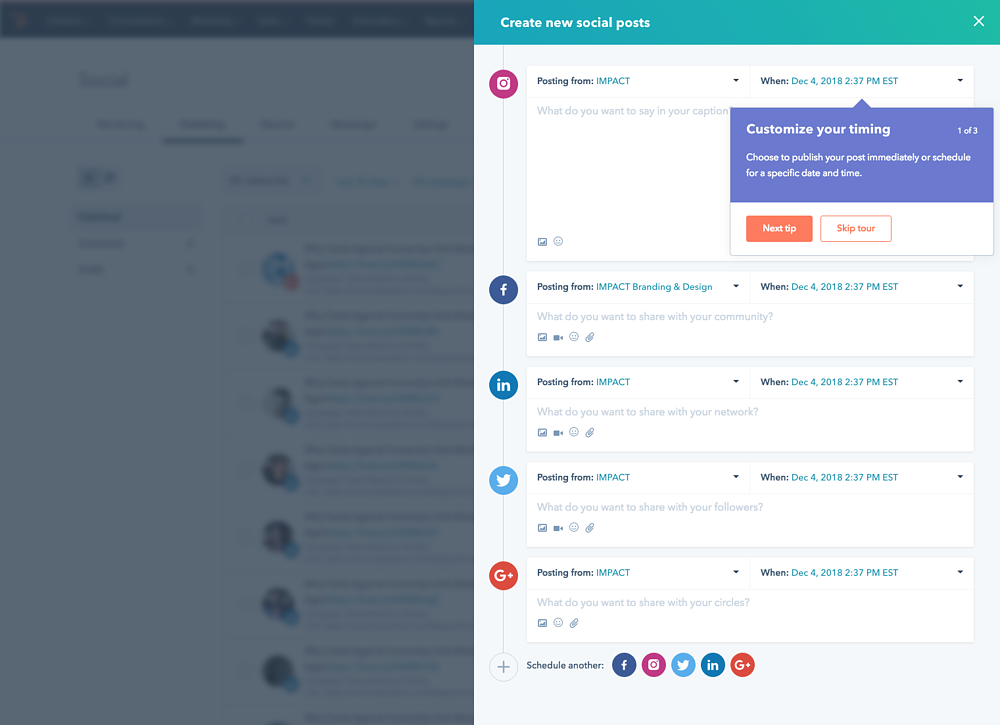 One of my favorite social media features in HubSpot is the bulk scheduler, which is exactly what it sounds like. For example, you can create a spreadsheet with as many tweets as you can imagine, and then upload them all together to HubSpot at the same time, rather than entering them manually.
So if you're looking to spend less time scheduling individual posts, these tools will save you a lot of time.
Calls to action (CTA)
How do we get people to turn to our website once they are there? Call to action!
A CTA can be a simple hyperlink or linked image, but with HubSpot's CTA tool, you can track views and interactions with those items and connect them to specific contacts or contact lists. This not only helps you optimize the CTAs themselves, for example you can test A / B CTAs, but it also collects valuable data to segment your database.
To create a conversion opportunity in this article, we incorporated a HubSpot CTA that directs people directly to the landing page for that specific service offering.
Another cool feature is that you can create smart CTAs. That is, if someone has already viewed and converted a CTA, you can display an alternative offer for that person:
The CTA tool in HubSpot illustrates why it is not enough to invest in the HubSpot tool, if you want to see results. You also need to invest the time, effort, and manpower it takes to create an inbound strategy that really works.
HubSpot Video
We all know that video is a big problem in digital marketing, and for good reason. Fortunately, HubSpot Video (powered by Vidyard) makes it easy to integrate video into your strategy.
You can host up to 250 videos on HubSpot and easily embed them on any page hosted on HubSpot:
When you embed videos on your HubSpot pages, you can see how many views each video has and how long viewers are watching: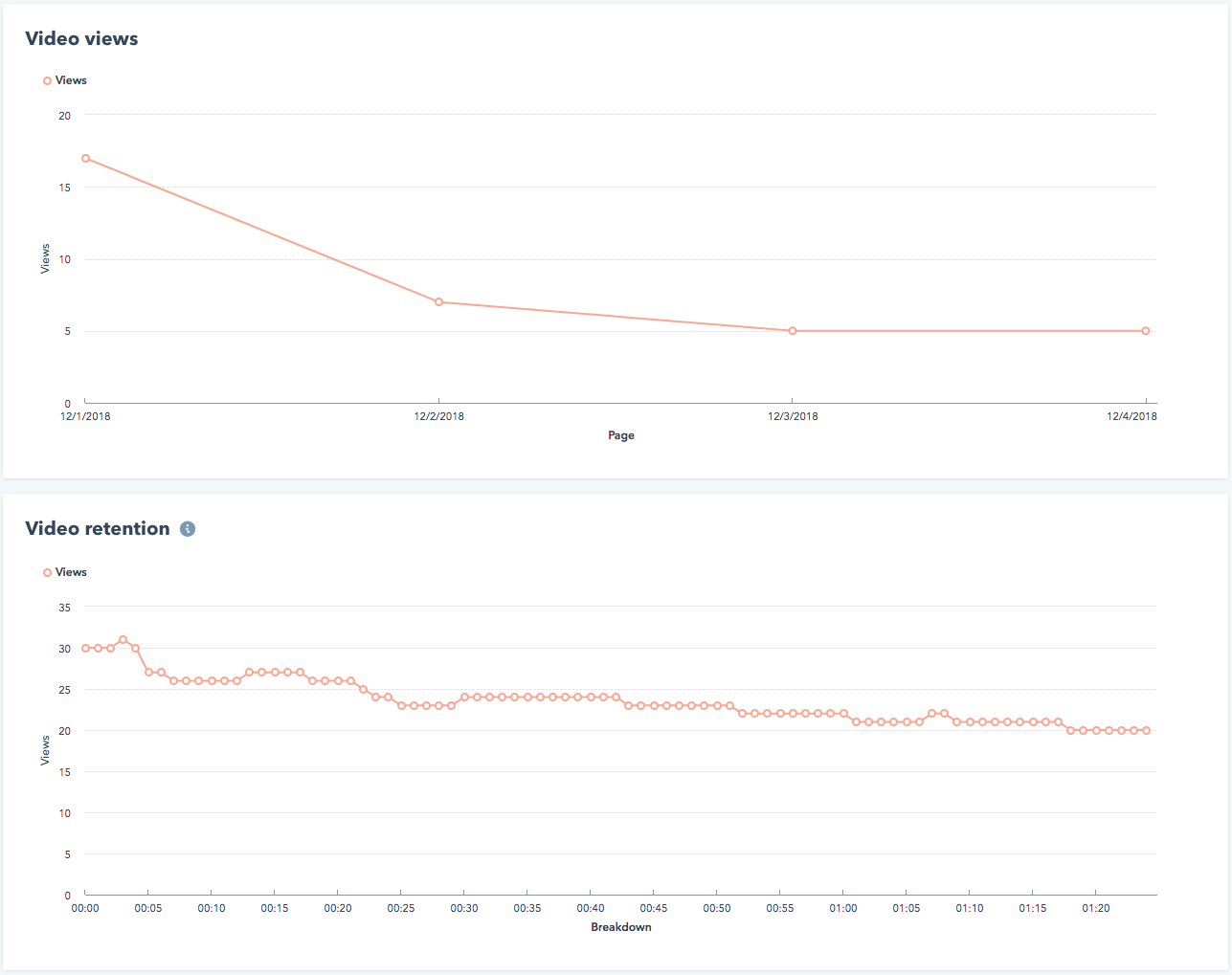 You can also insert simple CTAs and forms at the end of your videos, so your videos aren't just eye-catching ways to humanize your content and increase engagement, but they're also conversion opportunities.
SSL certificate and subdomains
On the technical side, you need to make sure that all the pages on your website are secure and that your domains are linked.
With HubSpot Professional, you get a standard SSL certificate for any domain you've connected to your portal, and you can set up a subdomain for content types or site areas. For example, we have our agency services site pages hosted as one consistent website on a subdomain: agency.rmarketingdigital.com.
Automation and optimization tools
Work flows
Did I mention that this is where it really gets good yet?
The Workflows tool is the engine that will run your marketing automation efforts. With workflows, you can automate things like email tracking, parenting campaigns, internal notifications, list segmentation, and well, just about anything you can think of!

But what makes workflows Really powerful is that you can also use them to manipulate data. Do you want to mark a contact who has downloaded a specific offer as a Qualified Marketing Leader? There is a workflow for that. Do you want to designate which buyer person a contact is based on the actions of the website? There is a workflow for that.
Also, do you want to set goals in your workflows? You're lucky.
Creating effective lead nurturing campaigns isn't easy, and it can be difficult to track their success. With HubSpot, you can not only create workflows to nurture your contacts based on specific criteria, you can also set and track goals for those enriching workflows .
Smart content
Change the content displayed in your emails, CTAs, and HubSpot-hosted pages based on contact-based variables such as lifecycle stage, country, or list membership. This allows you to get hyper-targeted with the content that you are showing to your audience.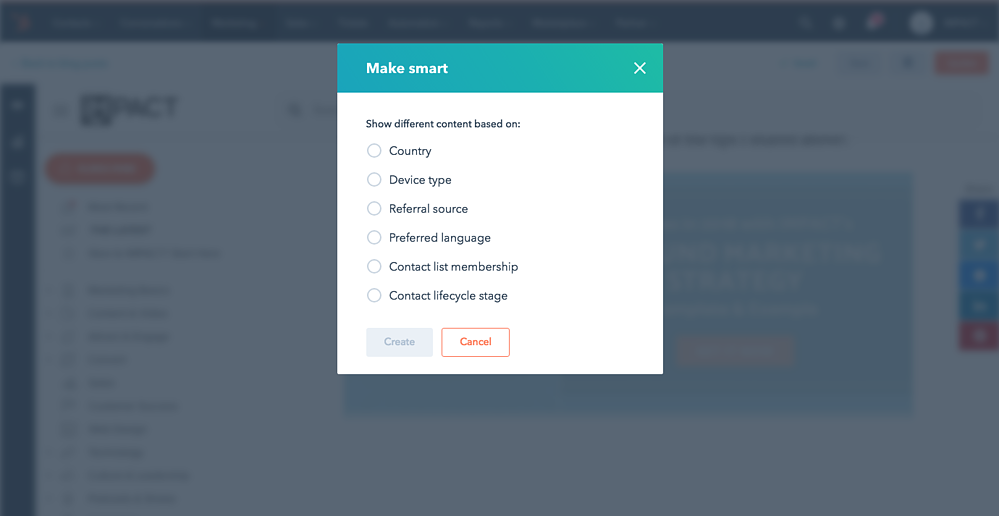 A / B test
Testing is the key to continuous improvement. With HubSpot's professional tools, you can create A / B tests of your website, landing pages, and emails, based on tons of different variables. You can even perform tests multivariate (think about A / B / C / D / E tests) from CTA.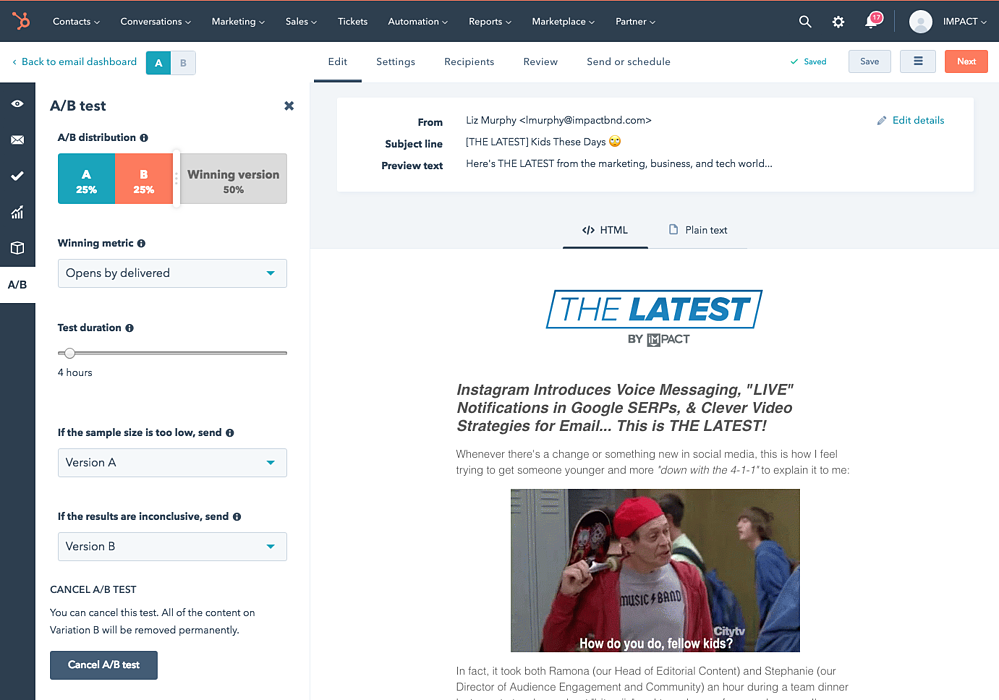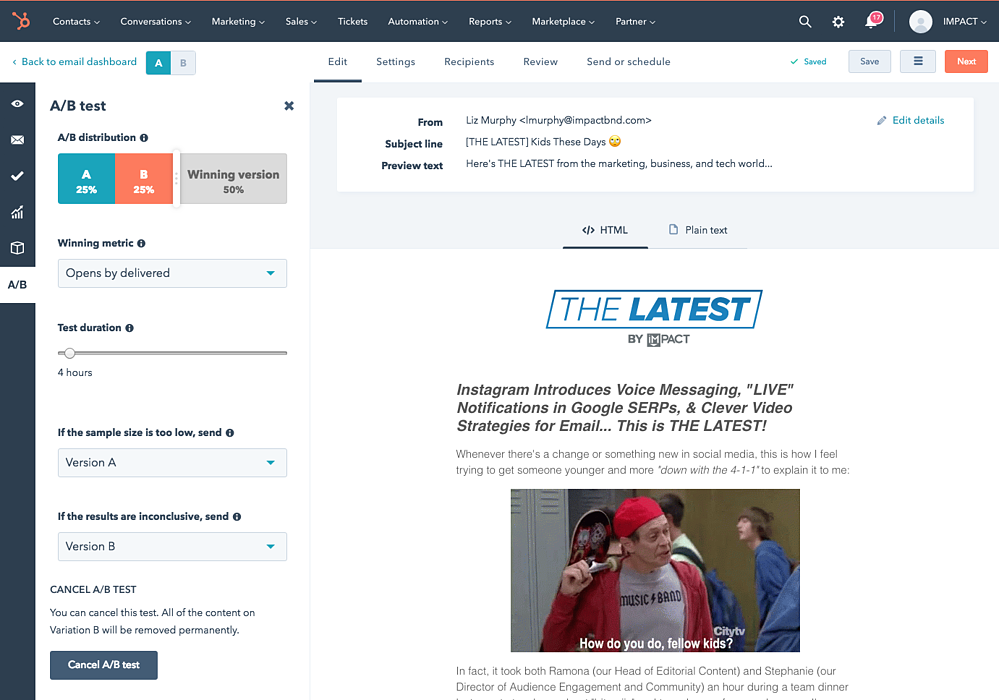 After selecting your testing options: which variables you will test, the percentage of your audience that will be in the test, and how long you want the test to run before the 'winning version' takes over - HubSpot does all the heavy lifting , thanks to the wonders of marketing automation.
Some examples of test variables might include button color, different messages or calls to action, alternate subject lines or senders, and more.
Create custom reports
Once you reach the HubSpot Professional level, you gain the ability to create custom reports and visualizations of any of the data you are collecting on your contacts and companies. Want to see a breakdown of the number of contacts you've created this month broken down by lifecycle stage and original source? There is a report for that!
Salesforce integration
The Salesforce / HubSpot integration is currently the only native CRM integration that exists in HubSpot. Setting up the integration is simple and you have control over what data is passing back and forth between platforms.
HubSpot Marketing Enterprise ($ 3,200 / month)
Additional Contacts Included (10,000)
Once you move to Enterprise, you will automatically have 10,000 contacts included in your base plan instead of 1,000. Then you will pay $ 10 / mo for every 1,000 additional contacts on top of that.
Custom income and event reports
Are you nice to HubSpot's sales tools, but still not so nice to its custom reports? You can still run custom revenue reports if you're in HubSpot Marketing Enterprise, helping you connect the dots between marketing actions and sales revenue.
You can also create custom events to report on metrics like conversions and revenue that are tied to specific user events or actions.
Predictive lead score
Setting up lead qualification helps you prioritize and manage the incoming leads you come in, but can often require a great deal of data analysis and digging to figure out how to qualify your leads and what factors indicate Really the probability of someone becoming a customer.
With HubSpot's predictive lead scoring technology, all of this work is done for you! With artificial intelligence and machine learning, HubSpot's technology is able to see all the data it has in the CRM and score the contacts based on the most predictive factors that lead someone to become a customer.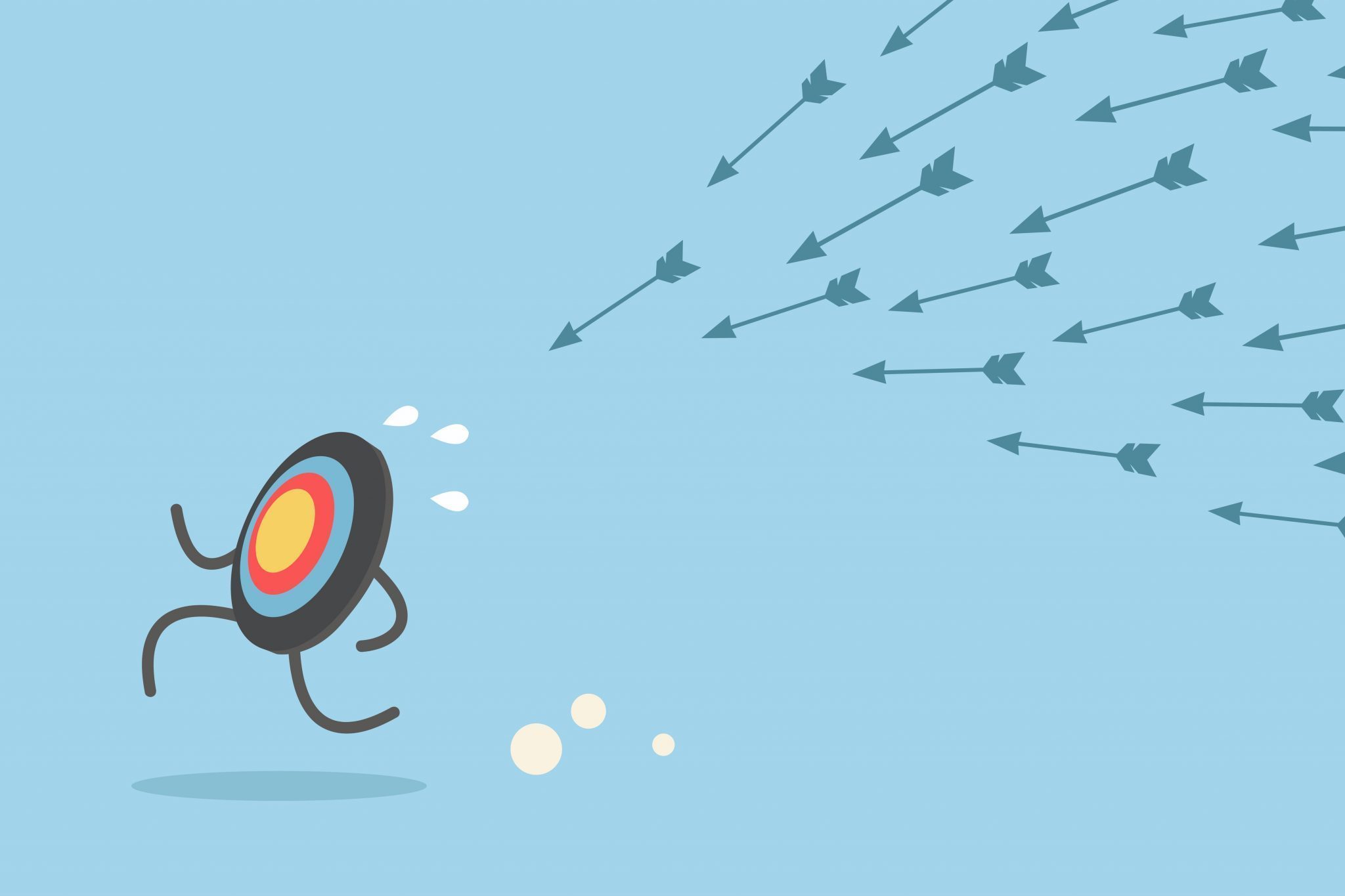 Single sign-on (SSO)
Many enterprise-grade organizations use a single sign-on platform, so employees only have to sign in to one place to access all of their work-related applications. HubSpot now supports this feature!
HubSpot Marketing Plugins
Standalone CMS ($300 / month)
Did you know Your entire website can be built and hosted on HubSpot. You can even get started with the CMS before getting started with any of HubSpot's other tools. Having your entire site on HubSpot makes it even easier to run your incoming campaigns and track your efforts!
Complement of reports ($ 200 / month)
Want to be able to create additional dashboards and custom reports beyond what your HubSpot Marketing tier allows? The reports plugin offers you up to 200 dashboards to create all the reports you are looking for.
Ad plugin ($ 100 / mo)
Do you want to manage your paid advertising in one place? The HubSpot Ads Plugin allows you to create, manage, and analyze Facebook and AdWords ad campaigns directly within the platform for a better connection and deeper reporting with the rest of your HubSpot data.
Add-ons for advanced users
If you have a lot of tech savvy under your roof, you can also look for HubSpot plugins that provide features like dedicated IP addresses, transactional emails, custom SSL, and more.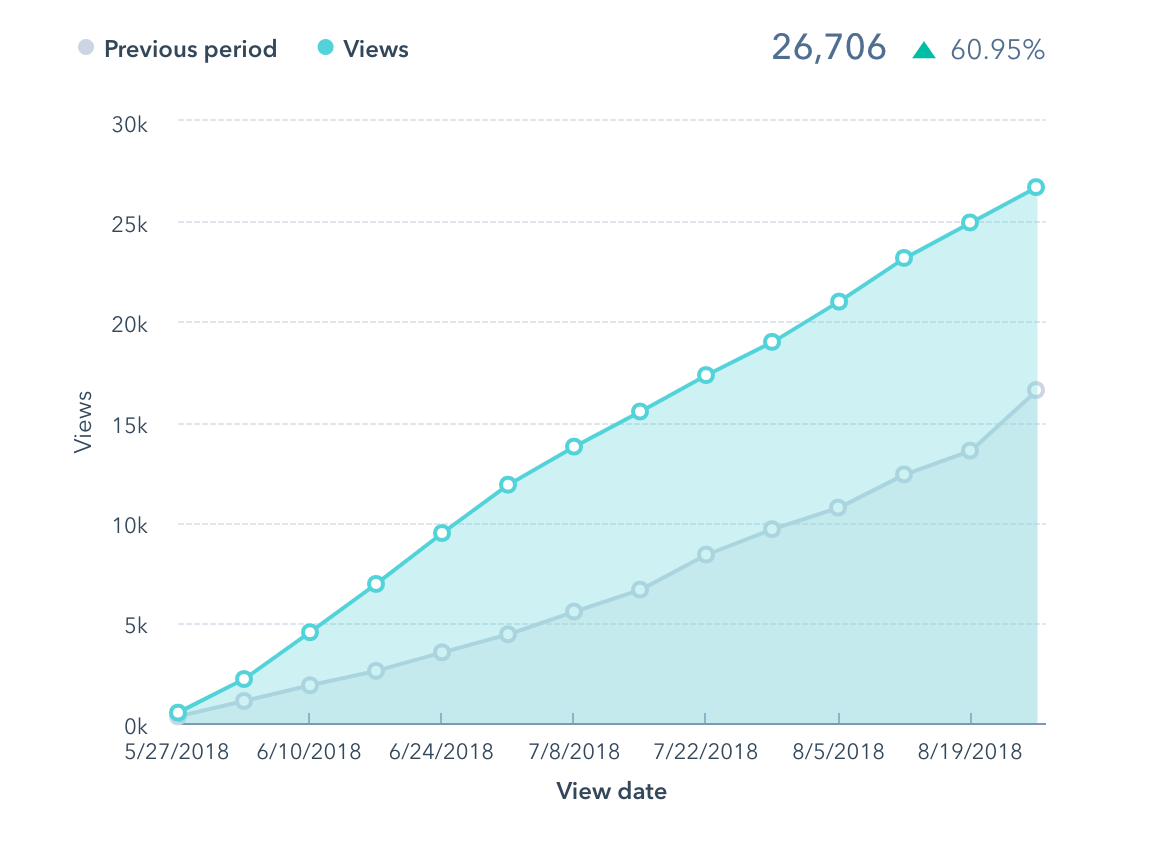 Are you willing to sacrifice some functionality to gain others?
HubSpot's frontend website tools are designed so that the average seller , not the developer , can be successful with them. So, if your website has a brilliant developer mastermind behind it, you may be disappointed to find some limitations in the functionality and flexibility departments that you are not used to finding in something like WordPress.
For example, WordPress has thousands of plugins that can allow you to easily add advanced functionality to your site. For the most part, plugins like that don't exist on the HubSpot platform.
With that said, the level of sales and marketing intelligence you will have access to by having your website and marketing automation efforts under one roof cannot be underestimated.
Bottom line, do your research before jumping into HubSpot.
Do you have an extra $ 300 per month?
Many companies starting with HubSpot are using free or low-cost website platforms. If that's you, spending $ 300 more per month may not be the way you want to allocate your marketing budget.
Will you take advantage of the HubSpot CMS tools?
There are many things I love about the HubSpot CMS: the ability to leverage smart content so you can tailor your message to specific users; A / B testing website and landing pages; and more advanced reports on your site's performance.
But if you don't plan on rolling up your sleeves and getting your hands dirty with some of these features, an additional investment in HubSpot is probably not for you.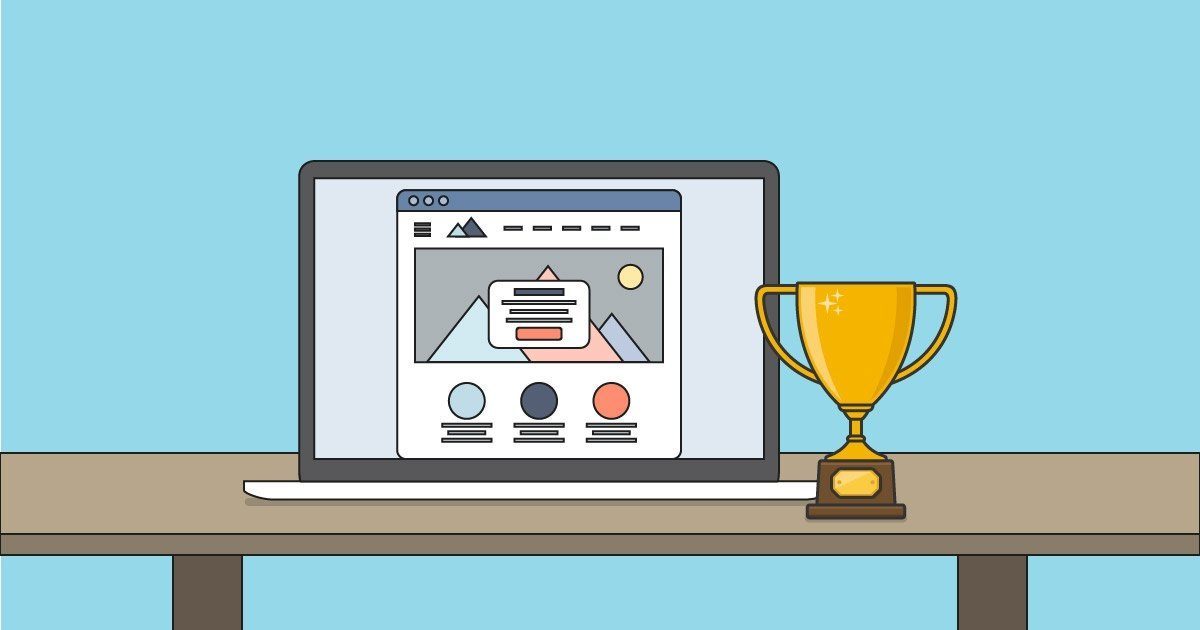 "What about HubSpot's Marketing Competitors?"
There are tons of different marketing automation platforms out there, which can make it difficult for you - or at least slightly overwhelming - to wade through a sea of "totally different." (but still totally the same) value propositions and sales arguments for each one.
Before you start pulling your hair out, don't panic. Your journey to marketing automation begins with your answers to the following questions:
Can we afford to make the investment in this platform?
Will this platform meet the complex needs of our organization?
Is this platform committed to growing with me?
Does this platform integrate with our other tools and platforms?
Now, with your answers in mind, here's a sweet short overview of some of HubSpot's top competitors to point you in the right direction.
Salesforce Marketing Cloud

So you are probably thinking: Wait a sec: Salesforce is for sales.  Pardot is Salesforce's marketing automation platform, right? " 
You would be correct. Well more or less.
Salesforce actually has its own marketing cloud that is completely separate from Pardot. This service focuses on one-to-one engagement, with email and social media for large user bases. It integrates easily with Salesforce Sales Cloud, but keep in mind that it is designed specifically for large organizations and can be quite expensive.
Pardot is one of HubSpot's biggest competitors, especially for teams already using Salesforce's sales tools.
It's more of a traditional B2B marketing automation platform, focused on promoting and qualifying leads for a smooth transfer of sales. Technically, Pardot is part of the Salesforce Sales Cloud, which means that your sales and marketing data is in the same place; this can make closed-loop reporting less complicated.

To say 2018 was a great year for Marketo would be an understatement - The marketing automation platform was acquired by Adobe and also established a partnership with conversational marketing giant Drift.
What hasn't changed is that Marketo is the tool that confronts HubSpot most often.
One of the biggest differences you get with Marketo is that you have the ability to buy just one piece of the marketing tools, if your needs are more specific there are four in total. With HubSpot, you must purchase a tier of the entire marketing platform to gain access to certain tools.
Marketo also has a different pricing structure than HubSpot, but their tiers start at a higher price point: around $ 2,000 / mo, which is a far cry from $ 50 for HubSpot Starter.

Owned by Oracle, Eloqua's biggest differentiator is its email marketing platform. They offer great flexibility for creating emails and landing pages, as well as many customization options for your marketing assets.
Nevertheless, he  base cost for Eloqua starts at around $ 4,000 / month what puts in a price for many SMEs looking to grow.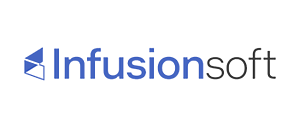 Infusionsoft is another blended automation platform that presents marketing tools (emails and campaigns), service tools (customer manager), and sales tools (a CRM) all in one place.
Packages start at $ 49 / mo for basic Infusionsoft, but you don't get to the fun until you buy from Infusionsoft Pro, which starts at $ 199 / mo.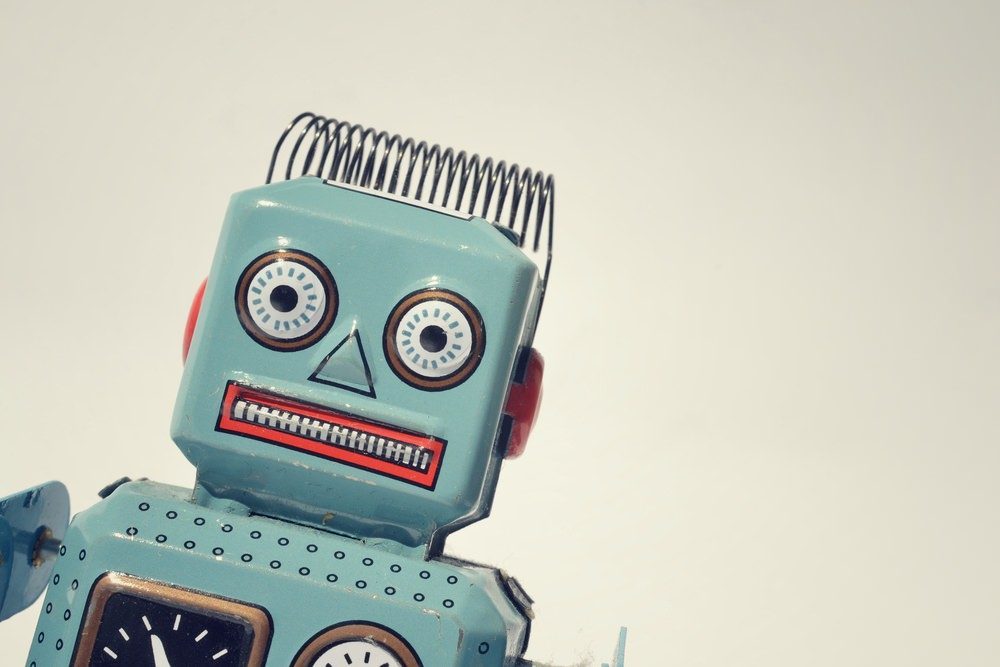 "How do I prepare for the HubSpot marketing implementation?"
Okay, you're sold. You've looked at the pros and cons, the alternatives, the pricing structure, and you're ready to take the plunge with HubSpot. : Woohoo!
This is exciting. But this is also where rubber meets the road, and where the hard work begins. Ready to put your gloves on and get dirty?
Psh, of course I do. You were born ready. So let's dive deeper into what you need to do to prepare to implement HubSpot Marketing in your business.
Everyone need to be certified, no exceptions
The first thing I recommend to anyone who buys the HubSpot Marketing Hub, at any level, is take her HubSpot Marketing Software Certification .
Yes, it is a time investment. The certification includes approximately four hours of videos to watch, in 17 lessons. Then there are the practical exercises, quizzes, and a 75-question exam.
It may seem like a lot (it is), but it's worth it.
By earning this certification, you and your team will learn about all the different features and tools, plus many ideas for possible ways to implement them. The hands-on exercises also give you the opportunity to get into the tools and create real assets.
Obtaining the certification is the best way to know the tool, without doubts.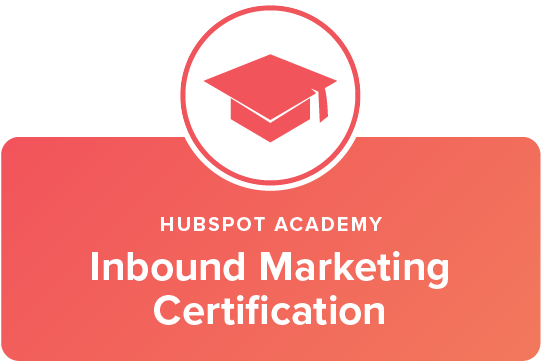 If you are on another automation platform
If you are currently entrenched in another marketing automation platform and are making the switch to HubSpot Marketing, there are four critical decisions you must make before doing something:
What from its current platform it will try to replicate in HubSpot. If you are switching to HubSpot for things like better integrations with sales tools or additional functionality, you may want to replicate some things that you are doing on your current platform in HubSpot. Make the decision beforehand on what to bring or recreate, and be sure to prioritize those initiatives first. (You don't want your efforts to stop during this process, due to poor planning.)
If you are importing your contacts into HubSpot, and how much will you migrate.
Please note how many contacts you have included in the plan you have decided before doing a major import of contacts. If you've been collecting contacts for a long time, you may need to choose which of your contacts you want to bring to HubSpot, if you don't want to pay to keep all of them. For example, if you have a large number of outdated and unengaged contacts, you'll want to exclude them from your import, so you won't end up paying for contacts that aren't being used.

How

 you are going to collect new leads. If you want new leads to enter HubSpot directly, you will need to collect them using the HubSpot forms or establish a HubSpot Connect integration with a third-party platform, i.e. Eventbrite for Event Management, which creates contacts for you. If you have web forms through WordPress or another platform, you should plan to switch them to HubSpot forms, or integrate them into HubSpot CRM so that those contacts are created in HubSpot as they enter. Otherwise, you'll end up having to manually add those contacts and lose the cookie tracking that you get with HubSpot forms.
The right HubSpot Marketing subscription level for your team. If you omitted the "How Much Does HubSpot Marketing Cost?" section, read it now! It is much easier to start at the correct level than to start at a lower level, overcome limitations, and have to upgrade as you implement.
If you are new to marketing automation entirely
Phew! You don't have to do much to "prepare" because you won't be transitioning from a legacy system.
However, that doesn't mean you're totally out of the woods.
First, just like marketing automation experts, you and your team must be certified by HubSpot Marketing Automation. Also, I recommend inbound certification, if inbound is new to you.
Also, before you even think about touching the tool, I always recommend creating a list of marketing strategies that you want to use the tool to execute. This will give you focus and direction when starting out with the tools, rather than being overwhelmed by everything in front of you.
Essentially, if you are new to marketing automation, you should commit to learning the tools and strategies before you start playing with the platform itself.
What are the most common HubSpot marketing implementation challenges?
While getting started with the HubSpot Marketing implementation is exciting, it's not always all sunshine, rainbows, and waterfalls. You must be prepared for common implementation challenges so that you can overcome them quickly or, even better , avoid them completely.
Do not read this section.  I've worked with many R Marketing clients who are implementing HubSpot for the first time, so I've seen that implementation challenges can quickly halt momentum for a marketing team, prevent it from fully onboarding with HubSpot, or even halt usage. of the tools completely.
You don't want that to happen, and I don't want it to happen to you.
So, in no particular order, these are the most common roadblocks you may encounter on your way to HubSpot marketing automation glory.
Technical difficulties
While much of HubSpot is easy to use and not overly technical to use, getting started with the platform requires some technical knowledge, and sometimes it gets complicated.
To keep your portal healthy, you will need to do a few "IT things" like install a code snippet in the global header of your website, update DNS records for subdomains and email sending domains, and set various user permissions for your team.
If any of those words inherently stress you out, I get it. The good news is that you should only do all of this once.
So, put down the paper bag and line up the tech support you need to set up these things.
For someone who knows what those terms mean, those are simple and straightforward tasks from a technical point of view. However, if you don't have access to do things like edit your website or your DNS records, contact their technical team as soon as possible. Have them take a look at the information you need to have on hand for HubSpot to run smoothly, and track down the usernames and passwords you don't have on hand.
The ex factor: hangover from legacy system
There are always good reasons why someone decides to leave a platform for HubSpot, so there is a lot of accumulation and anticipation of all the new things that you will be able to do.
But I'll be real with you in this case. Legacy system migrations are complex and can be frustrating for those who don't have much experience in general marketing automation. And when people get frustrated, they start to miss the demon they knew.
"_______ used to be able to do _______ for us."
"Why doesn't HubSpot do ______ like _______ could?"
Sigh. I hear these questions over and over again.
To be fair, these are legitimate questions. But you shouldn't expect HubSpot to do everything your legacy system did, especially if it was custom-built for your organization, exactly the way it did. So be prepared for some tweaks (certifications make it easier, a hint) Stay flexible, and be willing to rethink some of your processes.
In fact, there is four subtopics of legacy system migrations on the that I want to draw your attention:
Import contacts with the data you want
If you are going to manage your contacts in HubSpot CRM, you will want to import your current contact list from wherever they live now. However, the main challenge that comes with this is successfully importing your contacts with all the data that is important to you.
It usually takes some work to prepare your import spreadsheet, and you will likely have to create custom properties in HubSpot to match the data you are entering, which can sound exhausting. But don't worry, HubSpot has you covered with a step-by-step guide on how you can do this.
Transition to HubSpot forms
If you're currently collecting inbound leads with forms on your website and putting them into a database, brace yourself - it's time to fall into the warm embrace of HubSpot forms.
When you use HubSpot forms, any contact who completes any of your forms is automatically added to the CRM and any information they provide is associated with them. This is also one of the ways HubSpot attaches cookies to contacts, so you can see how individual contacts have engaged with your content.
If your site won't be hosted on HubSpot, you can get an embed code to use in your HubSpot forms, but if you're not proficient in basic HTML coding or know how to embed code on your website, you can get frustrated.
So don't overlook or underestimate the process of transitioning from your converted old forms to HubSpot forms. Plan it and take care of it as soon as possible. Broken forms mean you'll end up in limbo and may have to manually add contacts, missing valuable follow-up opportunities.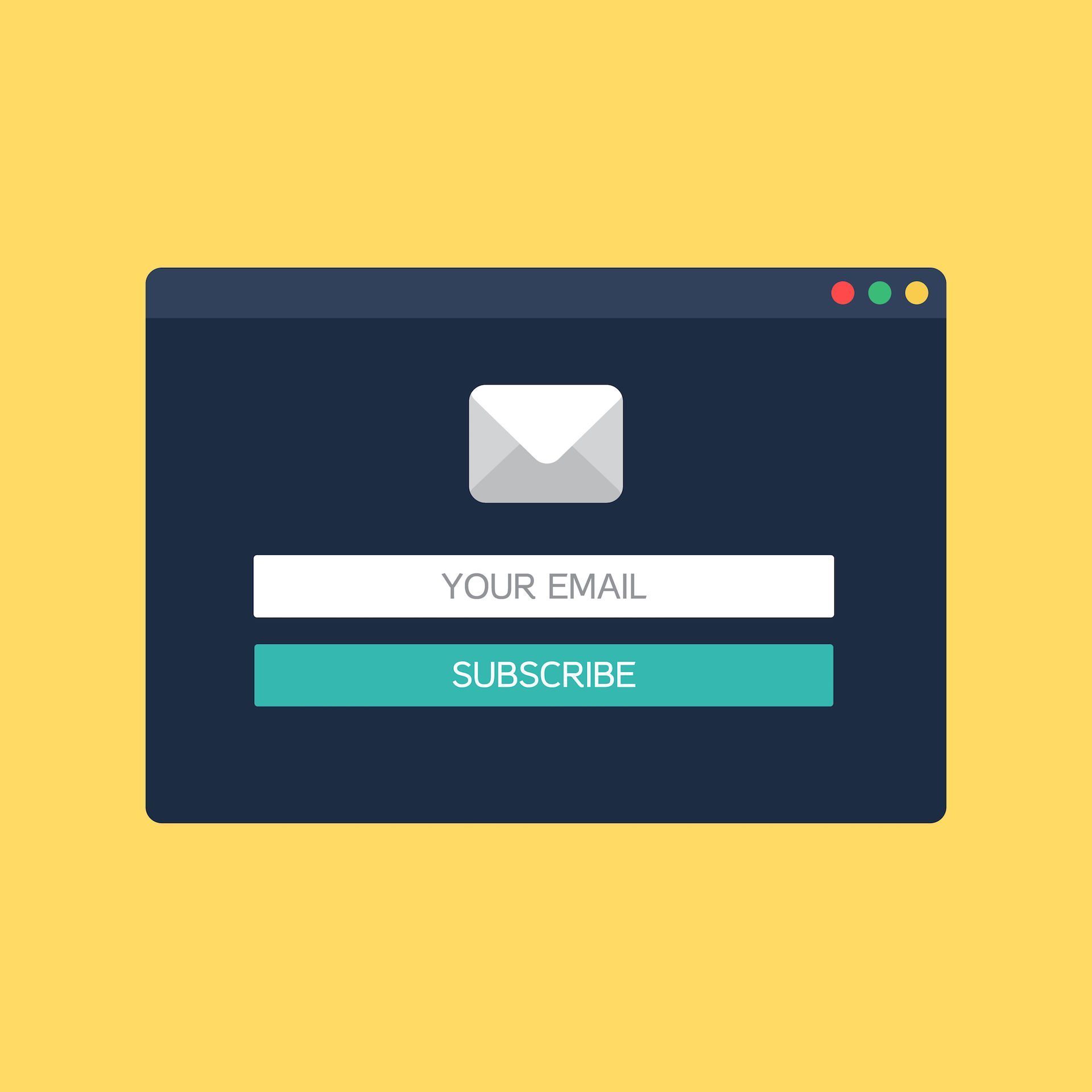 Website and template migrations
Depending on the size and complexity of your site, you may be eligible for a website and / or template migration to the HubSpot CMS. If you are going through this process, read the migration review carefully , so that you understand what can and cannot be migrated.
Changing email clients
If you are using an email system like Constant Contact or MailChimp, I am going to take a photo in the dark and say that you have quite a few lists and templates for your different emails and campaigns.
Get familiar with HubSpot's email templates and all-new drop editor so you know exactly what your marketing emails will look like when you start sending them from HubSpot. Also, when importing your different contact lists, don't forget to recreate your custom lists when your contacts arrive in HubSpot.
Analytical confusion
The moment you add the HubSpot tracking code to your site, you will begin to see the data that is collected on your portal. And if you have a significant amount of traffic and engagement on your site, you will get a lot of data.
This is a good thing! But it can also be a bit confusing when you look at the Analysis Tools and see so many different data points and breakdowns. Take the time to familiarize yourself with the types of data that HubSpot collects and how you can interpret that data with analytics tools.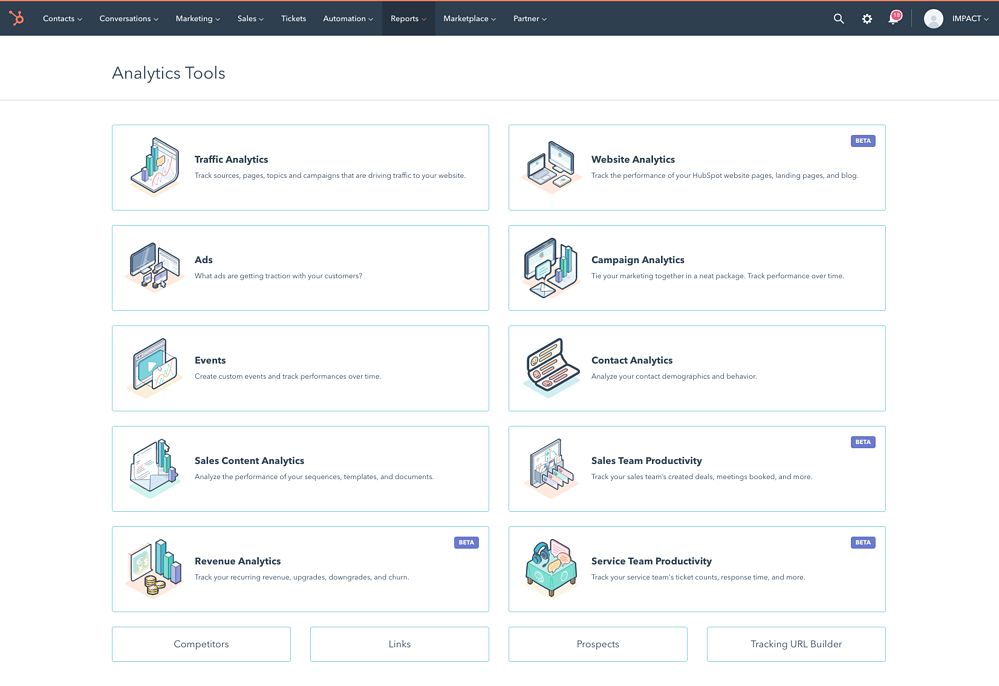 Check out all those beautiful reporting options from HubSpot.  😍
Also, don't forget to block tracking of your internal IP addresses; Nothing sucks more than thinking you're bringing in a ton of traffic, only to find that your team is updating your website over and over again.
Organizational matters
I wish I didn't have to talk about this, but I see this happening a lot more than I would like.
Depending on how your organization is set up, you may or may not have the authority to make certain decisions about how things are organized and what is done.
You may also have corporate rules and guidelines to deal with, as well as a ton of red tape around things like data protection or publishing content that you need to approve. (This is really common in the financial services industry, where much of the content has to go through a compliance approval process.)
The guidelines and rules are good, don't get me wrong, but it can be a deal breaker and cause deployments to halt quickly.
Not knowing where to start
OK, I saved the most frequently asked question I hear for last:
"Wow! I have all these amazing tools now! Great! And now that?"
This is particularly common if you're starting at the HubSpot Professional or Business tiers - there are so many different tools you can start using right away, but there's a catch. There are so many tools that you can start using right away.
After your HubSpot portal is fully tuned, we'll cover it in the next chapter, here are some activities I would recommend to help you get your feet wet with your new marketing automation platform.
Connect your social accounts and schedule posts six weeks in advance for evergreen content, upcoming events, and anything else you want to promote. This way, you won't be struggling during that initial period to keep up with your own promotion and get comfortable with HubSpot.
Get familiar with the Contacts tool and spend some quality time experimenting with contact deadlines; then implement saved contact filters based on the criteria most important to you.
Set up your first page of start of  Hubspot , either with one of the default HubSpot templates or a template from the market, with a HubSpot form and start linking from your website.
Create a follow-up email for your landing page and save it for automation  - You will see what I mean when you enter the tool. Then create a workflow that sends anyone who completes that HubSpot Form their follow-up email and sets their Lifecycle Stage.
Every organization will use HubSpot differently, and you would be doing it a disservice if you told it exactly what to do next without knowing your business, your organizational goals, and your team's goals. The important thing is that you set goals and strategize on how to achieve them.
So before you start using different tools, prepare a prioritized list of all the things you want to implement in HubSpot and what tools you will need to use to execute those plans. Then, take one tool at a time and take advantage of your Marketing Software Certification resources to become familiar with each tool as you go.
How do we set up our HubSpot marketing portal?
Alright, you have access to your new HubSpot portal. Now, as we mentioned in the last chapter, a technical setup is required before you can actually start running your new tools.
Fortunately, HubSpot has done a great job creating what's called Projects within the tools. A project is simply a checklist of activities to configure the portal. However, there are many things there, and some of them may or may not apply to you right away.
Of course, there will be obvious HubSpot portal setup tasks ...
Basic HubSpot setup tasks
Install your tracking code
Any page that do not is hosted on HubSpot it must have the HubSpot tracking code pasted into the header. Fortunately, you can do this by adding it to the global header and it will apply to all of your non-HubSpot pages.
Set up Google Analytics tracking : Wait a second, that's not HubSpot. Are you trying to fool me? I know and I promise not. Google Analytics provides you with a lot of additional data that you will want to access. Plus, it's free. (If you want to learn more about why you need Google Analytics, our technical SEO partner Franco Valentino wrote all about it in his 2019 SEO guide.)
Set up your subdomains
If you're not moving your main domain / website to HubSpot, you'll need to set up a subdomain for your landing pages, and if you're setting up a blog on HubSpot, you'll need one for that, too. Make sure your technical staff keep your DNS records up to date in this step. Otherwise, you will be in trouble.
Connect your social accounts!
Simple and easy! Connect your LinkedIn, Facebook, Instagram and / or Twitter accounts and start managing your social posts directly from HubSpot right away.
Set up your email sending domain
The process is similar to setting up a subdomain, but this part is particularly critical for email delivery and to make sure your marketing emails don't end up in people's spam folders. What this does is allow you to send emails from HubSpot that come from your primary email domain. P
Import your contacts
If you're just starting out with HubSpot CRM, chances are you're planning to use it as your main contact database, at least on the marketing side. This means that you will need to get all your existing contacts in this database through a bulk import. Do this as soon as possible. That way, when you're ready to start doing email marketing, your contacts will be there, waiting for your amazing messages to hit their inboxes.
Then there are the not-so-obvious tasks
Import custom contact properties
One of the great things about HubSpot is that you can create your own contact properties and import data into those properties from another system. However, you should set aside the time to learn about custom contact properties, and which ones you will need immediately. Then you can start importing data for those properties in your initial bulk import.
For example, perhaps in your current CRM you are marking a product interest with a drop-down menu with eight different product types. There is no out-of-the-box HubSpot property for this, but you can create one! If you create it in Property Settings, you will be able to import that specific data for your contacts.
So many settings
As you work on your "Getting Started with HubSpot" project, you will end up in the HubSpot Settings section at some point.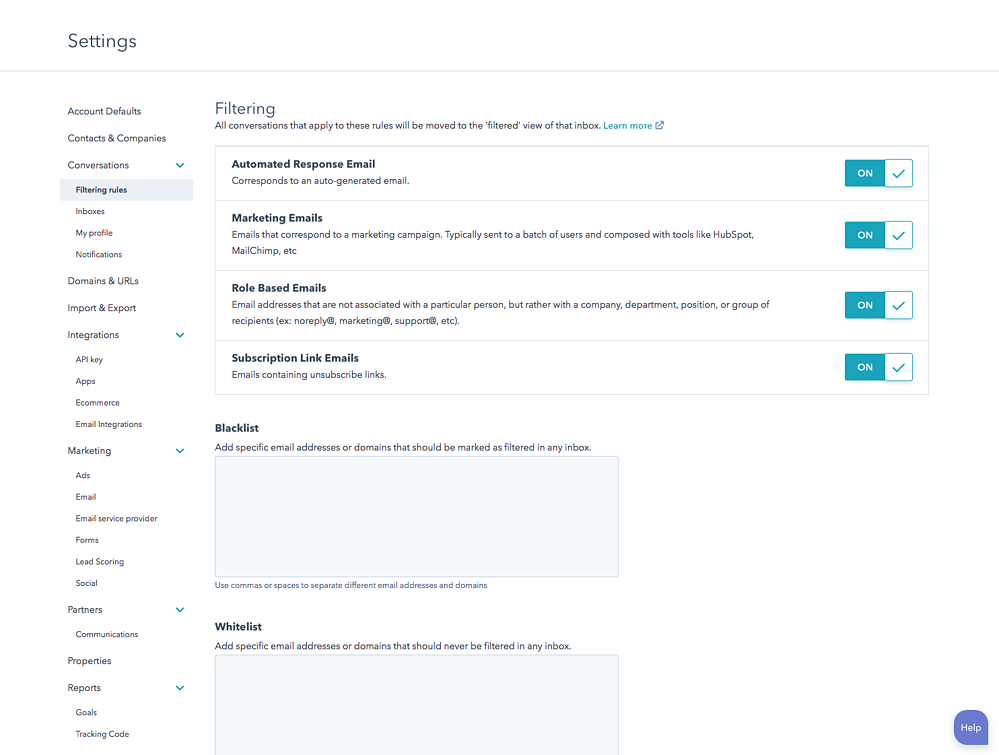 OK, there ... many settings.
There are some settings that are set to "on" automatically that you would think would not be, and vice versa. Rather than letting you figure it out on your own, here are the settings you should look at first.
Creation and association of companies with contacts
HubSpot can create business records for you based on a contact's email domain, and there is a setting you can enable to make this happen. Unless you have a specific reason not to have HubSpot create businesses for you, I almost always recommend activating this immediately .
Add users and user settings
The Configuration Users tab is where you can add users and select what permissions they will have. Make sure to add your team and set its permissions correctly.  (If you want a user to be able to access everything, you need to set them as Super Admin in the Actions drop-down menu in the upper right corner of the drop-down menu.)
Blog Settings
If you are going to use the HubSpot blogging tools, you should review the Blog Settings section in HubSpot. There are many important decisions you'll need to make, including determining your subscription notification email preferences and social sharing of blog posts.
GDPR settings
Has your company been affected by changes in the privacy law of the European Union? HubSpot has additional functionality that you can enable in settings to help you comply. Now just turning them on doesn't automatically make it compatible, but it does turn on some features that will help you get there.
If you have all of the above set up in your first week, you'll be on the fast track to HubSpot's ninja state! Go find them! And as you prepare your HubSpot portal, don't forget to get started on your HubSpot Organizational Playbook.
"Uh, what is a HubSpot strategy book?"
How do we create a HubSpot playbook?
When you enter your HubSpot portal for the first time, it will be a beautiful, blank canvas. Enjoy it while it lasts though - it will never look like this again.
It's quite common for certain areas of your HubSpot portal to get disorganized if you're not careful. This is especially true if you have multiple people creating assets through various tools within HubSpot. For example, every member of our brand team, plus anyone who contributes to our daily article posting, is on our HubSpot portal creating emails, posting content, and experimenting with the platform every day.
But never fear! Your portal doesn't have to become the Wild West of marketing automation.
You need a playbook from the HubSpot organization
This may sound exaggerated, to unless you get excited about the organization, in which case it will be music to your ears But if you really want to stay organized in HubSpot for the long term, you need to create a document that describes how you are going to organize each main tool.
Your very own HubSpot Organization playbook. Don't worry, we are not asking you to write a novel. Just describe things like your folder systems and naming conventions, so everyone is clear about where things are and how to find them.
I can't tell you how frustrating it is to go into the CTA HubSpot tool, find 30 pages of CTAs there with weird names, or the default value of "My CTA [date / time]" , but still can't find what you need.
Here are some of the standard practices that I like to include, but I encourage you to take them and make them your own based on your team's preferences for how you like to stay organized:
Contacts How many
The more active you are following on HubSpot, the more contacts you will collect over time. Hurrah!   However, you will likely end up with contacts in your database that are not compromised or that you really don't want to have there. Establish and document a regular schedule for finding unengaged contacts and running a re-engagement campaign or purging them. ( Bonus: This also prevents you from tripping over contact levels!)
Lists
The Lists tool is one of your best assets for keeping your contacts organized. The irony, of course, is that HubSpot's lists are one of the main tools prone to becoming disorganized clutter. Fortunately, HubSpot now has folders, which you can use to keep your lists organized. Establish, document and enforce a folder system for your lists of righ now so that you can avoid having to do too many cleaning tasks later. Your folder system should also include a convention for your lists. These conventions should be very descriptive, so that people can understand what an immediate list is. For example, «[Person] Marketing Mary - All» or "Submissions of contact forms".
Forms
This tool also has folders to keep it organized, but the principle of the naming convention still applies. This is especially important when creating landing pages and taking forms for them - I recommend naming your forms based on the page they are going to live on or if they are used across multiple pages: «Contact form [Request quote page]» or "Footer form [Global]". If you really want to take this to the next level, check which of your forms are top of the funnel (TOFU), middle of the funnel (MOFU), or bottom of the funnel (BOFU). From there, you can create lists and reports based on your funnel.
Calls to action (CTA)
Without a folder system to keep you organized, this is one of the tools that gets messy quickly! They are so quick and easy to create, and it is standard practice for an offer to have multiple versions of a CTA created for different use cases: below a blog post, sidebar, text in email CTA, etc. forms, it's best to be as descriptive as possible when naming CTAs as you could end up having dozens, if not hundreds of pages. (We have 630+ CTAs on our portal, but we've been on HubSpot for a long time too, heh.) Something like «[Pricing page] Talk to an expert» or «[Global footer] Contact us»it will make it easy for you to find what you are looking for. Since CTAs are often designed to fit in particular spaces, include that detail as needed.
Emails
Ah, HubSpot Email… another notorious tool for getting dirty. However, unlike CTAs, you can organize your emails in folders. Phew. With different types and categories of email, you need… well, you know what I'm going to say. Use descriptive names and labels like [Autoresponder] , [Nurture] and [Newsletter] , in addition to the sending date if it is a unique email.
Work flows
OK, back to tools without folders. (Why, HubSpot? Why ?!) Again with feeling, naming conventions are everything. For workflows specifically, your naming strategy should describe the action you are taking: «[Nurture] Website Redesign Download» or "[Contact property] Set the lifecycle stage in SQL."
Administrator of
files Your file manager is where all your individual assets (images, PDFs, videos, etc.) live. You should organize it just as you would organize files on your computer. It sounds easy right? It is, except when you are not uploading assets to HubSpot directly to the File Manager. Suppose you are adding an image to your blog post, using the simple "Insert Image" workflow. Your image will save in File Manager, but it probably won't fit into any of your folders - you can browse and save to folders, but people are lazy. Set a regular schedule, based on the amount of assets you upload each week to ensure that you put all your files in folders. And, of course, naming conventions!
Once you've collected your HubSpot organization Playbook, perhaps in a Google doc or intranet workspace, it's time to share it with your people.
But don't email it to your team.
Schedule a short training or time to guide your team through your new playbook, with plenty of time to answer your questions. Assign someone to own the playbook - they will take care of updating it, making sure people adhere to it, etc.
What should our first 30 days with HubSpot Marketing be like?
We've already started to break down a lot of this in the previous sections, but let's wrap it up in what your first 30 days with HubSpot Marketing Hub should look like.
Easy things
We've already talked about a couple of these, but just in case ...
Import your contact database
If you're not completely starting from scratch with your database, prioritize importing your contacts into HubSpot as soon as possible. Without contacts in HubSpot, you won't have much to do with your time.
Create and embed your HubSpot forms
If you plan to use HubSpot to manage your database, and, of course, your marketing automation! - You'll want to use HubSpot forms for direct lead capture as much as possible. Otherwise, if you delay in this task, you will get stuck manually importing them from another system over and over again, until you set up your forms. So within the first 30 days of running HubSpot, re-create your current forms in the Forms tools, grab the embed code, and install them on your website.
Connect your social accounts
Woo, nothing complicated here. Just a quick win for you and your team to rock with HubSpot. With just a few clicks, you can start scheduling and posting to your Facebook, LinkedIn, Instagram, and Twitter accounts. The great thing about connecting your social accounts through HubSpot is that you can monitor engagement and get analytics on your posts right from the platform.
And now things are not so easy
Create your leadership strategy
You don't need to have your entire lead nurturing strategy built into HubSpot for the first month. However, it is important to establish your strategic plans, as you are setting the foundation for your portal.
Create your content strategy
One of the main components of the HubSpot Marketing Automation Platform that makes it so powerful is how it enables you to execute complex and interconnected content strategies. More specifically, HubSpot has focused on pillar content and topic groups as the future of content - and so have we!
(You'll want to use the content strategy tool we showed you in chapter three to put it all together.)
Learn about traffic analysis and page performance tools
You should take the time to learn these tools as they are your new resource for analyzing your website performance and inbound marketing efforts.
Once you've set up your portal, you can see where your traffic is coming from: search engines, referral sites, social media, paid campaigns, directly typing your website URL, etc. , and how many people are converting from visitors to leads.
Additionally, with page performance, you will be able to see how much traffic each page receives over time and how many people click the calls to action on your page.
Install your third-party integrations
HubSpot has hundreds of integration partners (called Connect Partners), making it easy to connect and transfer data between third-party platforms and your HubSpot portal. Most Connect integrations simply involve allowing both accounts to "talk" to each other.
However, some integrations (such as Salesforce) require additional configuration to ensure that you are mapping the data correctly. That's why you don't want to sit around setting up your integrations - some will be easier than others, but you won't know until you start poking around.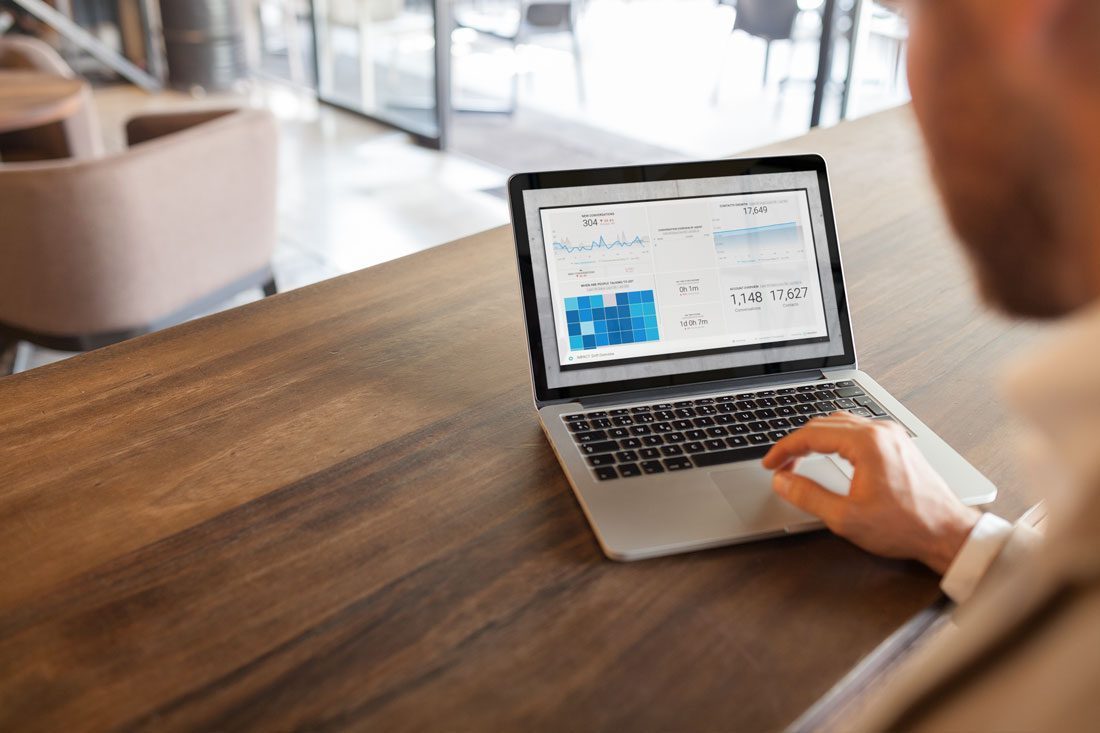 What should our first 60 days with HubSpot Marketing be like?
High five! You've made it through your first month with HubSpot, your portal looks great, and you have all the basics up and running. Now that it's your second month, though, it's time to level up what you're doing on HubSpot.
You're going to do this only by focusing on two things in HubSpot for your next 30 days.
First, create your dashboards and reports
Assuming you have completed all the necessary deployment steps, at this point you have collected data for 30 days. That means you can use HubSpot's reporting tools to create dashboards and reports to help you track your goals.
"Why do I wait 30 days to create reports?"
It is generally much easier to create dashboard reports when you have real data to view. So, once you've collected some data, you may find that you want to see different metrics than you initially thought.
(If you're still not sure which metrics to track, here's a great article featuring our 10 favorite marketing KPIs, to help you get started.)
Real chat, setting up reports in HubSpot is one of my all-time favorite things.
It's fun to see all the data you can visualize and manipulate! However, the most important thing to keep in mind when creating your reports is that you can only report on the data that you are collecting in HubSpot.
For example, you can't create revenue-related reports if you're not tracking your revenue in HubSpot. This may sound obvious, but it is likely to come up the first few times you are creating reports.
How to configure your dashboards and reports, step by step
First, decide which reports you want to create
This is important! I know from experience how tempting (and super fun) it is to get into the report generator and start creating all kinds of reports on all kinds of random data that may or may not matter to you right now.
Unless you have a lot of time to waste, don't do this.
Set your goals and decide which reports you need to track your progress toward those goals. Make a list and include the specific data points you will examine for each report.
Purge your current board
The number of dashboards you can create in HubSpot depends on your subscription level: Free and Starter have one, Pro offers you an additional one, and Enterprise offers you up to 25.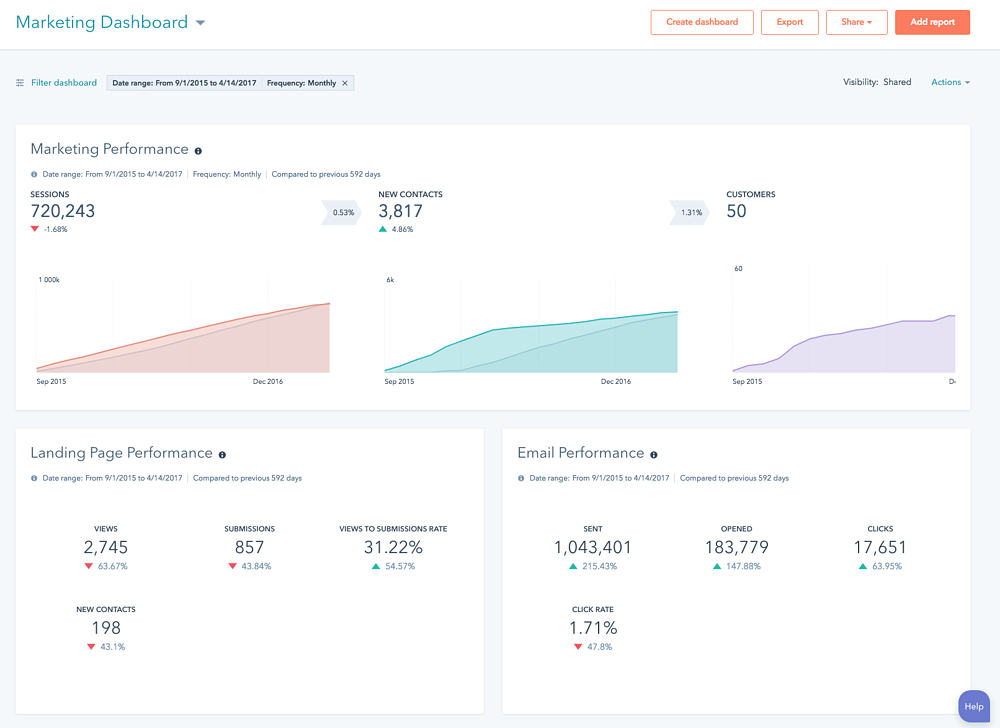 An example of a HubSpot Marketing Dashboard.
You'll want to do this, as the default HubSpot marketing dashboard may or may not have the reports you want. So once you've made your wish list (step one), purge any unnecessary reports from your dashboard that aren't on that list.
Now create your reports and dashboards
If you've done the initial work of deciding which reports you want to have, this part will be easy. If you have custom reporting functionality, you will have the option of saving reports to a dashboard or simply saving them to the reporting tool.
You may have reports that you don't need to see every day, but want to see them regularly, and this allows you to have them close at hand without having to put them on the dashboard.
Second, implement your leadership strategy
OK, here's the other 60-day milestone priority. Now that you have your contacts on HubSpot, and you're collecting new ones with your fancy HubSpot forms, it's time to implement that strategy you worked on in your first 30 days.
One of the reasons I recommend doing this in your second 30 days is because it will force you to use a lot of different HubSpot tools to set everything up.
Here are all the tools you'll need to use to set up a great lead nurturing system:
Email (duh!)
CTA (for your emails)
Shapes (for those sweet, sweet conversions)
Work flows (the automation that makes everything work)
Content strategy (needs content)
Bells (to track your success)
"Whoa, what are campaigns?"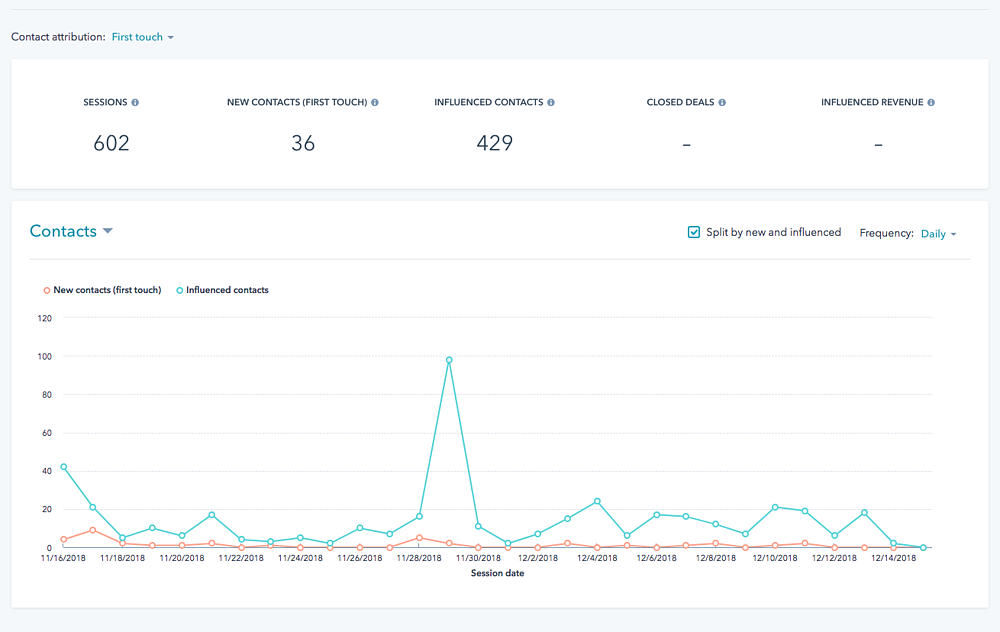 Apparently, November 29, 2018 was a good day.
Campaigns in HubSpot allow you to tag assets across the platform (emails, landing pages, web pages, social posts, etc.) as part of a single campaign, so you can report how those assets are performing at the same time. .
However, you won't find this fun little feature on the reports tab. Until HubSpot changes its menu again, you'll find it at Marketing> Planning and strategy> Campaigns .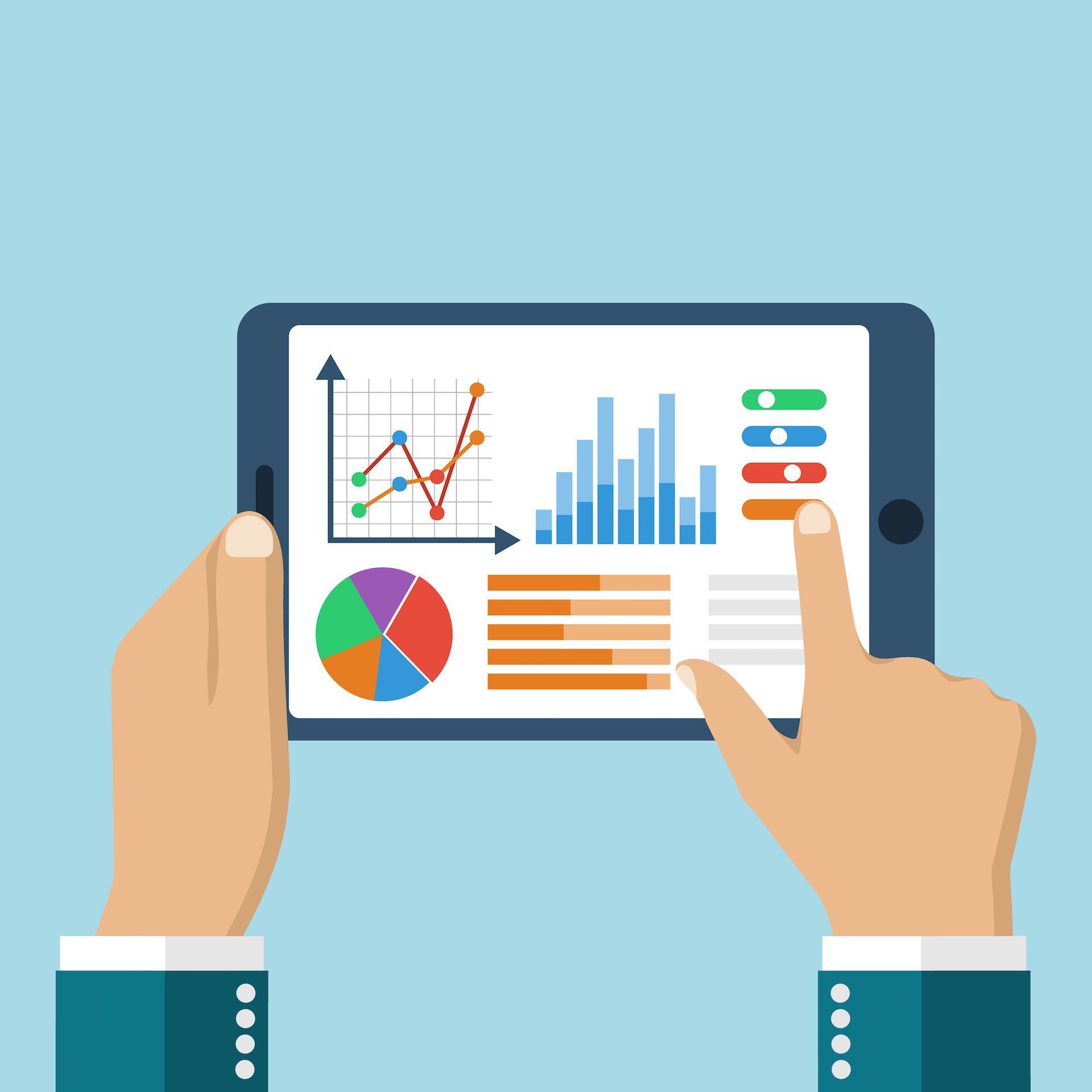 What should our first 90 days with HubSpot Marketing be like?
Whoa, two months already? At this point, you are just browsing! It's a joke. But definitely give yourself a nice steak dinner  For all the hard work you've done on HubSpot so far.
But then, it's time to get back to work, loose bones, because you will have three priorities to focus on in this third 30-day sprint ...
Create content interaction lists
To manage your database properly, and not constantly tripping over contact levels, you need to be able to determine which of your contacts are unengaged and eligible to be removed from your database.
It's up to you how you want to define what a "committed" contact is, but I like to use criteria like:
You have not visited the website in more than 90 days
You haven't opened a marketing email in more than 90 days.
You have never clicked on a marketing email
Also, consider grouping people into different levels of engagement: highly engaged, moderately engaged, unengaged. That way, you can better segment your lists and target your campaigns based on the interest level of your contacts.
Regardless of how you choose to determine your contacts' engagement, create HubSpot lists you can monitor and send onboarding campaigns.
Create a contact reactivation workflow
"Now that we know which of our contacts are not engaged, what do we do with them?"
While it is a good database maintenance practice to purge uncommitted contacts, I always like to give them a chance to re-commit before deleting them. To that end, I recommend that you create a workflow that automatically sends anyone who enters your list of unengaged contacts a series of re-engagement emails.
Depending on your product or service, these might look different. However, the intent of these emails is always the same: give the contact the opportunity to interact with you again by sending them useful content, asking what they are interested in, etc. At the end of your email series, include a breakup email telling them that they will stop communicating with them.
If the contact interacts with any of those emails, they will be removed from your active list for unengaged contacts and will no longer be eligible for purging.
Setting up this workflow will ensure that all of this runs in the background, so when you go to purge your dead contacts regularly, you'll know that they've already been given a chance to reengage, and you'll know they're actually contacts. dead without having to do any heavy administrative work.
Implement your content strategy
Look, if you want to be successful with HubSpot and inbound, you can't avoid content. But content can be a lot of fun, if you really commit. Let's do it!
In your first 30 days, you started working on your content strategy, right? Now is the implementation time!
As an upgrade, HubSpot's content strategy tool makes it easy to view topic groups and ensures that you link from your pillar content to subtopic pages, and vice versa. You can also use the topic cluster analysis tool to see how topic clusters are performing overall over time.
You can do this in the Content Strategy Tool, which has a small dashboard, as well as in the reporting tool, where you can see a more comprehensive view of the traffic your topic groups are bringing.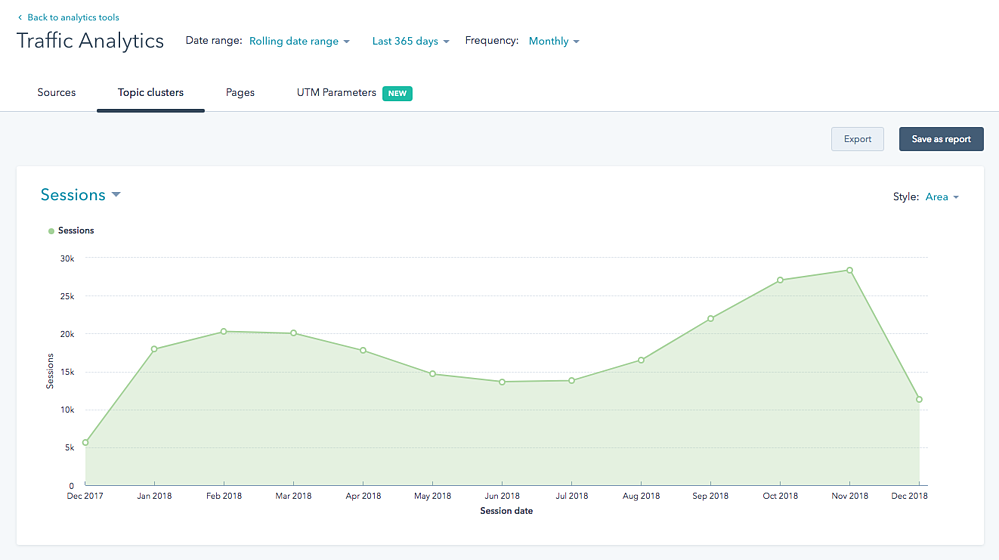 How do we get the most out of HubSpot in the long term?
When I was a kid, I convinced my parents to buy me an expensive pair of skates - I was going to be an X-Games athlete. (Watch out world)
However, my expectation of that process was very different from the reality that I experienced. I thought that the purchase of the equipment would be the biggest step for my success, but it was only the beginning.
The same is true with HubSpot.
If you use the tools thinking that just owning them will make you successful, you will end up asking the same question my parents eventually asked: Why do we spend our money on this?
You do not want that. And I don't want that for you. So these are the most important things you and your team can do to avoid falling into this trap of disappointment with HubSpot.
Carina's secrets to HubSpot's long-term success
Once again with feeling, own!
We already talked about this, but I can't stress it enough. The most successful HubSpot organizations I've seen all have employees (or teams of employees) who have taken it upon themselves to take ownership of their organization's success with HubSpot.
How do you make sure you own it and become an expert?
Get education and commitment, of course!
One of my favorite things about HubSpot is the community of users that has formed around it. There are tons of different resources to educate yourself on the platform and get to the domain.
My favorite part of the HubSpot Community is the Ideas forum, where users submit feature and functionality requests for things they wish the tools had or did. You can comment on ideas and vote on them. The benefit here is that the HubSpot product team really does scrutinize them and will prioritize the ideas with the most votes if possible.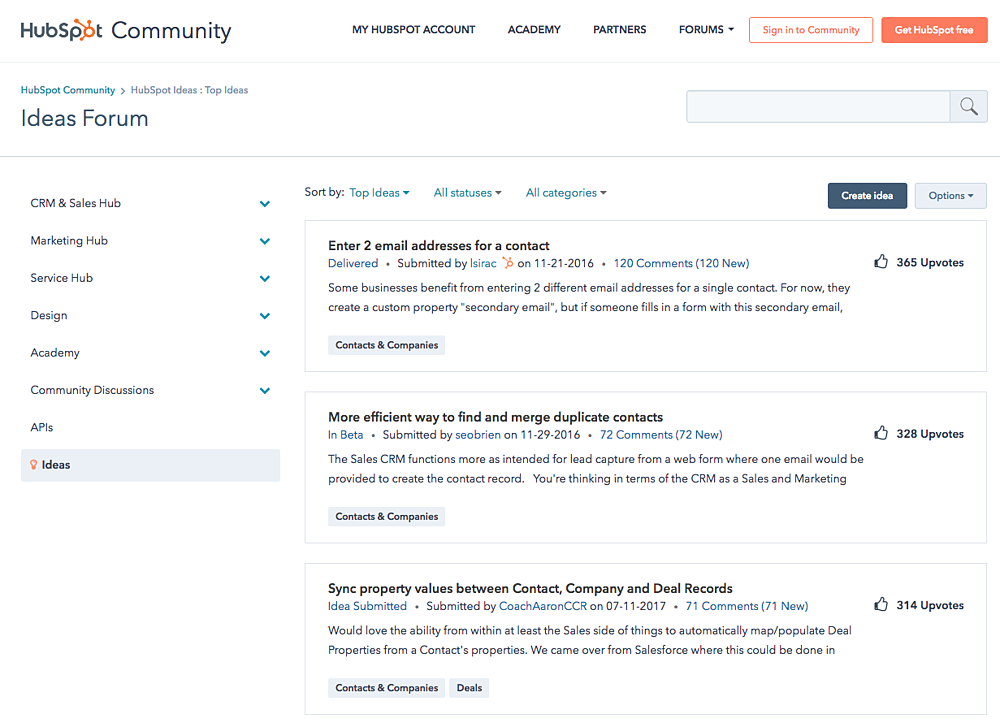 HubSpot has a full team of people who are dedicated to helping users succeed not only with the product, but also with their inbound marketing, sales, and service strategies.
This team has produced an impressive amount of content over the years, from written user guides to certifications, including hours upon hours of video lessons and trainings. HubSpot Academy should be your go-to resource for learning sand tool strategies.
Depending on how you like to learn, they have different types of content:
User Guides
These are written tool-by-tool, step-by-step descriptions that walk you through setting up or creating different things within HubSpot. If I don't know how to use a tool or have questions about limitations, I always start with that tool's user guide.
Certifications
When I started using HubSpot, they had maybe… five different certifications. Now they are pushing more than 20 certifications and counting.
I have already recommended incoming marketing software and certifications, but what you select next will depend on your goals and strategies. That being said, your Email Marketing certifications and Content Marketing They're also at the top of my recommendation list for those looking to get the most out of HubSpot.
Lessons
Once you have earned your certifications, you may need refresher at certain points or you may be interested in learning about specific aspects of specific tools or strategies. The Academy has its content divided into individual lessons so you can search for exactly what you are looking to learn.
Don't be shy, ask for help!
HubSpot is a robust tool, even people like me don't have all the answers .
You are likely to come across situations regularly when you cannot find an answer to your question or you do not understand how to do something you want to do in the tools. Being involved in the communities above will give you a place to ask for help and build relationships with other power users who can help you think creatively to solve your problems.
Don't underestimate how powerful this can be!
Novice mistakes to avoid with HubSpot Marketing
I'll go in there and figure it out.
Sigh. Famous last words there, folks.
While many of HubSpot's marketing tools are easy to use and relatively easy to learn, you can save a ton of "trial and error" time by diving into the training / education materials I mentioned earlier and in previous chapters right at the moment. start of your time with the platform.
By knowing the different tools and features through lessons and certifications before start setting up HubSpot, you will save yourself a lot of frustration.
"I'll just fit into learning HubSpot along with all my other assorted responsibilities."
Oh the lies we tell ourselves Yes, and I will totally write that novel I've been talking about for centuries during coffee breaks. You must spend time learning the tools if you are going to take advantage of them. That means not only learning how to click the buttons, but also learning what to do in the tools.
This is why:
Have you ever had a website with a lot of custom developments and every time want to make a change, should you call your developer and pay them to do an update? If you haven't, you probably know someone who has. Unfortunately, the same can happen with HubSpot. When you hire an outside agency to do all For you at HubSpot, it's easy to release ownership and liability. But it will pay for it later with a lack of autonomy.
If you ever stop working with that agency, all that knowledge is gone. If I had a penny for every time I heard a customer say: "I don't know why it's there or what that is, our old agency set it up." I'd have at least ... a couple of dollars. Be involved. Do not disconnect. You will regret it later when circumstances change.
You'll end up paying an agency hundreds of dollars to do things on HubSpot that would take someone on your team less than an hour. When you understand how the tools work and how to do things in them, you will quickly know what things you can configure yourself and what you need help with. So plan ahead and save your money.
"... So, shouldn't I be working with an agency?"
No way. You can, and in some cases should, work with an agency.
What i say is that you should not release all responsibility for your success with HubSpot to  nobody  off his team . You have to have it. The beauty is that when you own it, you can leverage the expertise and experience of partner agencies to Really crush it with tools.