How to manage Facebook privacy settings: Facebook is a great platform to connect with friends and colleagues and share the happy moments of your life with them in the form of photos and videos. You can connect with different people, share your opinions and keep up to date with the things that happen around you. Facebook is loved for what it does but with all this data it has, it raises a lot of privacy concerns. You can't trust anyone with your personal data, right? That too, in the increasingly numerous cases of cybercrime! Without a doubt, it is very important to pay attention to what happens with everything you post on Facebook, for example, who can see it or who can like it and that all the details of your profile are visible to people. Fortunately, Facebook offers many privacy settings for you to secure your data according to your needs. Managing these privacy settings can be confusing, but it is possible. Here is a guide on how you can manage your Facebook privacy settings and control what is done with your data.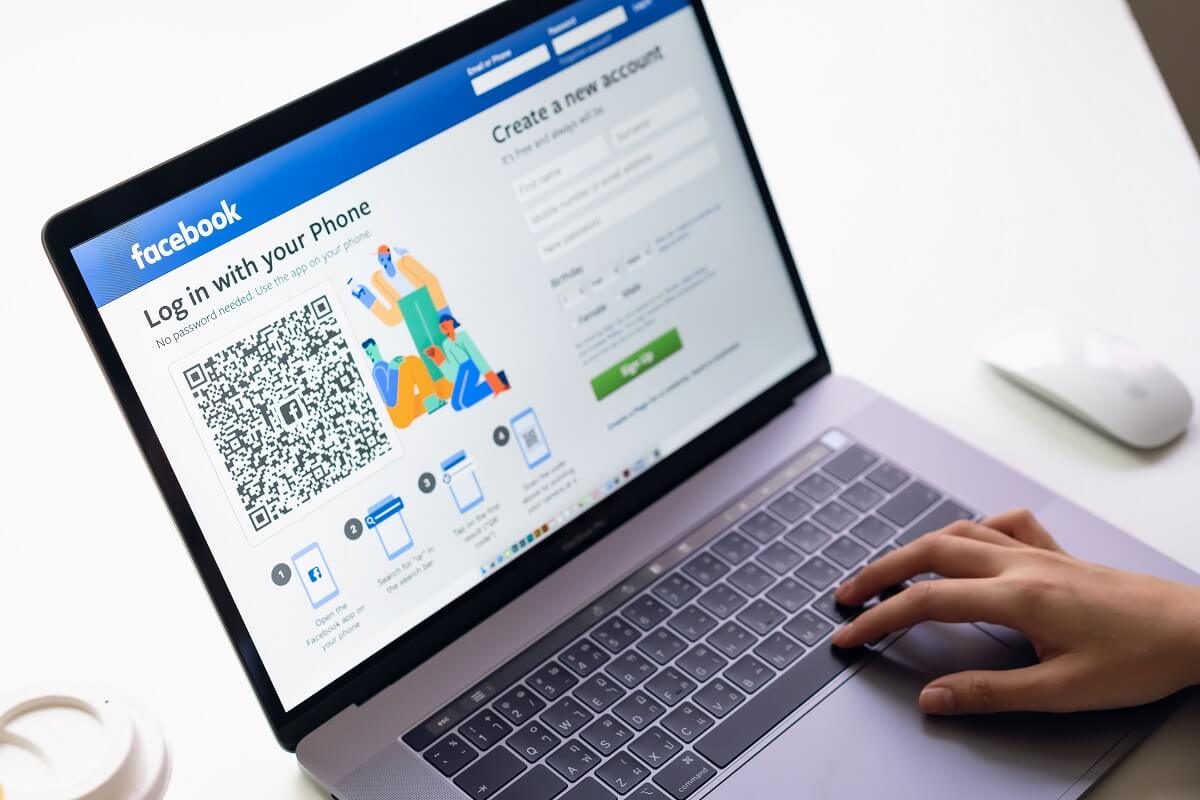 Now, before moving on to managing your privacy settings, you can go through Facebook's very easy "Privacy Review". Going through this review will allow you to review how your shared information is currently being handled and you can configure the most basic privacy options here.
WARNING: Time to manage Facebook privacy settings (2019)
Privacy check
To check your current privacy settings,
1.Login to your Facebook account on the desktop.
2.Click the question mark icon in the upper right corner of the window.
3.Select "Privacy Check".
The privacy check has three main settings: Messages, Profile, and Applications & Websites. Let's review each of them one by one.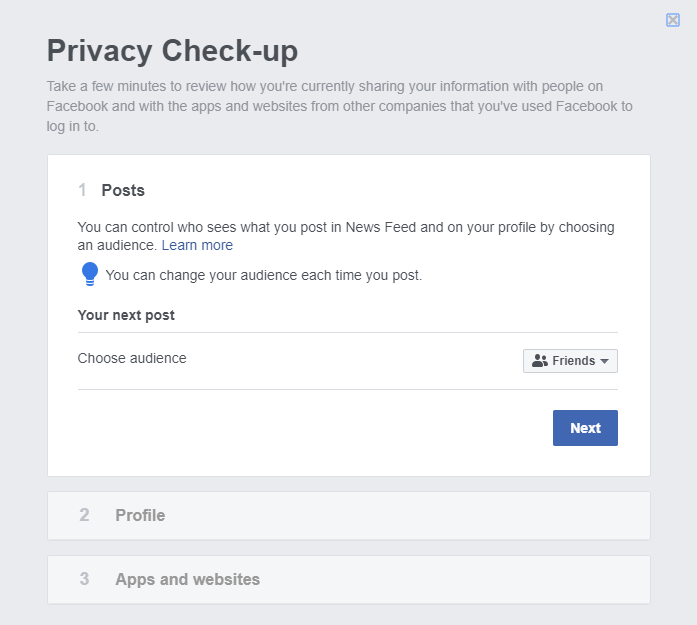 1.Posts
With this setting, you can choose the audience for anything you post on Facebook. Your posts appear on your profile timeline and in other people's newsfeeds (Friends), so you can decide who can see your posts.
Click the drop-down menu to select one of the available options such as Public, Friends, Except Friends, Specific Friends, or Just Me.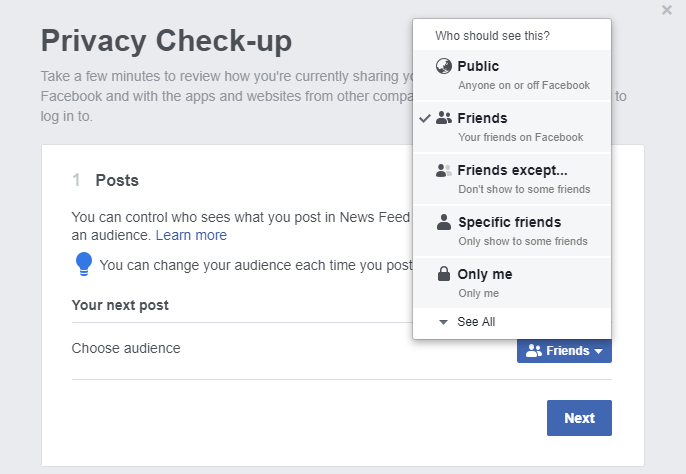 For most of you, the "Public" option is not recommended, as you would not want anyone to get close to your personal messages and photos. Therefore, you can choose to set "Friends" as your audience, so that only people on your friends list will be able to see your posts. You can also choose "Except friends" if you want to share your posts with most of your friends and leave out a few, or you can choose "Specific friends" if you want to share your posts with a limited number of your friends.
Keep in mind that once you establish your audience, those settings will apply to all your future posts unless you change them again. Also, each of your posts can have a different audience.
2.Profile
Once you are done with setting up your messages, click Next to proceed to profile settings.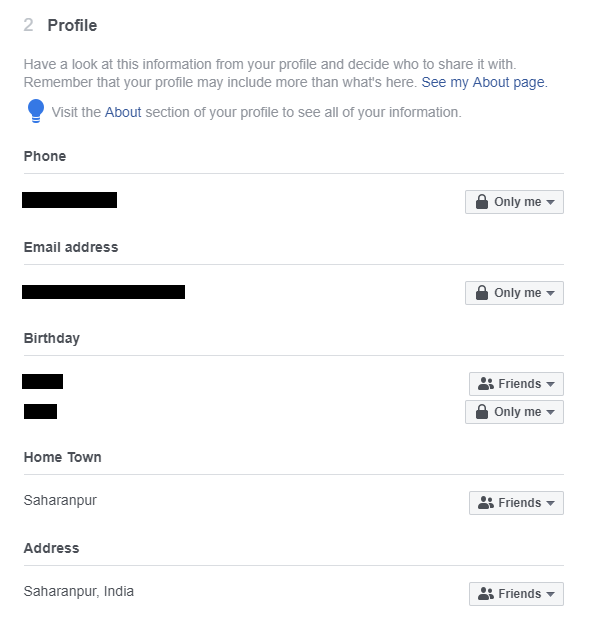 Like posts, the profile section allows you to decide who can see your personal or profile data, such as your phone number, email address, birthday, hometown, address, work, education, etc. It is recommended that your phone number and email address be set to "Just me," as you don't want any random person to know that information about you.
For your birthday, the day and month may have a different setting than the year. This is because posting your exact date of birth can sacrifice privacy, but you still want your friends to know that it is your birthday. So you could put the day and month as "Friends" and the year as "Just me."
For all other details, you can decide what level of privacy you require and set it accordingly.
3.Applications and websites
This last section deals with the applications and websites that can access your information and its visibility on Facebook. There may be many applications that you have accessed using your Facebook account. Now these applications have certain permissions and access to part of your information.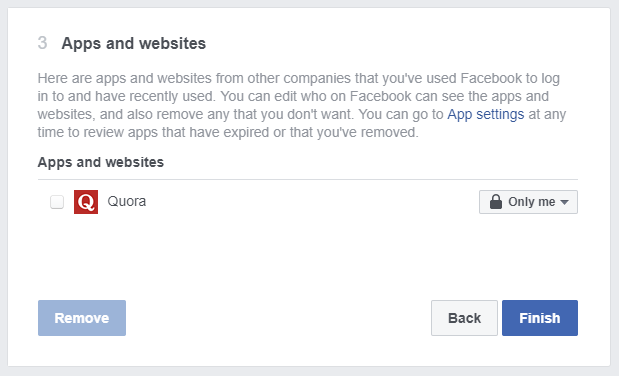 For applications that you no longer use, it is recommended that you delete them. To remove an application, select the checkbox corresponding to that application and click the "Remove" button at the bottom to remove one or more selected applications.
Click the "Finish" button to complete the privacy check.
Note that the privacy check takes you through very basic privacy settings. There are many detailed privacy options available that you may want to reset. These are available in the privacy settings and are described below.
Privacy settings
Through the "Settings" of your Facebook account, you can set all the detailed and specific privacy options. To access the settings,
1.Login to your Facebook account on the desktop.
2.Click the down arrow in the upper right corner of the page.
3. Click Settings.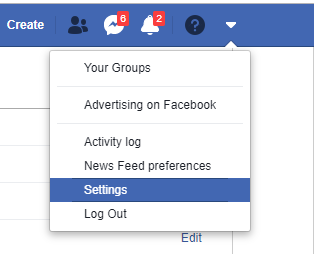 In the left panel, you will see different sections that will help you to adjust the privacy settings of each section individually, such as Privacy, Timeline and labeling, Blocking, etc.
1.Privacy
Select "Privacy" on the left panel to access advanced privacy options.
YOUR ACTIVITY
Who can see your future posts?
This is the same as the message section of the privacy review. Here you can set the audience for your future posts.
Check all your messages and the things you are tagged on
This section will take you to the Activity Log where you will be able to see the messages (your messages in the timeline of others), the messages in which you are tagged, the messages of others in your timeline. These are available on the left panel. You can review each of the messages and decide if you want to delete or hide them.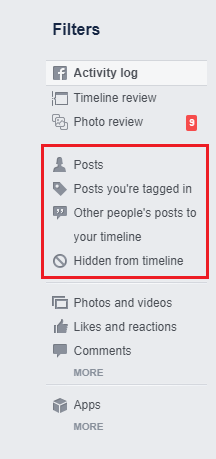 Note that you can delete your posts on others' timeline by clicking the edit icon.
For posts that you are tagged in, you can remove the tag or just hide the posts from your timeline.
For messages from others on your own timeline, you can delete or hide them from your timeline.
Limit the audience of the messages you have shared with Friends of Friends or Public
This option allows you to quickly limit the audience of ALL your old posts to "Friends", either "Friends of friends" or "Public". However, those who are tagged in the post and their friends will still be able to see the post.
HOW PEOPLE CAN FIND AND CONTACT YOU
Who can send you friend requests?
You can choose between Public and Friends of friends.
Who can see your friends list?
You can choose from Public, Friends, Just me, and Custom, depending on your preference.
Who can find you using the email address you have provided? Or who can find you with the phone number you have provided?
These settings allow you to restrict who can search for you using your email address or your phone number. You can choose between Everyone, Friends or Friends of Friends for both cases.
Do you want other search engines outside of Facebook to link to your timeline?
If you ever googling yourself, your Facebook profile will likely appear among the top search results. So basically, disabling this option will prevent your profile from appearing on other search engines.
However, this setting, even when it's on, might not bother you much. This is because for those who are not on Facebook, even if you have this setting activated and your profile appears as a result of a search in some other search engine, they will only be able to see very specific information that Facebook always keeps public, such as your name. , profile picture, etc.
Anyone on Facebook who has logged into your account can access the information on your profile that you have set as "Public" from some other search engine and this information is still available through your Facebook search.
2 Timeline and labeling
This section allows you to control what appears on your timeline, who sees what and who can tag you in messages, etc.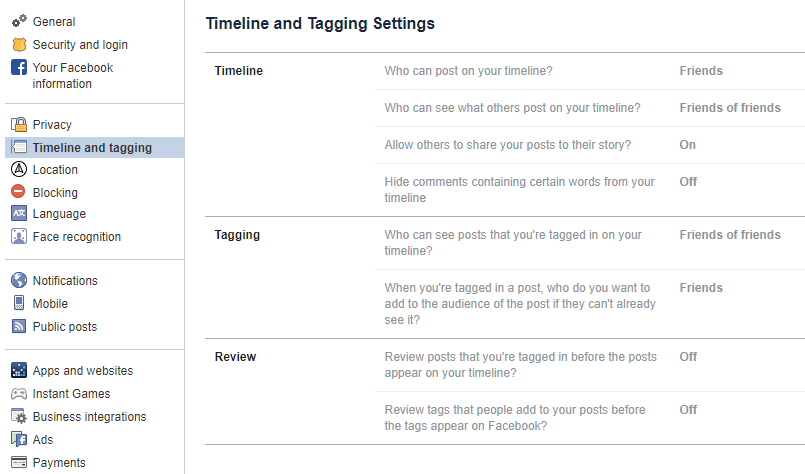 TIMELINE
Who can post to your timeline?
Basically, you can choose if your friends can also post to your timeline or if only you can.
Who can see what others post on your timeline?
You can choose from Everyone, Friends of Friends, Friends, Just Me, or Custom as the audience for others' posts on your timeline.
Allow others to share your messages with their story?
When this is enabled, your public posts can be shared by anyone with their story or if you tag someone, they can share it with their story.
Hide comments containing certain words from the timeline
This is a recent scenario and very useful if you want to hide comments that contain certain abusive or unacceptable words or phrases of your choice. Just type in the word you don't want to appear and click the Add button. You can even upload a CSV file if you want. You can also add emojis to this list. The only thing to keep in mind here is that the person who posted the comment containing those words and their friends will still be able to see it.
TAGGING
Who can see the posts you are tagged in on your timeline?
Again, you can choose from Everyone, Friends of Friends, Friends, Just Me, or Custom as the audience for the posts you are tagged in on your timeline.
When you are tagged in a post, who do you want to add to the audience if they are not already in it?
When someone tags you in a post, that post is visible to the audience selected by that person for that post. However, if you want to add some or all of your friends to the audience, you can. Note that if you set it to "Just me" and the original audience for the post is set to "Friends," your mutual friends will be in the audience and will not be removed.
REVISION
In this section, you can prevent posts that you are tagged in or what others post on your timeline from appearing on their timeline before reviewing them yourself. You can enable or disable this setting as appropriate.
3.Lock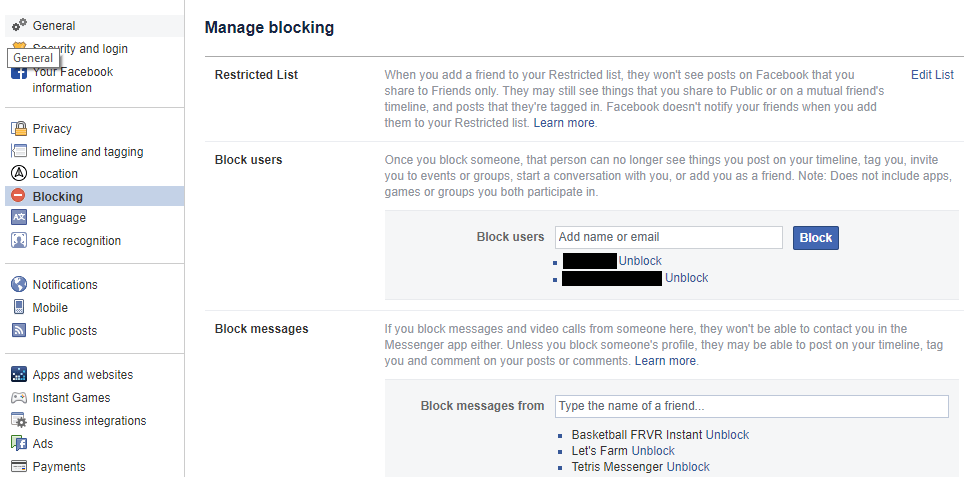 RESTRICTED LIST
Contains friends that you do not want to see the posts for which you have made the audience as friends. However, they will be able to see your public posts or those that you share with a mutual friend. The good news is that they won't be notified when you add them to the restricted list.
LOCK USERS
This list allows you to completely block certain users from being able to see the messages on your timeline, tag you, or send you a message.
BLOCKING MESSAGES
If you want to block someone from sending you messages, you can add them to this list. However, they will be able to see the messages on your timeline, tag you, etc.
BLOCK APP INVITATIONS and BLOCK EVENT INVITATIONS
Use this to block those annoying friends who keep pestering you with invitations. You can also block apps and pages using BLOCK APPS and BLOCK PAGES.
4.Applications and websites
Although you can delete the applications that you have accessed using Facebook in the Privacy Check, here you will find detailed information about the permissions of the applications and the information they can access from your profile. Click on any app to see or change what an app can access and who can see you're using it.
5.Public posts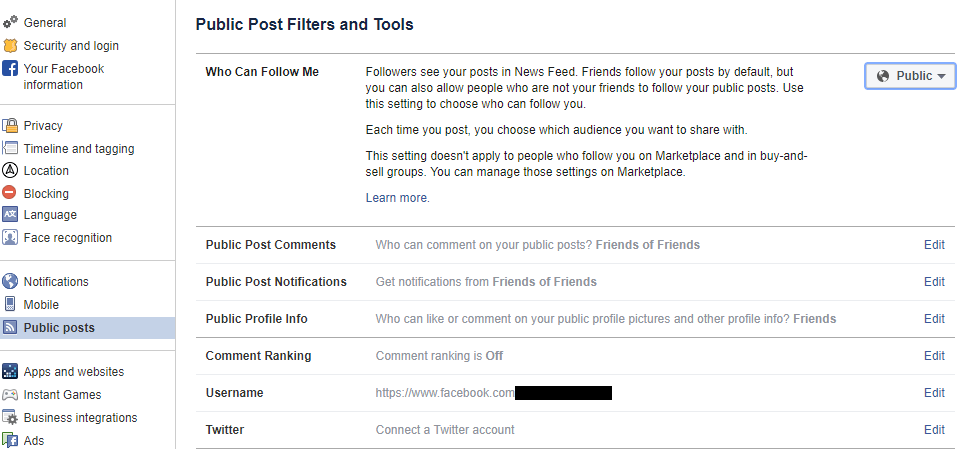 Here you can set who can follow you. You can select Public or Friends. You can also choose who can like, comment on, or share your public posts or public profile information, etc.
6.Announcements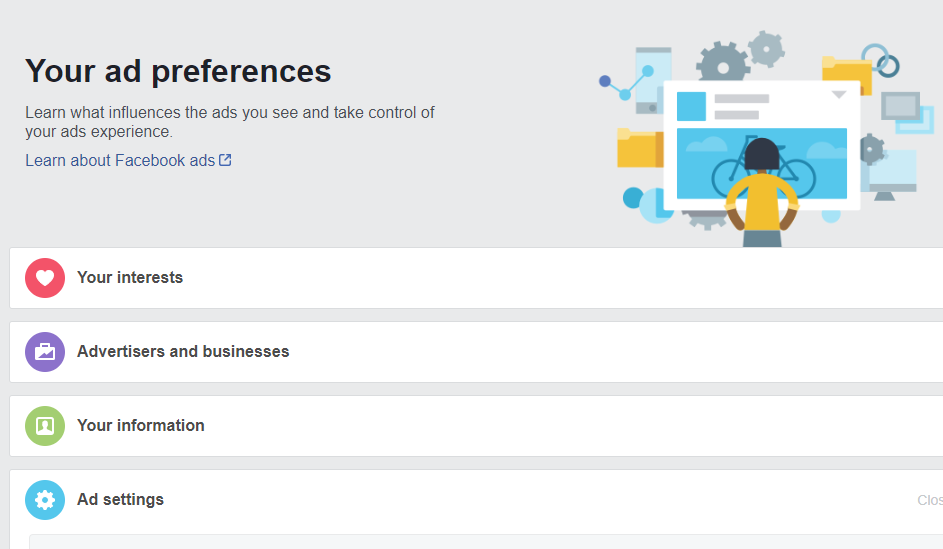 Advertisers collect your profile data in order to reach you. The "Your information" section allows you to add or remove certain fields that influence the ads directed to you.
Additionally, in ad preferences, you can allow or reject ads based on partner data, ads based on your activity on Facebook company products that you see elsewhere, and ads that include your social action.
So this was all because of Facebook's privacy settings. Also, this setting will prevent your data from being leaked to an unwanted audience, but the security of your account password is even more important. You should always use strong and unpredictable passwords. You can also use two-step authentication for it.