Confused between Lenovo and HP brands? Can't decide which brand is better? Just check out our guide to Lenovo laptops vs. HP to clear up all your confusion.
In this age of the digital revolution, a laptop is a must-have for anyone. It makes our daily operations much smoother and well organized. And when it comes to deciding which laptop to buy, brands play a big role. There are few brands that stand out from the many on the market. While the number of options we have today makes it easier, it can also be quite overwhelming, especially if you are a beginner or someone who does not have much knowledge of the latest technologies. In case you are one of them, I am here to help you.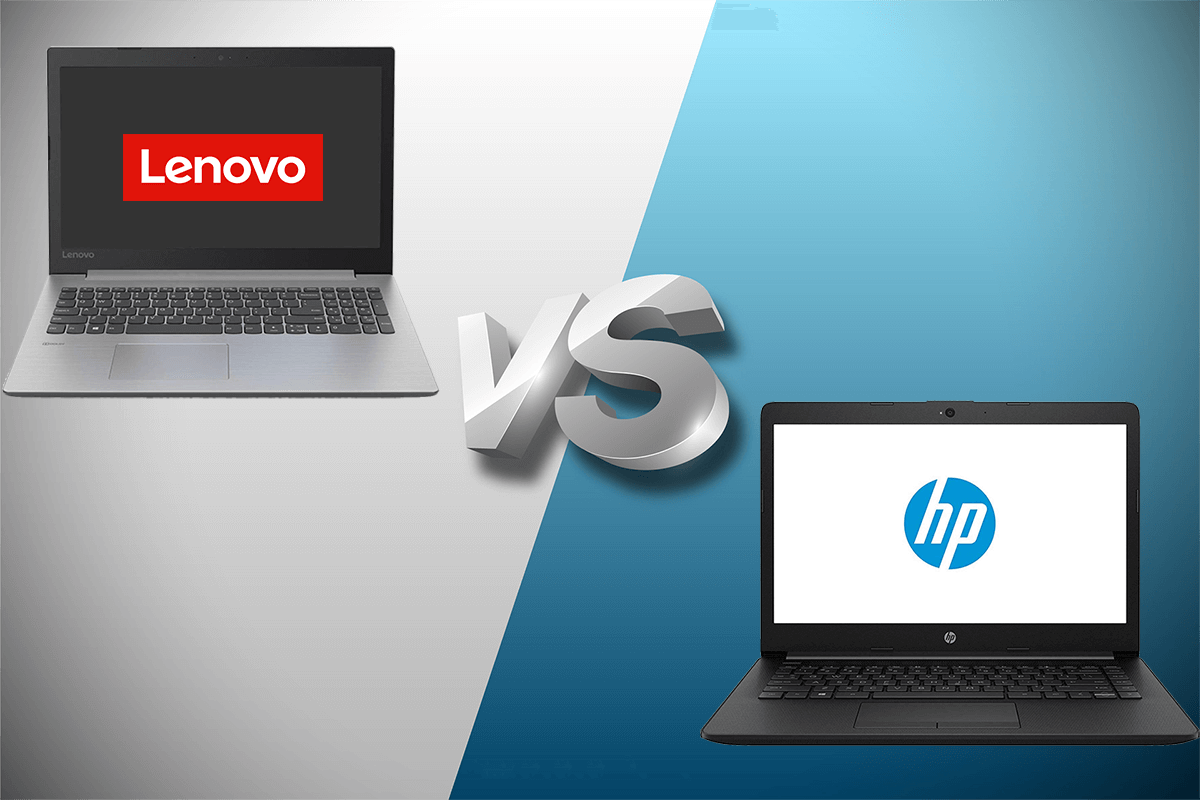 Lenovo vs. HP Laptops - Find out which one is better
Once we remove Apple from the list, two of the biggest remaining laptop brands are Lenovo and HP. Now they both have some amazing laptops under their name that provide stellar performance. In case you're wondering which brand you should go with, I'll help you make up your mind. In this article, I am going to share the positives and negatives of each brand and show you the comparison. So, without wasting any more time, let's get started. Keep reading.
Lenovo and HP - the backstory
Before we go to compare the top two brands on features and more, let's take a moment to see how they came into being.
HP, which is the acronym for Hewlett-Packard, is an American-based company. It was founded in 1939 in Palo Alto, California. The company started very small, in a one-car garage, to be precise. However, thanks to his innovation, determination and hard work, he became the largest computer manufacturer in the world. They boasted of this title for six years, starting in 2007 and continuing through 2013. In 2013, they lost the title to Lenovo - the other brand we'll talk about shortly - and then got it back again in 2017. But they had have to fight again as Lenovo regained the title in 2018. The company produces a wide range of laptops, mainframes, calculators, printers, scanners and many more.
On the other hand, Lenovo was founded in 1984 in Beijing, China. The brand was originally known as Legend. The company surpassed IBM's PC business in 2005. Since then, there has been no turning back for them. Now, they have a workforce of more than 54,000 employees at their disposal. The company is responsible for producing some of the best laptops on the market at affordable prices. Although it is a fairly young company - especially when compared to companies like HP - but it has earned a good name for itself.
Now, let's see where each of the brands excels and where they fall short. To be honest, the brands don't differ much from each other. Both are big name brands with amazing products. When you want to choose between an HP laptop and a Lenovo laptop, don't make the brand the only detrimental factor. Keep in mind to check the specs and features that that particular device offers as well. In short, you can't go wrong with either one. Keep reading.
HP - why should you choose it?
For the next section of the article, I'm going to talk to you about the reasons why you should choose IBM, the pros of the brand, in case you like the word. So here they are.
Screen quality
This is one of the biggest, if not the biggest reasons why you should choose HP laptops over Lenovo ones. HP is the leader when it comes to screen quality and resolution. Their notebooks come with stellar displays that offer clear, detailed images. This feature is especially beneficial for those who want to play games or watch movies on their laptops.
Design
Are you someone who thinks a lot about the aesthetics of your devices? In case you are, I would suggest you stick with the HP laptops. The designs provided by HP are much better than Lenovo's. This is an area where they are very advanced and always have been. Therefore, if you are concerned about the appearance of your laptop, you already know which brand to choose.
Games and entertainment
Looking for a laptop to play games? Do you want to watch a lot of movies on your laptop? HP is the brand to go for. The brand offers manufacturer graphics, as well as excellent image quality, two prerequisites for the most advanced games and entertainment. So in case this is your criteria, there is no better option than an HP laptop.
Abundance of options
HP manufactures notebooks of various classes with different specifications and features. The price also varies on a wide range of their laptops. So with HP, you're going to have a lot more options when it comes to laptops. This is another aspect in which the brand outperforms its rival - Lenovo.
Easier to fix
In the event that a part of your notebook is damaged, you will find a wide variety of spare parts, thanks to the wide range of HP notebooks. Besides that, many of the replacement parts are interchangeable as well. Which means that you can use these parts in more than one laptop, regardless of the model. It adds to your benefits.
Lenovo - why should you choose it?
Now, let's take a look at where Lenovo is the leader and why you should go with this brand. Check it out.
Durability
This is one of the biggest advantages of Lenovo laptops. They can last for years. The reason behind this is that they have incredible technical specifications and features. On top of that, they also have a physical build that can withstand quite a bit of punishment, falling to the ground, for example. Therefore, you can use a laptop for a long time, saving you a lot of trouble and money.
Customer Service
When it comes to customer service, there is no one better than Apple. But if there is a brand that is in second place, that is definitely Lenovo. The brand provides customer support at any time, seven days a week. It's a relief to know that when you have a problem with your laptop, you can get help right away, no matter the time.
Also Compare: Dell Laptops Vs. HP - What is the best laptop?
On the other hand, this is an area where HP is lacking. They do not offer 24-hour customer service and the time during a call is much longer than Lenovo.
Business work
Are you a businessman? Looking for a laptop for business use? Or maybe you are looking for laptops to give to your employees. No matter what it is, I would suggest you go for Lenovo's range of laptops. The brand offers amazing laptops that are the best for business work. For example, Lenovo's ThinkPad is one of the best laptops out there for G Suite, MS Office, and many other large software programs used in businesses.
Price range
This is one of the biggest benefits of Lenovo laptops. The Chinese company offers notebooks with quality specifications and functions at affordable prices. This is more suitable for students and someone who wants to save on their budgets.
Lenovo vs. HP Laptops: The Final Verdict
If you like gaming more, then obviously you should go for the high-end laptops from HP. But if you're on a budget and still want to play the latest games in medium or high settings, then the Lenovo Legion might be worth a try.
If you are a professional who wants a laptop to work on the go, then you should definitely go with Lenovo as they have great quality convertible laptops.
Now if you are a traveler or looking for durability, then HP is the brand you should trust. In terms of design, HP has a wider range of notebooks to choose from. So in durability and design, HP is a clear winner as Lenovo lacks robustness.
So, there you have it! You can easily end the Lenovo vs. HP Laptops using the guide above. But if you still have any questions about this guide, feel free to ask in the comment section.