Enter a Wi-Fi network It is not as simple as downloading a program and getting the password. It is only simple if the owner of the network created a open network . For the rest of the cases it is somewhat more complicated. In this article we will show you the different ways that we will be able to use to enter someone else's WiFi.
You certainly came here looking for: «how to steal wifi "," how to hack wifi ","hack wifi "," how to hack a wifi network "," how to hack wifi networks "… Or similar searches.
Attention:

We could title this article «How to protect your wifi network?«,«How to check the security of your Wi-Fi network?"Or"How to avoid being hacked? The purpose of this article is for everyone to check the security of their own Wi-Fi network.

The purpose of this article is NOT to provide Guides to force access or enter the wifi illegally. Rather, we want to show what hackers do so that, in this way, they can check the security of your own WiFi and can improve what they think is necessary.
Hack WiFi networks without programs: Easy way
The first thing a person who wants to enter a WiFi network without paying will do is search open wifi networks, without password. Technically it is not hacking, but it can be useful to you anyway. For this you usually buy a long range WiFi antenna: costs usually cost less than € 100. These antennas are usually placed on terraces or rooftops outside to capture Wi-Fi networks in 5 km to 20 km around. As an example, if you live relatively close to shopping malls or places with public WiFi, you could try this method. In this circumstance we would be talking about an absolutely legal connection, since the network is public.
In the list below we will see some long range wifi antennas.
TP-Link TL-ANT2424B antenna: TP-LINK 2.4GHz 300Mbps 9dB Outdoor CPE, CPE210 is dedicated to providing effective solutions for outdoor wireless networks. With its centralized configuration application, it is ideal for step-by-step, point-to-multipoint connections and outdoor Wi-Fi coverage. With professional performance, coupled with its user-friendly design, it makes the CPE210 a choice for businesses and households alike.
Ubiquiti LBE-M5-23 - 5 GHz: LiteBeam M is an ultra-light, long-range airMAX device at a low price. The LiteBeam M provides 23 dBi of gain for long-range connectivity and uses a directional antenna with an improved pattern for noise immunity. With the characteristic of the absolute freedom of alignment in the three axes, the LiteBeam M assembles in seconds, you do not need any tools other than the essentials to fasten it to the pole. Combining the super compact factor, the LiteBeam occupies almost the same size in its packaging as the well-known Nanostation M5, making transport and packaging much more comfortable.
Ubiquiti PowerBeam M 22dBi 5GHz 802.11n MIMO 2 × 2 TDMA: By focusing in one direction, the PowerBeam 5AC Gen 2 spatially blocks or filters noise, thereby enhancing noise immunity. This characteristic is fundamentally important in an area full of other RF signals of the same or similar frequency. Integrated design Ubiquitis InnerFeed (R) technology integrates the radio into an antenna feed horn, so there's no need for a cable. This improves performance by eliminating cable losses.
The second thing a person can do to get Wi-Fi totally free is look for others semi-open WiFi networks. Associations of people who share their wifi with everyone in the same "community".
As an example, buying a device from the FON community, everyone who has the FON device can enter your network, and you will be able to enter the networks of everyone who has their FON. In short, it is a way to have Wi-Fi in almost all places, depending on how widespread the community is.
The networks mentioned are:
Tools for auditing Wi-Fi networks: Advanced Mode
Currently there are a large number of tools to carry out this type of audits, and we can even use operating systems that are oriented to this type of audits, to have all the tools you need pre-installed. At the same time, you can have some tools on your Android or iOS mobile.
Wi-Fi network scanner
These applications can be installed on Android / iOS mobiles as well as on computers. It is one of the easiest tools to install. You will be able to have a complete overview of all the wireless access points that are near you. You will have data such as signal level, type of encryption used and the MAC address of the AP.
You will be able to take advantage of stumblers by encountering networks that use weak security protocols, such as WEP or the older version WPA. If there are APs with hidden or not established SSIDs, some stumblers may reveal them. In the case of using this application at a corporate level, you will be able to find out about people who might be wanting the internal network. For Windows operating systems, the best Wi-Fi network scanner is Acrylic WiFi, and at the same time Acrylic WiFi professional with more display options and even has the possibility of making your own scripts.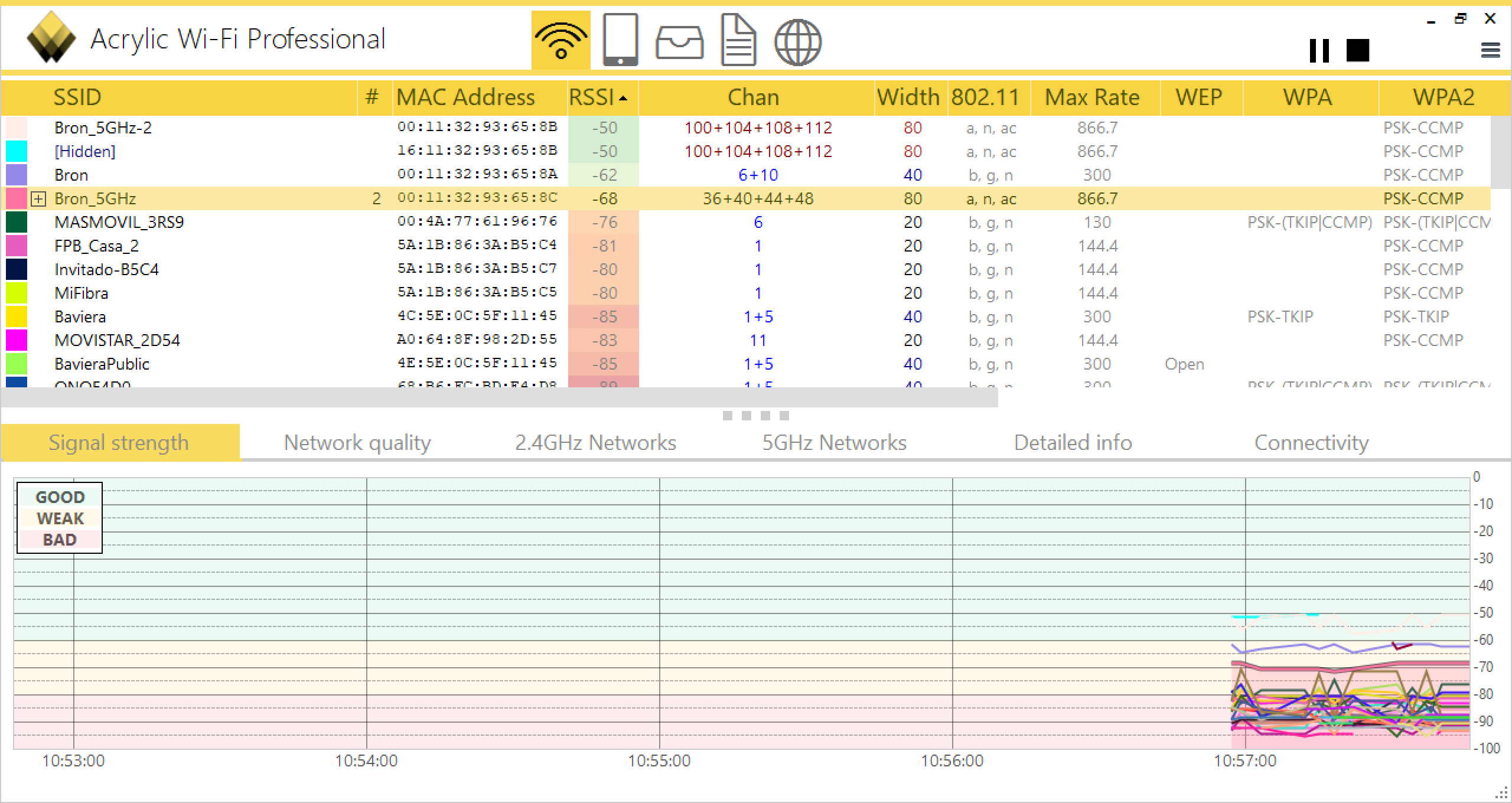 These kinds of tools are very interesting to use on mobiles due to their practicality and mobility. Regardless of the place, you can have a tool that scans Wi-Fi networks installed on the cell phone device, and have the information you need at the moment. An alternative for Android devices is called WiFi Analyzer, is completely free and shows information about nearby access points in both the 2.4 GHz and 5 GHz bands.
If you have any of the iOS mobile options, you can download and try Network Analyzer Pro. It is not free, but it has a range of features that makes it quite complete, as is the case with the Android application.
Tools that reveal other details of wireless networks
The relevance of these tools lies in the fact that they reveal how a compromised or stolen device can contain a lot of sensitive information, at the same time from various documents or files. At the same time it highlights how important it is to use type authentication 802.1x where users have individual access credentials for the Wi-Fi network, mainly in the corporate sphere or in places where this connectivity is offered as a service or facility.
WirelessKeyView it is an application that may be useful to you. It has no cost and lists all the WEP, WPA and WPA2 keys that were ever saved on your Windows computer.
Apart from this, we have Aircrack-ng that it is an open source suite of applications for cracking WEP and WPA / WPA2 keys and is beginning to be updated for WPA3 networks. It is compatible with Windows, Mac OS X, Linux, and OpenBSD. At the same time, you can view access points close to you, including those with hidden or unavailable SSIDs. At the same time it has sniffer functions that capture packets, inject and reproduce traffic, and, of course, it is capable of cracking access passwords, depending on whether enough packets have been captured for it (in the case of WEP), or if you have captured the handshake in the case of WPA / WPA2.
Wi-Fi Sniffers
Unlike wireless network scanners, sniffers go one step further by capturing information about APs, which is used to analyze the packets that are transmitted over the wireless network. The captured traffic information can be imported into other applications such as aircrack-ng.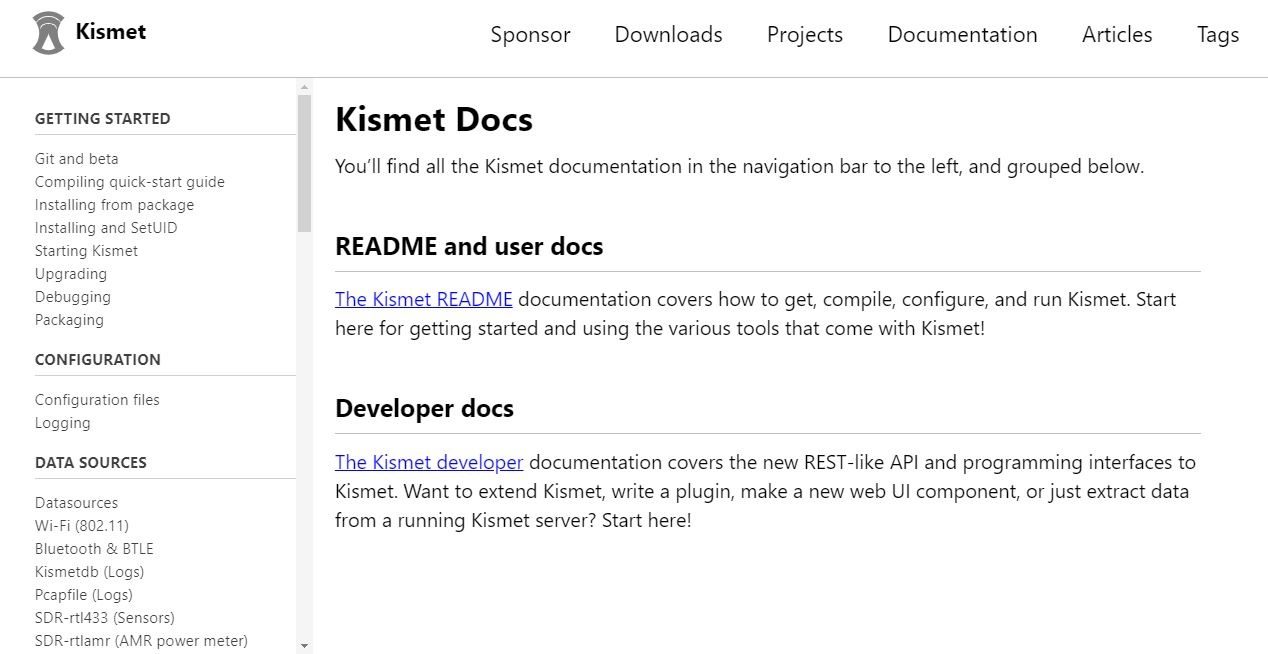 Kismet It is a free and open source solution and very well documented. It has functions of stumbler, sniffer of packages and even has an intrusion detection system. The latter is executable in Windows 10 through the WSL framework, Mac OS X, Linux and BSD.
As we mentioned, it manages to capture the packets, which you can later import into other recognized tools such as Wireshark, TCPdump and others. In addition, it has support for a large number of adapters on Mac OS X and Linux.
Kali Linux and Network Hacking: Devil Mode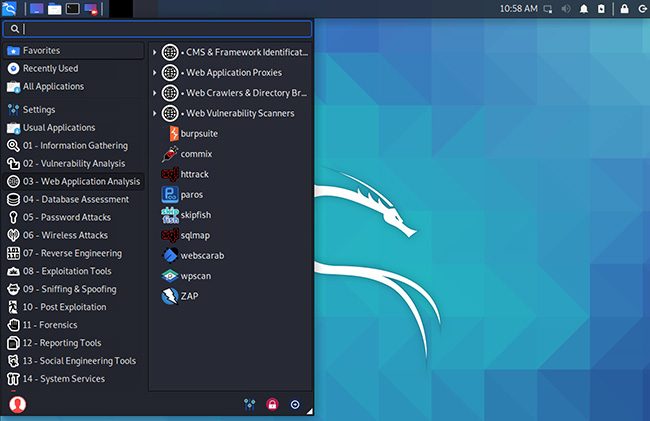 We can't stop recommending the hacking-oriented operating system. Kali Linux It is quite popular and not only allows you to perform a common Linux-type installation on a computer, at the same time you can install it on a boot disk. At the same time, you can run it on any other computer as a virtual one through VMWare, Virtual Box and others.
Among the large number of tools computer forensics that it contains, we can find some oriented to perform pentesting in Wi-Fi networks. We can highlight that Kismet (already mentioned above) and Aircrack-ng are included. This operating system it's completely freeAt the same time, the tools that we have suggested, have a high level of support on their website. You have at your disposal all the necessary documentation to start from scratch. Some of the star tools for auditing Wi-Fi networks are:
Reaver: hack into a network with PIN-type WPS enabled, so if your Wi-Fi network has WPS enabled, we recommend disabling it.
Wi-Fi Honey It generates a kind of honey pot that attracts people who want to connect to an access point. Therefore, it creates fake APs to capture the traffic they generate and carry out man-in-the-middle attacks.
FreeRadius-WPE performs man-in-the-middle attacks when performing 802.1x authentication
How to hack wifi with Android or from Windows?
The reasons why you want to hack a WiFi network can be many: use free WiFi, enter sensitive data, hack a computer, use WiFi without paying, etc. We are not the one to ask you questions. You will know well why you do it.
Today, there are several programs that audit recognized vulnerabilities of routers of all brands, such as the well-known vulnerability of Comtrend and Zyxel routers, which makes it possible to calculate WPA Wi-Fi keys instantly. Some of the applications that make it possible to get WiFi keys taking advantage of these failures are the following:
Easy WiFi (Hack Android wifi) - Only for Orange Livebox
WLANAudit (Android wifi program) - Effective with Zyxel and Comtrend routers
WLAN_XXX Decrypter (Android) - From the same author as WiFi Auditor. Use color codes
HHG5XX WEP scanner (Android wifi hack program) - Only for a specific model of Huawei access point
AirCrack (Windows, Linux wifi hack program) - Since version 0.9, you can decrypt WEP wifi keys in no time
Wifipass (Hack Android wifi) - For Movistar and Jazztel routers (WLAN_XXX, Jazztell_XXX)
WiFi Auditor (program steal wifi Windows, Mac, Linux) - Not very usable, but works just as well as Wifipass
Reaver (Linux) - It exploits a WPS vulnerability to obtain the WPA key.
Wifiway (LiveCD wifi hacker program) - Packed with WiFi auditing tools and very popular
Beini (LiveCD) - Another LiveCD that injects packets to find WiFi keys
It should be noted that exploits that they are used to enter the networks do not pose any danger to the router or to other computers on the network; they do not harm any program or device. Having said that, we suggest  test with your own wifi networks, to see if they are secure or not.
If you need to hack a WiFi network you will certainly be interested hack instagram
Apps to decrypt wifi keys wpa2. Applications for Android and Iphone
Backtrack 5 is certainly the best program to hack a wifi: in less than 6 minutes the interested party can get the password. At the same time you can access the Wi-Fi with operating systems like BackTrack, not only with programs that you install on your computer.
As we have mentioned before, there are operating systems specifically prepared to hack wifis, with scripts already installed. The operating system par excellence is BackTrack, which is an operating system based on Ubuntu (Linux), which is installable on a computer, and can be booted from a bootable CD, or from a USB (you start your usual PC with the CD or USB inserted and the operating system is loaded BackTrack, you use it, you reboot and you have your usual Windows again).
BackTrack has many of the above programs:
Wireshark, Protocol analyzer
jellyfish, Brute Force Attack tool: extract passwords by trying millions of passwords until one is entered
Nmap, port tracker: search for open ports to enter
Aircrack-ng, Wireless Audit Tools: Get Wifis Passwords
Kismet, Wireless Sniffer: remove passwords for gmail, hotmail, banks ...
Ettercap, Interceptor / Sniffer / Registrar for LAN: similar to above
How to avoid hackers in my networks?
If the above tools have compromised your WiFi security, you may need to reinforce security of your network, to close the access in your network a hacker who looking to steal wifi:
Change the default WiFi password of the router
Change the default network name (SSID): each router produces a one-style network name (WLAN _ **, for example it is one of Telefónica's Zyxel), changing the name the hacker cannot easily know which one it is your router and, therefore, what security flaws it has
Use WPA2 encryption: the more complicated it is, the longer it takes to be able to decrypt it with software
Limit the number of assignable IP addresses, to prevent hackers from sneaking in. Or put a MAC filter on your router, so that only the computers that you intend to let into the router can enter and not other strangers
Disable unused technologies, such as WPS
Keep the router firmware up to date
Use cables instead of wifi, old school, but more secure