Fix Skype audio not working Windows 10: Skype is one of the best messaging apps in the world, but this doesn't mean you can't have problems. Well, one of the most common problems with Skype these days is Skype audio not working on Windows 10.
Users have reported that skype audio stopped working after upgrading to Windows 10 and in most cases, it means that the drivers are not compatible with the new Windows.
(* 10 *) Fix Skype audio not working with Windows 10
Method 1: Set up your speakers and microphone
1.Open Skype and go to tools and then click on options.
2. Then click Audio Settings.
3. Make sure the microphone is set to internal MIC and the speakers to headphones and speakers.
4.In addition, the option "Automatically adjust microphone settings" is checked.
5. Click Save Changes and restart your computer.
Method 2: Update the audio drivers
1.Press Windows key + R, then type "devmgmt.msc" and press enter to open the device manager.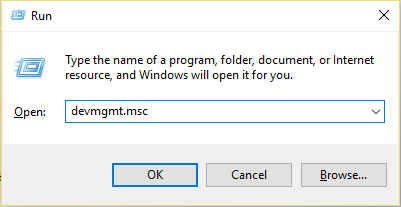 2.Then click Sound, video and game controllers to expand it.
3.Now right click on all present audio devices and select "Update driver software".
4.Restart to apply the changes.
Method 3: Restart Windows Audio Services.
Sometimes the simplest answer to this problem is to restart Windows Audio Services, which can be done by following this link.
If there is an obstacle in the sound / audio of your Windows 10, then read: How to fix headphones that do not work in Windows 10
Method 4: Change Windows Microphone Settings
1.Right-click the sound / audio icon on the taskbar and select "Recording devices".
2.Select your microphone and right-click on it and select Properties.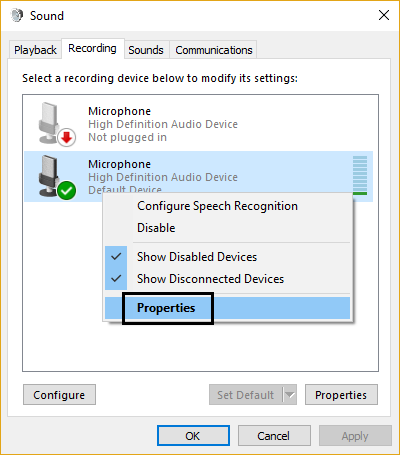 3.In properties, navigate to the Advanced tab and make sure that "Allow apps to take exclusive control of this device is not activated" is not checked.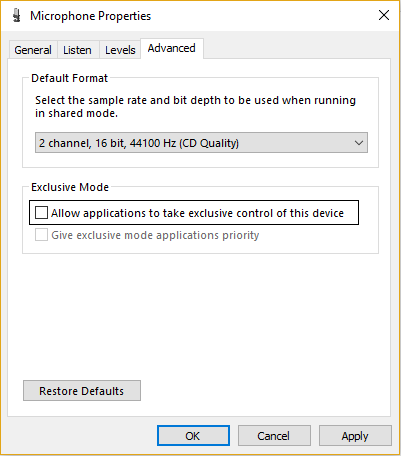 4. Click Apply and OK.
5.Restart your computer to apply the changes.
Method 5: Update Skype
Sometimes reinstalling or updating your skype to the latest version seems to fix the problem.
That's it, you have successfully fixed Skype audio not working on Windows 10, but if you still have any questions about this post, feel free to ask in the comment section.