PRESENTATION
With the double degree Executive MBA & Master in Project Management, it is intended to provide leaders and managers with an integrated, transversal and global vision of general administration, providing them with all the tools and skills necessary for them to function successfully in positions of responsibility. . . any organization through the planning, execution and monitoring of medium and long-term strategies.
Faced with increasingly competitive markets, this program provides strategic training in the design, development and control of business projects and fosters excellence in senior management and the development of leadership skills.
Choose to train at ENEB, one of the most relevant distance business schools in Europe that allows you to train at the highest level, from anywhere and with the daily support of all teachers and tutors.
FOR WHOM?
The double degree Executive MBA & Master in Project Management eminently practical and interactive is aimed at executives, middle managers, businessmen and entrepreneurs with professional experience, who seek to accelerate their careers inside or outside the company, developing their skills and abilities above all directed. in the administration and supervision of large projects.
GOALS
Improve and develop your managerial skills.

Manage effectively the different areas of business administration.

Strengthen your business management knowledge.

Develop the managerial skills essential to make decisions with autonomy and an entrepreneurial spirit.

Provide a complete and complete overview of the administration and the role of the company in the environment that surrounds it, knowing the global nature of the company and differentiating the responsibilities of each department.

Provide students with a point of view of the company, within a complex system and contrasting changes that adapt to the reality of the environment.

Promote a proactive and administration-oriented attitude.

Obtain knowledge and develop the main capacities and strategic skills in business administration.

Train expert project managers, who know how to obtain the proposed objectives, increase profitability and improve the overall quality of the project.

Develop management skills and techniques to manage human and material resources.

Learn about the PMP certification standards.

Align the current needs of companies in project management with the teaching of best market practices.

Know, choose and use correctly the essential tools for the budget management of a project.

Promote decision-making as a manager of complex projects, taking into account technical, economic, quality, and environmental aspects and exposure to the risks that surround it.
PROFESSIONAL OUTINGS
The double degree Executive MBA & Master in Project Management allows you to develop your career focused on the exercise of the function of management and general direction of companies and other institutions of all kinds. You will also be eligible for positions such as Project Director, Director of Operations, Director of the Office of Project Management (OGP), Program Manager, Portfolio Manager or Online Project Manager.
ADMISSION
To have access to the Executive MBA & Master in Project Management, candidates must meet the following requirements:
To be in possession of a diploma, architecture, higher or technical engineering, bachelor's degree, diploma or other similar title.

Students pursuing an MBA or equivalent graduate study.

Professionals with professional projection in the position held with a minimum of 3 years of experience.

In the event that you do not meet any of the above conditions, contact the school and the admissions department will evaluate your particular case.
FOUR GRADES
At the end of your studies, you will have four diplomas issued by the European School of Business of Barcelona, ​​approved and certified by the Isabel I University:
Executive mba

Master in project management

Diploma of Specialization in Coaching and NLP

Business English Program Certificate
Opinions in Google My Business
As is widely known, Google's "tabs" make it possible to compile comments on different businesses or organizations. For this master we have reviewed the comments that there were about ENEB and we have found that it has 245 opinions with an average rating of 4.5 / 5. Undoubtedly a good status for one of the most "cruel" comment platforms.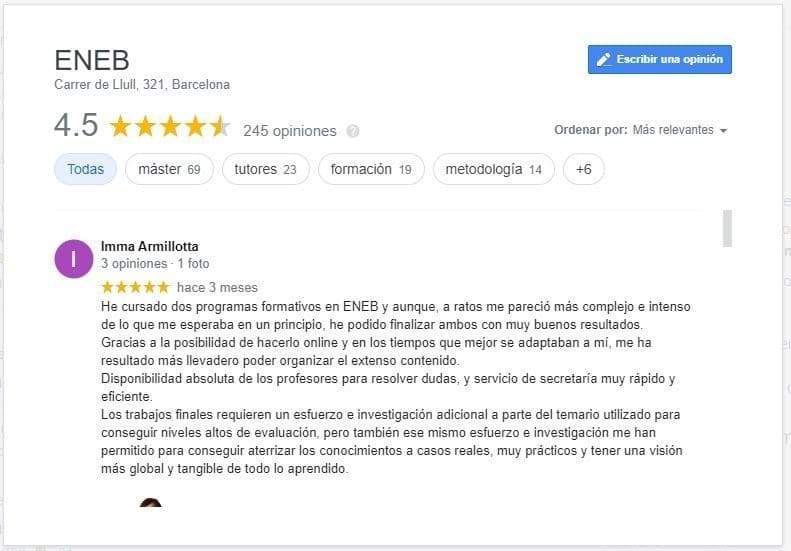 Discounts, scholarships and special prices
Today ENEB offers important discounts to which you can have access using the link below. With the code EMBAJADOR3069  you will be able to have access to a discount up to 97% on the prices published on the ENEB website.
Use discount code EMBAJADOR3069
As an example, you will be able to obtain a double master for only €279, or a Global MBA for only € 479 💸 (lower prices than those published on emagis ** r.com and on Grou ** n).