Presentation
The Master in Innovation and Entrepreneurship + Master in Hospitality and Tourism aims to delve into the keys to starting a company, with an emphasis on product launch, teamwork and administration in the development of a project. In addition, you will become a manager with a magnificent strategic and global vision, ready to lead any organization in the hospitality and tourism sector, which needs creative professionals year after year capable of adapting to new times and meeting more and more customer demands. demanding.
To this must be added the constant appearance of new services and products associated to a large extent with new technologies, a new online marketing model, the expansion of customer service services that make the establishment and administration of the protection of the customer unique. environment in hotels, which had so much. in recent years.
This double master's degree will allow you to develop important personal skills as an entrepreneur in areas such as imagination and leadership, business administration and project management; innovation and entrepreneurship have significant value in the global economy, as they optimize resources, processes, renew industries, and create business value and possibilities.
Choose to train at ENEB, one of the most relevant distance business schools in Europe that allows you to train at the highest level, from anywhere and with the daily support of all teachers and tutors.
GOALS
The study plan of the Master in Innovation and Entrepreneurship + Master in Hospitality and Tourism aims to provide the student with the following knowledge and skills:
Design, implement and manage a new product or a new business idea.
Actively participates in the start-up procedure.
Formulate innovation strategies to promote or modify the administration and direction of the company.
Master all these areas with a high technical component that the manager and the manager need to know in depth.
Have a global vision and thus promote critical thinking.
Know and be able to manage all areas of the hotel: operations, operations, management support tools in areas such as human resources, hotel management analysis, etc.
Identify and manage the growth and innovation potential of an existing business.
Form a scheme to create and apply innovation within an organization through a business plan.
Learn about the main tools to measure quality controls.
PROFESSIONAL OUTINGS
The Master in Innovation and Entrepreneurship + Master in Hospitality and Tourism makes it possible to start or manage any business, participate in projects such as Business Enhancer, Head of innovation teams, R & D & I Administration or Product Manager. You can also develop administration functions for any hotel and tourism sector.
ADMISSION
To enter the master's programs, applicants must meet the following requirements:
To be in possession of a diploma, architecture, higher or technical engineering, bachelor's degree, diploma or other similar title.
Students pursuing university studies or equivalent higher studies.
Professionals with professional projection in the position held.
In the event that you do not meet any of the above conditions, contact the school and the admissions department will evaluate your particular case.
FOUR GRADES
At the end of your studies, you will have four diplomas issued by the European Business School of Barcelona approved and certified by the Isabel I University:
Master in innovation and entrepreneurship
Master in Hotel Management and Tourism
Diploma of Specialization in Coaching and NLP
Business English Program Certificate
All training programs come with an optional business-level English course, allowing you to function in an international work environment. In the event that you do not follow it, you will have a double degree.
Opinions in the Google My Business search engine
As is widely known, Google's "tabs" make it possible to compile comments on different businesses or organizations. For this master we have reviewed the comments that there were about ENEB and we have found that it has 245 opinions with an average rating of 4.5 / 5. Undoubtedly a good reputation for one of the most "cruel" comment platforms.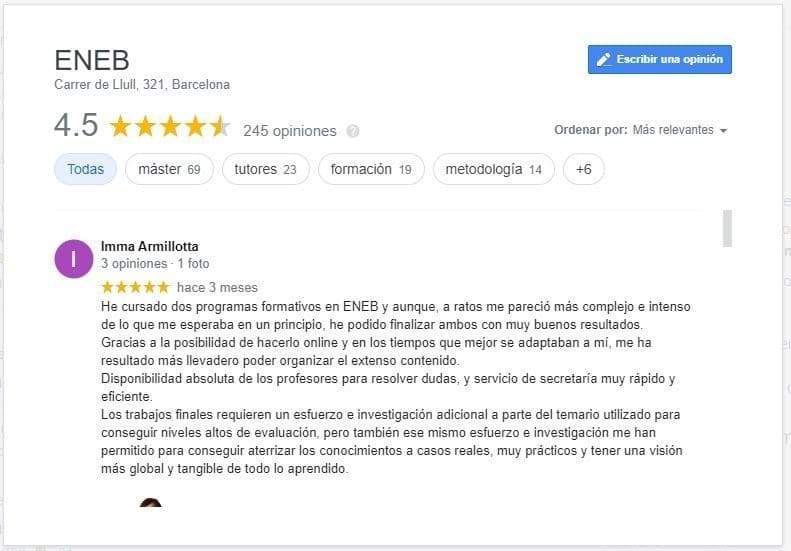 Discounts, scholarships and special prices
At this time ENEB offers important discounts to which you can enter using the link below. With the code EMBAJADOR3069  you will be able to enter a discount up to 97% on the prices published on the ENEB website.
Use discount code EMBAJADOR3069
As an example, you will be able to obtain a double master for only €279, or a Global MBA for only € 479 💸 (lower prices than those published on emagis ** r.com and on Grou ** n).