PRESENTATION
With the postgraduate program in project management, you will develop different skills that will allow you to determine, plan, organize, evaluate and monitor a project in any of the business areas and sectors in which you develop your business, as well as having the ability to lead a work team and build relationships with all clients and internal and external audiences. All this to ensure the success of business and organizational objectives.
In organizations with a higher level of maturity in project management, these objectives are directly linked to strategic objectives, allowing a logical path to be traced with concrete steps to achieve the mission of the company. The rapid evolution of business strategies means that project managers or coordinators, while having a very broad knowledge of project management, must have their personal and performance skills well developed.
Choose to train at ENEB, one of the most relevant distance business schools in Europe that allows you to train at the best level, from anywhere and with the daily support of all teachers and tutors.
FOR WHOM?
The Postgraduate Program in Project Management is designed to train middle managers who wish to gain skills to lead, plan, organize and control projects effectively and efficiently. Professionals trained to lead work teams based on the development of managerial skills and techniques typical of managers.
GOALS
The graduate curriculum in project management aims to provide the student with the following knowledge and skills:
Develop skills and techniques for the management of human and material resources.
Align the current needs of companies in project management with the teaching of the best practices in the market.
Know, select and correctly use the necessary tools for the budget management of a project.
Promote decision-making as a manager of complex projects, taking into account technical, economic, quality, and environmental aspects and exposure to the risks that surround it.
Train professionals with high added value in project management, to offer an effective contribution to organizations in their development plans.
Develop capacities and skills that allow them to specialize in understanding processes through best project management practices.
Provide students with a high analytical capacity through a solid methodology, so that they are able to recognize projects by their priority, scope and level of execution.
Promote learning that allows the student to exercise the skills necessary for good project management, through the practical application of the knowledge acquired through practical cases.
PROFESSIONAL OUTINGS
The Postgraduate Program in Project Management prepares you to lead any work team as a project manager, director of operations, project management office assistant or as a portfolio manager.
ADMISSION
To enter graduate programs, applicants must meet the following requirements:
Be in possession of a bachelor's degree, architecture, higher or technical engineering, bachelor's degree, diploma or other identical diploma.
Students pursuing university studies or equivalent higher studies.
Professionals with professional projection in the position held.
If you do not meet any of the above conditions, please contact the school and the admissions department will evaluate your particular case.
DOUBLE DIPLOMATURE
At the end of your studies, you will obtain a double degree issued by the European Business School of Barcelona, approved and certified by the Isabel I University.
Graduated in project management
Business English Program Certificate
It should be remembered that the English course to obtain the certificate of the Business English Program is optional and does not condition the postgraduate degree in any way.
Opinions in Google My Business
As is widely known, Google's "tabs" allow you to compile comments on different businesses or institutions. For this master we have surveyed the comments that there were about ENEB and we have found that it has 245 opinions with an average rating of 4.5 / 5. Undoubtedly a good status for one of the most "cruel" comment platforms.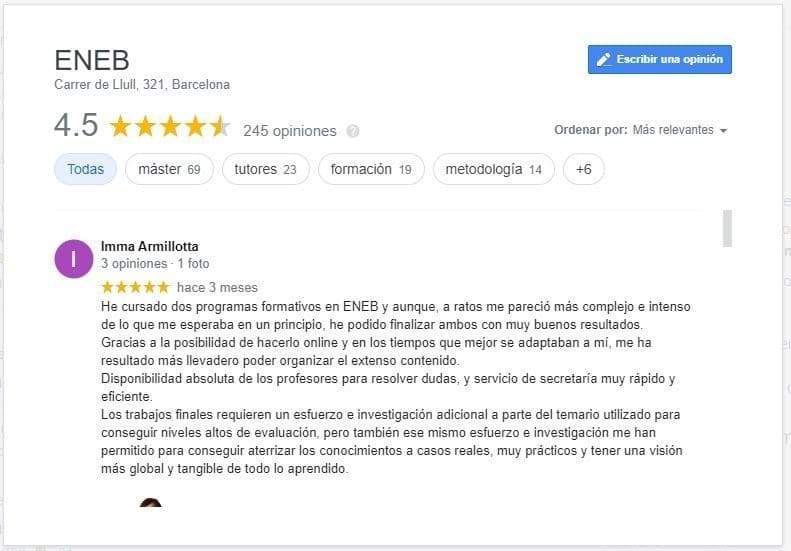 Discounts, scholarships and special prices
Today ENEB offers important discounts to which you can enter using the following link. With the code EMBAJADOR3069  you can enter a discount up to 97% on the prices published on the ENEB website.
Use discount code EMBAJADOR3069
As an example, you can get a double master for only €279, or a Global MBA for only € 479 💸 (lower prices than those published on emagis ** r.com and on Grou ** n).