Your subscribers subscribed to your newsletter because they are interested in what you offer and want to keep receiving news about you. They have already taken a big step to be closer. And now that?
Now is your turn. It's up to you to even give them more than they ask to make them feel special and retain them, since a welcome email is a key piece in the first contact with your subscribers.
Therefore, creating a powerful welcome email is important to earn their trust from minute one. Do you find something lost and do not know how to write it?
Do not be overwhelmed, because in this we will see the importance of this type of emails in email marketing, as well as some tricks and tips to create an impressive copy in your campaigns. Ah! I forgot ... I'll also leave you some examples to inspire you 😉
The welcome email function
This first communication with your potential client becomes a great opportunity to impact them, arouse their interest with the information they are going to receive through this channel and leave them wanting to receive the next email.
Note: A welcome email can motivate the user to take an action that you want them to take, such as downloading content, completing their profile, visiting a page or making a purchase.
As a curious fact, you should know that welcome emails have a higher open rate (50 % more) than other types of emails. And also the users who receive this email interact more with the brand.
Tips for writing welcome emails
Before sending any welcome email, I recommend that you take these tips into account so that your email maintains and increases the attention of new subscribers, and thus meets your objectives.
➽ Send it at the right time
This email should reach the user right after he subscribes, instantly. And it is that at that moment you know that you are still connected and can even continue investigating more about your brand.
By receiving a welcome email at that precise moment, it will encourage them to take another step in the conversion funnel. This can be a simple thank you email, which will have a reminder and report function. There are other types of email, but to find out more I recommend you read:
>> How to write thank you emails for clients <<
➽ Introduce yourself and tell why you (or your brand)
Tell them briefly what makes your product or service different from others. Try to summarize in one sentence who you are, what you do and how you can help them achieve X.
Important: Do not forget to put, at the end of the email, the name of the company or the signature and the position of the person in the company that addresses the user.
➽ Throw a promising message and deliver on it
After introducing yourself, you need to show something of value or relevant to these subscribers. Normally, at this point you should tell them what they will find in your newsletters or newsletters. Of course, then you must fulfill what you promised.
For example: If you promised the user before signing up that they could get a discount coupon or valuable content, you must follow through. Otherwise, you will generate mistrust.
➽ Customize your message
If you know the name of your subscriber, use it in your welcome email. That transmits closeness and can even increase the open rate.
In addition, if you automate your emails, the fact of personalizing your messages will make your shipments not so robotic.
➽ Add an attractive call to action
The call to action or CTA must be attractive, with a striking color, and easy to find so that the user clicks on it easily.
On the other hand, if you include more than one CTA, keep in mind that it must have a single objective and lead to a single site. This way we will not mislead the user.
➽ Link to valuable content
If you have a blog with valuable content, on a topic that may interest your new subscriber, it is ideal that you include links to this more educational content in your welcome email. With this, you will get the subscriber to resolve doubts and continue taking steps through the sales funnel.
For example: If you offer an analysis tool for social networks as a product, you can take advantage of the welcome email to link to an educational post that talks about how to use that tool.
➽ Show how to contact you
Leave your users other means of communication in case they need to resolve any issue. If you have a presence in networks, let them know in which networks you have a presence. You can also leave an alternative email or phone number.
➽ Create a design aligned to your brand
The design of your welcome email also matters. For the subscriber to recognize you immediately, add your logo to the template, use your corporate typography and add the colors that you use on your website to convey your brand essence.
Welcome email examples
These are some examples of welcome emails that some brands have created to surprise and attract the attention of new subscribers:
1. Welcome email to a client
When someone makes a purchase for the first time, after registering to make the purchase, the user will receive a welcome email.
In a welcome email, it is not bad to include the summary of the purchase, the benefits you will get and some links to further information.
Here we can see how Amazon Prime does it:
2. Welcome email to a company
For example, Crowdin is a platform for translators that makes the translation process easier. His welcome email is a greeting to the new subscribers, where he asks them to activate the account in order to use it. Although, from my point of view, it lacks customization.
Also, in a welcome email to a company, it will find a link with relevant information that will take you to a guide to learn how to use the tool.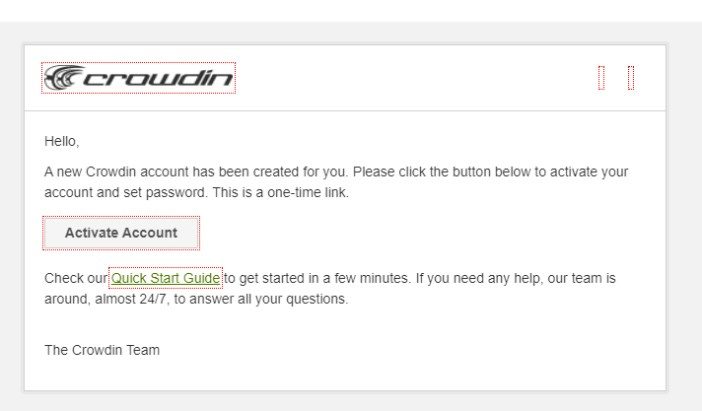 3. Welcome email to an employee
This type of email is common in large corporate companies, where the CEO of the company or manager welcomes, with a positive and motivating tone, a new employee.
Example of a welcome email to an employee:
The success of our company lies in teamwork. For this reason, we always bring out the best in ourselves by working side by side. We welcome you to our team and we want to make you feel like one more in our work environment. We are glad to have you with us!
CONCLUSIONS:
The welcome email is an opportunity to jump-start your new subscribers and keep them moving through the conversion funnel.
I recommend that you automate this email right after registration and that you take note of these copy tips if you want to arouse interest with your message to new subscribers. If your message is not relevant to them, it is likely that you will not achieve your goals and many will even unsubscribe. So be careful!
The key is to analyze the copy of your message well to leave the subscriber wanting to receive the next email. And in not neglecting its design, adding elements aligned to your brand so that they identify you quickly and generate trust.