There is no quick and easy answer to the question what is the best ERP software for SMEs? There are many small business ERP solutions available on the market. In this post we will ask ourselves not only what are the best programs based on the size and sector of a company, but we will also talk about the procedure to follow so that your business implements the appropriate ERP response.
💡 advice: if you need to quickly get a list of the ERP's that best suit your SME, take a look at our comparison table ⬇️
Best ERP Solutions for SMEs (2021 Edition)
By way of introduction, we teach you that to prepare this list we have only taken into account those administration tools clearly oriented to small and medium-sized companies. After trying several programs, we will indicate the 10 ERP's selected and for what reason:
Mygestion for micro-SMEs that work in mobility
Cloud Management for sectors with special requirements
Holded for being an intuitive platform
Clickgest for its scalability
Stel Order for technical assistance SMEs
Odoo Community to adopt an Open Source system
ev4 for its connectivity with online stores
SAP Business One for medium-sized SMEs
Business Central by the Microsoft ecosystem
a3ERP to manage all departments
But… What can an ERP for SMEs do for me?
An ERP for SMEs is an integrated software package that deals with the processes of the functional areas of the company. It consists of a tool organized in modules, which centralizes all the activities that occur in a small company.
ERP Systems for Small Companies and Micro-SMEs
When choosing which ERP for SMEs to hire, it is convenient to pay attention to the size of the company. There are ERPs that, due to their functionalities and prices, are better suited to a certain type of business.
The SME concept includes categories. The smallest are:
The micro-SME. The entity must have fewer than 10 employees. The business volume must be less than 2 million euros.
The small company operates with fewer than 50 employees. Its turnover will not exceed 10 million euros per year.
These are the 7 ERP systems for small and micro-SMEs that we have included in this list:
1. myManagement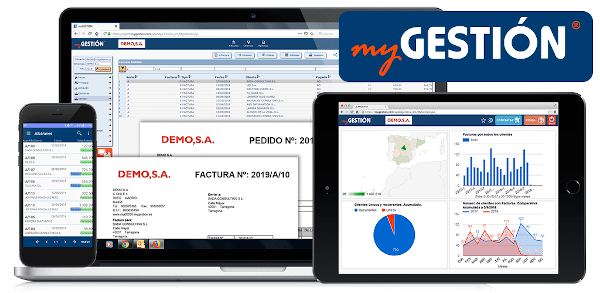 A fantastic option to manage your company's tasks quickly and easily. myGestión has configuration and customization alternatives that adapt to the user. It offers permanent technical support for the use and for the initial upload of data.
With this ERP for SMEs, the manager can work in mobility and manage both the billing and the warehouse of the company. Among the most interesting alternatives that it provides is the opportunity to have a POS for € 5 per month, or connect Prestashop To the system.
Rates: the cost is € 14.95 per month and includes one user. Each additional user costs € 7.95 per month.
2. Cloud Management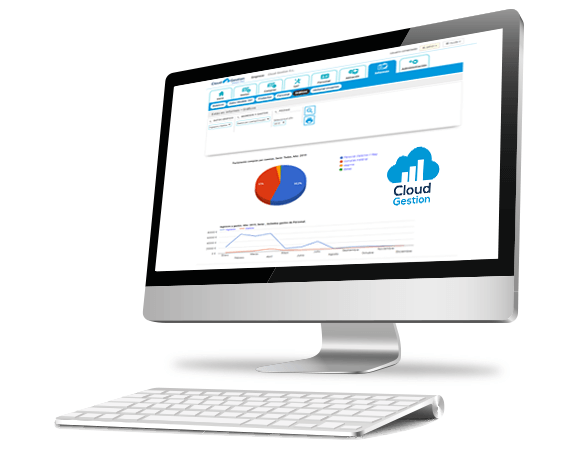 Most of the ERP's that we find in the market are generic, in other words, they can be used by SMEs in any sector. But there are businesses that require special modules that are only available in so-called vertical solutions. You can find more information in our post ERP vertical vs ERP horizontal.
Cloud Management includes the functionalities of any software of its kind, and at the same time sells versions adapted to certain sectors such as: construction, SAT, distribution, etc.
Rates: the pricing structure for Cloud Management is "different". The amount is annual and includes the purchase of the ERP plus hosting and support throughout the first year: € 350 Lite, € 750 Pro and € 1250 Business.
3. Holded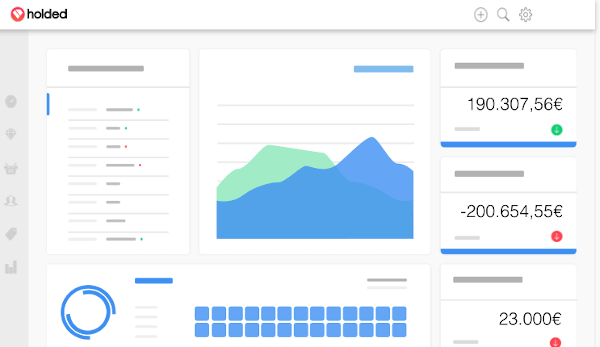 Holded's ERP for SMEs is a solution that manages sales, finances, inventories… all from a very intuitive platform. The interface is very neat, this is mainly noticeable in the project management module that will allow us to manage tasks using Kanban panels and plan with Gantt charts.
Holded connects with a multitude of applications: PayPal, Amazon, Dropbox, Google Dirve, PrestaShop, among others. Therefore, From the ERP you can operate comfortably with these integrations.
Rates. Holded has four plans: Basic € 25, Standard € 49, Advanced € 79 and Premium € 159 per month.
4. Clickgest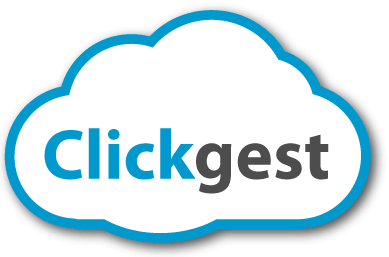 Clickgest offers an ERP for small companies with a modular structure that makes it possible to cover basic needs. By default it includes a sales and purchases module and a customer management system (CRM). The main advantage is the scalability of the productIf our company grows later, we will be able to contract other options such as Inventory or Accounting connected to the electronic VAT declaration system.
Rates. Clickgest has three plans:
ERP Lite (1 user included): € 12 per month
ERP Premium (2 users included): € 25 per month
ERP IGlobalgest (more than 15 users); € 15 per month
5. STEL Order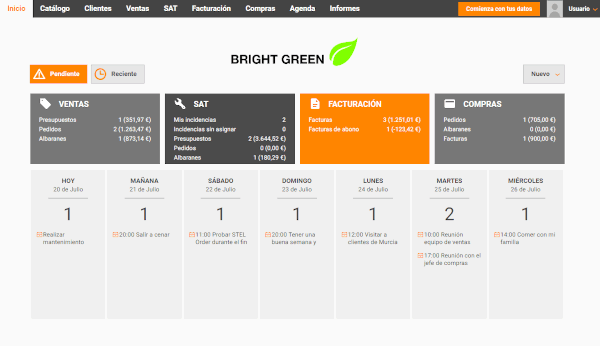 If our business is based on the provision of technical assistance services (SAT), Stel Order has an advanced module to manage installations and maintenance. At the same time, combines the functionalities of an excellent ERP for SMEs and a CRM.
Hosted in the cloud, it offers the advantages of mobility and access at any time and place, from a device connected to the internet. It has App's compatible with Android and iOS.
Rates: from € 30 / month with discounts if we make an annual payment.
6. Odoo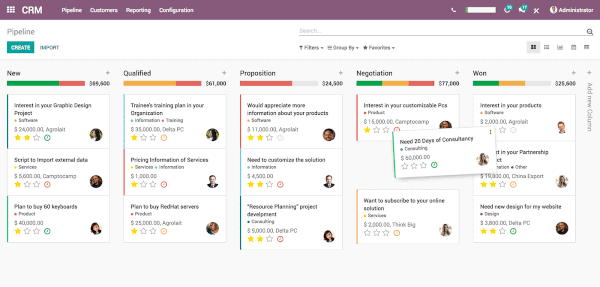 Odoo includes CRM, web portal, billing, accounting, manufacturing, warehouse and inventory management, projects, etc. It has a free and open source community version, but the installation for this case has to be done on a company server. On the other hand, there is the commercial version of Odoo that, at the same time as offering an ERP in the cloud, makes a professional support service available to users.
Rates: In the commercial version, prices are determined based on the modules contracted and users. Free trial for 15 days.
7. ev4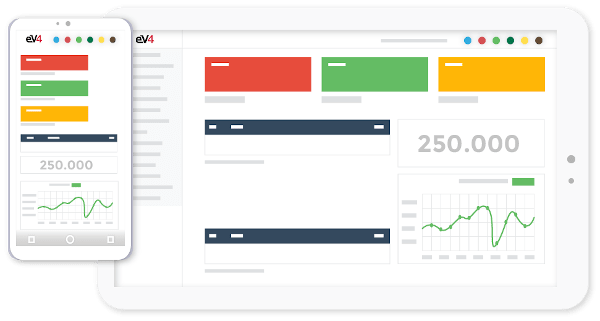 A ERP for SMEs practically tailored, since eV4 sells different modules and two versions: standard (generic), and another specialized in certain sectors (clinics, real estate, transport, etc).
It has a document management system that makes it possible to share documents with external users. It also integrates a connection with PrestaShop, to synchronize the virtual stores. The users of ev4 highlight the excellent value for money and the efficient solution to incidents.
Rates: from € 20 / month
ERP solutions for medium and large-sized SMEs
A Medium-sized SME, has no more than 250 employees and a turnover below 50 million euros per year. If the entity adds more employees and more business volume, then it consists of a large company.
What are the ERPs for medium and large SMEs that stand out in the market?
8. Sap Business One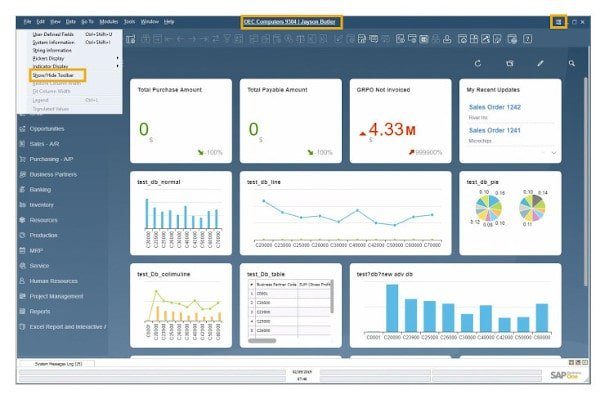 SAP Business One is software designed to accompany the company in its growth and evolution. Optimize the key processes of medium and large companies. Generates strategic information about the business, which enables decisions in real time and without delays. Offers versions installed on local servers or in the cloud. It integrates a Business Intelligence module.
Rates: a price simulator is available on the Sap Business One website, but to know the final amount we will have to request a quote. The price of the license can be around € 1000, an amount to which a monthly fee per user would have to be added.
9. Business Central
Microsoft also has its own business applications platform: Dynamics 365. It consists of a marketplace that operates from the cloud with CRM solutions, business intelligence, productivity tools, and decidedly the ERP for SMEs called Business central.
The connection of Dynamics 365 applications offer the complete answer to the administration of medium and large companies.
Rates- The basic version of Business Central is priced at € 59 per month per user. A premium version is available for € 84.30 / month / user.
10. a3ERP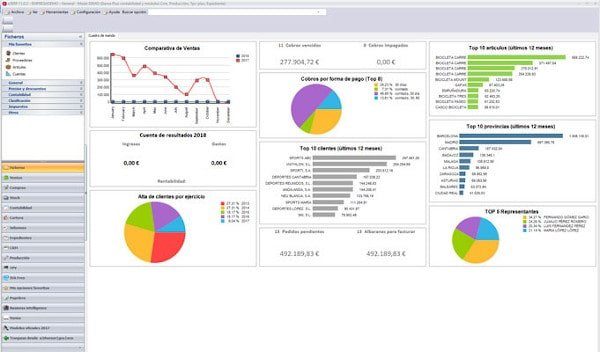 And, finally, a highly recommended option for SMEs that have a considerable volume of business is a3ERP. Wolters Kluwer's software could establish itself as high-end with top-notch support. It has been highlighted with the Byte TI Award for the Best ERP of 2018.
It is an intuitive software, easy to use and adaptable to the particularities of medium-sized companies. To highlight the functionalities it has for the logistics sector.
Rates: a3ERP is available in four versions: Base, Plus, Professional and Premium. The web has a comparison of functionalities. Prices are provided by requesting a quote.
Modules that we will find in these ERPs for SMEs
ERPs for SMEs are made up of modules that make it possible to integrate the different areas of the company. What are the modules available?
Basic modules of ERP's for Small companies
They are necessary for the software to be useful:
CRM Customer relationship management. Manage the information of each client. Record your history, details of purchases, calls and inquiries.
Sales. Connected to the CRM, it includes orders and their follow-up, generates invoices, issues reports. Contribute to attracting potential customers.
Purchases. Manage all the processes included in the supply of raw materials or posts.
Financial and accounting. Simplify and automate accounting processes. It facilitates the administration of payroll, budget, billing programs and banks. Control cash flow.
Production. It is in charge of the control of the use of raw materials, the synchronization of the processes, the quality evaluation.
Inventory. It helps the company keep track of stock and locate the posts in the warehouse.
Human Resources. Facilitates the selection and training processes for new workers. Track the productivity of each worker.
Special modules that may be useful for some SMEs
Some companies require special modules that are adjusted to their specificities and work systems. We present some that are usually incorporated into the basics:
POS. It makes it possible to control cash movements quickly, easily and effectively.
Connection with Prestashop. It makes it possible to connect different stores in the same system and synchronize with the online store.
Logistics. It includes the administration of entries and exits of posts and internal logistics (locations in warehouses and areas).
Manufacture. Manage work orders, bills of materials in the different production areas, planning of manufacturing processes.
Marketing. It organizes the different activities of the company associated with commercial promotion and promotions.
Projects. Plan, budget and execute projects or tasks.
The modules are installed separately, each company chooses what it requires. Once installed, they are integrated into the ERP and work in coordination.
When it consists of an ERP for SMEs, each business is different
When it comes to looking for ERP solutions for small companies, each SME is different. Even if your functional needs are similar to those of another company, there are other factors that influence when selecting an ERP tool:
Skills and availability of internal resources
Current systems
Processes and structures within the company
Budget
Time lines
Each of these factors together with other items influence the ERP response for SMEs that best suits your business.
4 Steps to follow to select an ERP software for SMEs
1. Establish the real needs of the company
It must be clear that what you are looking for is a more agile administration, so complicating things by adding functions that are not really essential to the system is a mistake.
An ERP for SMEs is an eminently practical tool and for this the first thing to establish is what aspects really need automation.
In this way an assessment of the needs of the SME is essential when selecting an ERP. Once you are clear about what these are, it is much easier to decide on one or the other solution.
2. Selection of platforms: Local or in the cloud
The type of ERP software you choose will depend on the size and needs of your company. exist Affordable Small Business ERP Solutions in the Cloud compared to locally installed systems. A local system is ideal for companies that have their own infrastructure and they do not want to synchronize essential business data, such as product prices and supplier information.
Custom integration is another advantage of local installation. On the other hand, cloud-based ERP software platforms offer optimal use of resources, fast return on investment, automatic updates, and data integrity. The fees are monthly and you will not have problems related to hardware.
3. Scalability and security features
ERPs for SMEs are not short-term solutions. Although they have to be implemented based on current needs, they must always have flexibility, or what is the same, with the opportunity to scale.
You have to consider that these systems will operate within the company for a minimum of 5-10 years, and that is a period of time in which any company can experience great changes.
Scalability and speed are not enough if you don't have the right security. The fundamental security feature is the ERP's user tracking capabilities. The system must keep track of all user logins and logoffs, transactions, and other activities that take place during each connection.
4. Select not only a system, but a technology partner
Technology is undoubtedly advancing by leaps and bounds. Therefore, when selecting an ERP for SMEs, it is as important to assess the technological adaptability of the company that is going to put it into practice as the system itself.
What it is about is simply count, not with a supplier, but with an ally that can respond to the challenges of technological evolution.
It is necessary to examine what is known as a product roadmap, which is about the temporary planning by the company, which implements the ERP in the SME, of the technologies that are going to be integrated according to the objectives set - but also the its ability to successfully cope with adaptation to new emerging technologies.
Comparison table summary of the 10 best ERP systems for SMEs
| ERP | To point out | Installation | SME Typology | Applications | Rates | Web |
| --- | --- | --- | --- | --- | --- | --- |
| myManagement | Optional POS | Cloud | Micro and SMEs | Android | From € 15 / month | mygestion.com |
| Cloud Management | Vertical ERP | Self Accommodation | SMEs | ❌ | From € 350 / year | cloudgestion.com |
| Holded | Project management | Cloud | Micro and SMEs | Android and iOS | From € 25 / month | Holded.com |
| Clickgest | Scalability | Cloud | Micro-SMEs | Android | From € 12 / month | clickgest.com |
| Stel Order | SAT module | Cloud | Micro and SMEs | Android and iOS | From € 30 / month | stelorder.com |
| Odoo Community | Open source | Local | Micro-SMEs | ❌ | Free | odoo.com |
| eV4 | Vertical ERP | Cloud | SMEs | Android | From € 20 / month | ev4erp.net |
| SAP Business One | Business Intelligennce | Cloud and local | Medium | Android and iOS | To consult | sap.com |
| Business Central | Microsoft ERP | Cloud | Medium | Android and iOS | From € 59 / month | dynamics.microsoft.com |
| a3ERP | Logistics module | Cloud | Medium | For some modules | To consult | a3.wolterskluwer.es |
conclusion
In these times, optimal business management is the engine that drives the company to grow. We have presented you with a list of the 10 best ERP systems for small and medium companies that you can find right now. If you prefer to examine other tools yourself, we suggest you take a look at our list of ERP providers. If you entered looking for a Free ERP for SMEs don't miss out on this great compilation of free solutions.
The post "the best ERPs for SMEs" is usually updated with new programs and descriptions. Last Updated: January 2021 with new software entries, updated prices and images.