The integration of technology in construction companies contributes to the optimization of management. Why think about ERP systems for construction companies? Because the operation of a company in this sector includes much more than its specific task, to build. ERP software integrates all aspects involved in the administration and operation of a construction business.
Planning a project is the key to success. When you plan strategically, you anticipate and forecast which saves you time and money. Both in this phase and in the execution of the works, the ERP software for construction reduces costs and improves controls.
If you plan to grow your business, it is essential that you integrate an ERP for construction companies into your management system. You will have a valuable tool to boost your professional skills. It will be very useful as a guide for financial decisions, predictive analytics, and current and future needs. You will be able to make commercial projections from the detection of strengths and weaknesses that mark the way to proceed.
What is the best ERP software for construction?
There are different options on the market, and each seller will probably try to convince you that yours is the best. Even if you do not have specific knowledge about this tool, it is good to have some information before selecting.
The general advice is that you are looking for ERP software for construction companies,

In other words, created especially for this sector.

The first step is to identify your business needs

.

There are ERPs for construction with various functionalities.

If your administration system does not require them, they will make the purchase more expensive and complicate the operation.

Buying software is an investment.

And to truly be a worthwhile investment, it must be used for a reasonable period of time.

.

Therefore, another fundamental aspect that must be paid attention is the flexibility of the ERP.

A flexible ERP will allow its adaptation to the evolutions and evolutions of the company.

It consists of meeting current needs and anticipating future needs.

A tool should make work easier, not complicate it.

Therefore, it is good to ensure that the personnel responsible for this task can function smoothly.

It is convenient to ensure the technical and support service as well as the advice of the ERP provider company.
We present 9 ERP solutions for construction
What is the specific purpose of each ERP system for construction companies? What is the best for your business?
Next, we explain 9 solutions that will help you select the business solution you are looking for.
1. Building Dynamics Nav - Dvproject
This tool combines the specific technical administration of the construction and the economic and financial administration with a modern and analytical vision.

What are the concrete benefits of using Dvproject?
It enables you to combine information to prepare budgets.

Facilitates project planning.

Streamline purchasing management through data comparisons.

It has real-time project control mechanisms.

Streamlines technical reports for project forecasting, analysis and projection.

Integrate documents related to projects.

It unifies the information of the different departments of the company.

Analyze the impact of costs that are not specifically constructive.
It is software with a modern business vision. It facilitates the permanent evaluation of the administration essential for improvement. If you want to know in depth Microsoft's ERP solution, you can read the following post: Dynamics Nav
2. Ibermatica
It is made up of modules that integrate the technical actions of the project with their economic and financial impact in the same procedure.
Its functions are organized in nine modules:
Construction management:

budgets, execution controls and work closure.

Studies:

Cost analysis.

Budgets and planning:

control and budgetary adjustments during the execution of the works.

Plan of

purchases:

planning

acquisitions

.

Costs, production and certifications

:

state of work, invoices and accounting records.

Reports, IEO and replanning

.

Work progress reports and financial impact.

Warehouse management

:

Inventory control, entry and exit of products, work consumption.

Job analysis:

complete reports on completed projects.

Cash flow

:

projections of factors that affect the profitability of the business.
IB Building enables continuous evaluation, which enables anticipate deviations and save resources.
WEBSITE: ibermatica365.com
3. BuildingM Suite
It makes it possible to centrally manage all areas of a company. Its purpose is to drive cost savings and increased profitability.
What practical utilities does BuildingMe offer?
It gathers in a single system the information related to all the company's processes.

It allows you to know the progress at any time.

Makes on-site material control and inventory management feasible

.

Automate vendor quote comparisons to streamline purchasing.

Issue invoices.

Offers the opportunity to incorporate new tools if needed

.

It has different levels of access for workers.

It is organized in four modules: planning, studies and budgets, execution and analysis.
BuildingMe sets the coordination between services and automation which reduces procedure time.
WEB: marquesme.com
4. Verona
The basic philosophy of Verona is to integrate in a single software the best solutions already proven in construction . Research and selection of the most practical systems in the sector guarantee its usefulness.

What are the advantages of working with Verona?
The user has secure information at all times.

It enables anticipations and projections in all areas of the company.

It promotes the optimization of resources based on proposals from suppliers and subcontracting.

It facilitates the evaluation of the impact of the specific and indirect costs in each project.

Centralize the control and monitoring of a project during its execution.

Automate data integration for financial management.

It makes it possible to analyze competitiveness in different types of projects.

Provides information on all sections of the business in real time.
Verona is based on a trajectory of two decades in the market , which stands behind your product.
5. Solmicro
Solmicro is committed to adapting to the differential needs of each company. It has standard software combined with great flexibility, which allows you to make customizations to adapt it to each reality.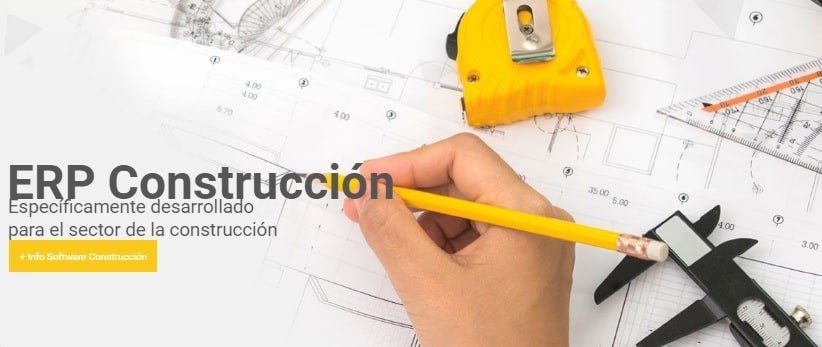 What are the characteristics of Solmicro ERP Construction?
Enables

visualization of all work phases

, materials, machines and other details involved in the entire project.

Facilitates budget management

.

Generate reviews based on the progress of the work.

It makes it possible to manage several projects at the same time.

Guarantees maximum data security.

Use open technology.

Improves interconnected operation with other platforms, applications and various devices.
Solmicro ERP offers users maintenance programs and technical advice.
WEB: solmicro.com
6. Globalgest
It is a construction ERP hosted in the cloud that uses Cloud Computing. This system makes it possible to enter company information from anywhere and at any time.

Other strengths of Globalgest:
It enables the entire administration of a work from budget to closing.

It includes costs, inventory, progress reports, analysis and forecasts, as well as all the technical and financial aspects involved.

It makes it possible to control several companies with a single administration program.

It has different levels of access, which makes each person qualified for their sector of work.

Specifically useful for international companies

.

It works in different languages and with different currencies.

It is designed to accept new functionalities that adapt it to the evolution of the business.
Cloud hosting is very useful because it enables the mobility of administrators.
WEB: globalgesterp.com
7. m4PRO ERP
m4PRO ERP is a management software solution that adapts to companies of all sizes, be it an SME, a medium or a large company.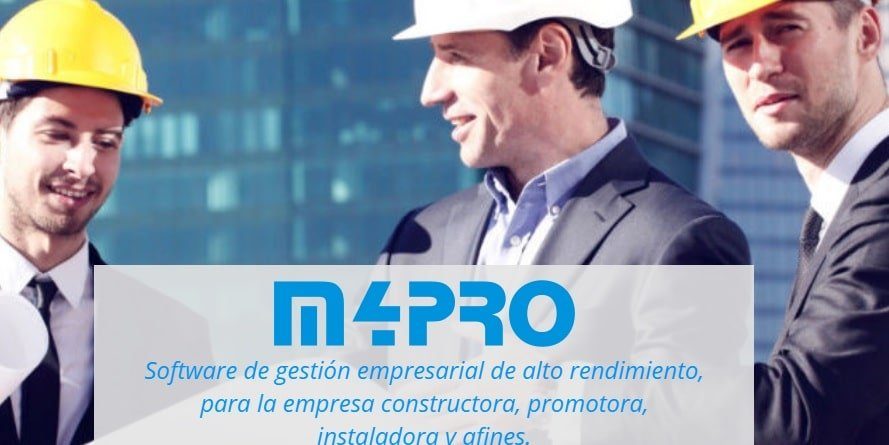 What are its exceptional features?
All technical administration can be done through a single program,

economic and administrative of the company.

Supports the work throughout the procedure

.

It is useful from budget management to payment and invoicing.

Includes comparisons, quotes, orders, warehouse, labor control, personnel, machines, taxes.

Installs in no time

.

It requires a short period of preparation and implementation, so you are up and running in no time.

It adapts to all work systems, so no change in dynamics is necessary.
M4PRO ERP is extremely easy to use and handle . Endless periods of worker training are not necessary. It is achievable for any user.
WEB: solinat.com
8. Sigrid
The use of Sigrid ERP makes it possible to know the status of the work, compare projects, control expenses and inventories, examine technicians and their actions. It also enables an exhaustive follow-up of the work with evaluations at each step of the procedure.
Other specific characteristics of this ERP for construction:
Analytical and financial accounting.

Administration of purchases, sales and warehouses.

Preparation and handling of documents.

Access company information from any device.

Vendor comparisons.

Automatic control of the performance of all company personnel.
It is organized in modules
Entities: clients, suppliers, other commercial agents

Product and invoice management

Accounting

Catalogs and budgets
Sigrid ERP for construction companies is designed to consolidate the digital transformation processes of a company in a simple and fluid way.
WEB: prosoft.es
9. Brickcontrol
This is a cloud-hosted construction program. It enables you to manage projects simply and efficiently.
What advantages does this bring to the company?
Budgeting and related document management.

Efficient day-to-day administration of the work.

Budget analysis and calculation of all the necessary resources to execute a project.

Integration and communication of company services

.

Keeps the focus on the project as a single product that centralizes attention.

Link between forecast and reality at any time during the project to reschedule, if necessary.

Provision of a complete database of clients, suppliers, completed projects, reachable at any time

.
Preliminary analysis, Planning, Execution and Control, all the moments of a project are managed with this ERP.
WEB: brickcontrol.com
Competition in the construction industry goes beyond national borders. To be competitive, you need to make the most of your resources and management. And if the entire system is not controlled and coordinated, there is a risk that it will fail. The ERP systems for construction that we have presented provide current and practical business solutions.