How to create a blog step by step and without previous knowledge
Start the adventure of create a blog It is a path not exempt from some difficulties and above all decisions that you have to make, and that to a great extent will influence its success or failure. If you think that creating a blog is a guarantee of success with little effort, I will tell you that you are completely wrong, since a blog is almost like a philosophy of life where we are going to write content to create a reading community, a task that will not be easy and that You must put "all the meat on the grill" and put a lot of passion so that you can connect with your followers.
If your goal is to create a blog to publish content that is not very professional or lacking in passion, I strongly recommend that you do not believe it, there are always bad blogs left over and good blogs are needed, so it depends on you to be in one or the other, although I would recommend that if you are thinking of creating your first blog, not only try to make it a good blog but also make an effort to make it the best. To achieve this objective, follow this guide and you will be able to create a blog step by step, and above all in a very simple way.
Step-by-step guide to creating a blog
1.- The first choice.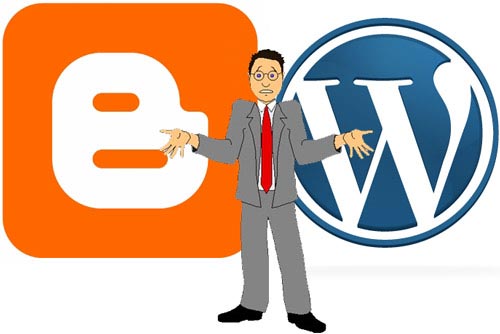 When we are going to create a blog we must make some decisions, surely this is one of the most important decisions but the one that is less important, since you must choose to create a free blog through Blogger or WordPress, or create your own blog without third-party dependencies.
When should we choose a free blog?
If you want to create a blog as a hobby and you have no financial interest in it, creating a free blog may be a good solution for you. Of course, if we do not want to make money on a domain and hosting every year, that is, if we want to save about 70 or 80 euros a year, in this case it is also a good choice to create a free blog, but we should never do it for a professional purpose.
What is the difference from creating a free blog to your own?
We must know that if we are going to create a free blog we will be with a corset and we will not be able to install plugins. Plugins in WordPress are a very important tool for optimizing it, either to improve your search engine positioning or SEO, or to improve its accessibility and usability.
Another aspect to take into account is that we will not have a professional theme for our blog, but a standard and free one, therefore the base code of the blog will not be sufficiently optimized.
In conclusion, at create a free blog we will have a limited tool to make ourselves known, while a blog with its own domain and hosting is a very versatile and efficient tool to achieve a reading community.
2.- Choose a good domain name

For the choice of the domain of our blog we have two options:
- Promote our personal brand or Personal Branding, for example www.miguelflorido.com. In this way, you will get your name and personal brand to acquire great popularity in the sector, but it will take you more time to find a place in the best search engine results.
- Orient the name to the most important keywords, for example, www.turismoencadiz.com. In this way we will be able to position ourselves before with our two most relevant terms, in this case with "tourism" and "Cádiz", although Google has told us ad nauseam that it no longer takes it into account, the truth is that it is still giving good results .
It's up to you to choose between receiving more visits or improving your personal brand. Which do you prefer?.
Do we choose a .com or .es domain?
Another question that I am asked a lot when creating a blog is the typical question that arises when choosing a domain, that is, What do I choose a domain .com or a .is?. It is a common question when you have little experience, but we should not make the mistake of choosing it based on whether it sounds better or because I like the way it looks better, the choice must be made based on where our target readers are, if it is in Spain we will choose .es, if instead we want to give it an international character we will choose .com.
3.- Contract your domain and hosting
When we are going to choose the company where to hire the domain and hosting we can make the mistake of choosing the cheapest one, something like 1 & 1, but you will see how you will regret the decision, but why does this happen? The answer is very simple, already Not all hosting is equally optimized to get the most out of a WordPress blog, and some of them may have limitations that can reduce its effectiveness. An example of this is the memory they dedicate as a base, which is 64 mb, when the recommended is 256 mb.
Low memory problems?
Choose plugins very well because memory won't let you install many.
Does the white screen in WordPress sound like something to you? Well, you have to know that one of the reasons why it happens is due to the overflow of the existing memory.
Slow speed. Very bad for SEO.
If you are going to hire a web hosting, check very well the optimal requirements for WordPress which are:
PHP 5.2.4 or higher.
MySQL 5.0.15 or higher.
Apache mod_rewrite module. Although this module is optional, it is highly recommended to have it.
Memory 256 mb.
1GB minimum storage.
(Optional) CDN. There are hosting that offer it to us as a service of the hosting itself and at no cost, which is highly recommended to help us improve the loading speed of our blog.
Another aspect that we must value very and much when choosing the hosting is the support, since if we have a problem with our blog it is very important that they solve it properly and in the shortest possible time. For that reason, I recommend that you hire a hosting that you can chat directly with the technicians and that they look at your problem at the same moment, I do not care if it is a Spanish or American hosting, and flee from all those that the only way to register a ticket is calling, that is, paying or sending an email, we do not know for sure when they will review it.
Right now I just remembered an anecdote that happened to me when I created my blog and hired the hosting, which I will tell you below; 3 years ago I chose a bad Spanish hosting that begins with A ..., surely you know what it is and I began to have many problems with its availability and I opened a ticket via the form, and I really am not deceiving you, I received the answer the same 7 days later, saying that it was my fault because the blog was wrongly programmed, then I made a backup copy of it and migrated it as it was to an American hosting, and the problem was magically solved, so I understand that it is typical to throw the blame someone else, but this is inadmissible for a hosting company, that is, we cannot reduce the fact that we cannot find a solution to the problem, to that it is not our problem. I hope the anecdote helps you not to fall into its clutches….
4.- Choose the theme or template
Nowadays buying a professional template is super cheap and highly recommended, instead of starting from a basic and free template. Buying this template will cost us from 30 to 40 euros and in this way we can access a super optimized template, and that without a doubt, will position in less time than a basic one.
Where do we choose the template?
I recommend that you go to the largest WordPress template bazaar called Themeforest, although you can buy templates in any professional company, the objective is to find a template that best suits our needs and that is always a professional theme.
If you do not know which template you can use, I recommend that you look at those blogs that you like the most and find out the template they use, in order to do so we are going to use the free online tool What Wordpres is theme that?. It has a daily limit of searches but the amount it allows is high and it is difficult to reach that limit.
5.- WordPress installation
If you are totally convinced and you are going to create a blog in WordPress hiring your own domain and hosting, the first thing you should know is that technical knowledge is not required for its installation and start-up, do not be fooled with installation costs since installing a WordPress is reduced to a mouse click.
For this we only have to log into our hosting and look for the section to install WordPress and decide in which folder we are going to install it, we must be careful with this because it is normal that we install it in the root, although by default the installation in a folder .
There are three possible places to install a blog in WordPress:
At the root, it is the most used and the one that I recommend.
In a folder, it is used when you have a website or store with another web tool.
In a subdomain. It is the least common but it is also a feasible solution, although we must bear in mind that the subdomain's authority will start from scratch, instead of installing it in a folder that inherits the domain's own authority.
If you have any questions about the installation, leave me a comment below and I will solve it for you.
6.- Install and configure the WordPress theme.
There are three ways to install a theme:
1.- Through the WordPress backend, we click on Appearance> Themes and click on the tab install themes and then upload, as shown in the image.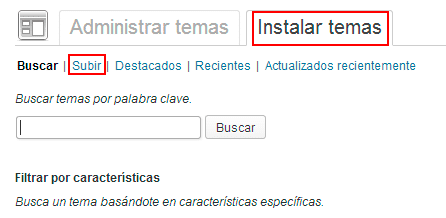 In order to upload a template we must have the theme compressed in a zip, that is, the template folder must be compressed in a zip and not in a rar. Once it is installed we must go back to Appearance> Themes and activate it.
2.- Through an ftp. For this we must create an ftp account through the hosting and configure it with a free ftp client such as Filezilla. Once we are connected to our domain, we will have to go to the installation folder that we will find in wp-content / themes and there we will upload the unzipped folder, it is just a matter of dragging the folder and that's it. The process will take about 15 or 30 minutes, therefore it is much slower than the first option, which is practically immediate.
3.- Through the hosting's own ftp. In this case, what we will do is look for the installation folder, that is, wp-contect / themes and there we will upload the template in zip format, the process will only cost a few seconds, then we will click on the uploaded file with the second button mouse and we will unzip or extract. To do this method you must have certain knowledge of using an ftp tool and in my opinion it is the most professional and recommended, why? It is very simple, method one can give us problems if the file size is very large , and method 2 can leave a file making the copy, especially if we are dealing with a template with many files. The only one that never fails, rain or shine, is the third method.
7.- Correctly configure WordPress
A very common mistake when creating a blog in WordPress for the first time it is to think that it is already configured by default and that we can start writing articles like crazy, but it is a monumental error because it is a super basic and important aspect to configure our WordPress correctly.
Where do we start?
We will start with the settings section and we will see each of its sections:
A.-Generals. Here we are interested in deciding 3 important aspects; the title of our blog, the url with or without www and the date. By default WordPress installs the web without www, I particularly like it better with the 3 w, but this is only a question of visual aspect since both options are equally valid.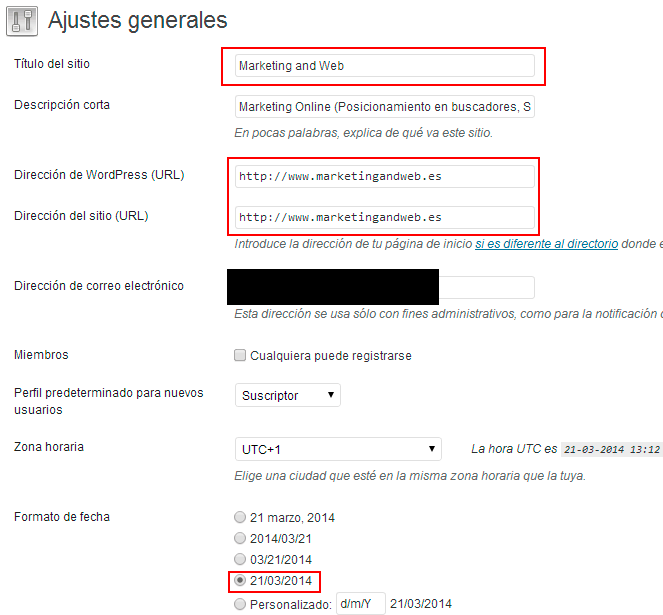 B.- Writing. In this section it is interesting to add a service to which WordPress will notify each time a new post is published.
C.- Reading. Activate the option "Discourage search engines from indexing this site", since we do not want Google to index it until we have completely finished the blog and with a good number of entries to publish.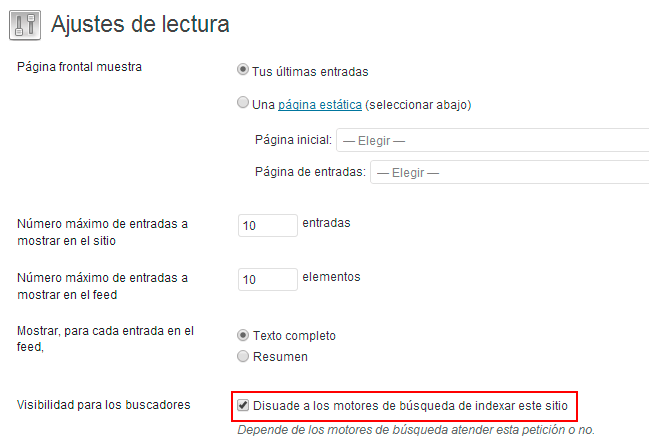 D.- Comments. By default the moderation of comments is not activated and it is important that we check the box that appears in the following image.

E.- Media. In this section we will configure the different sizes of the images, although in many cases the default values can be used to start our blog.
F.- Permanent links. In this section we are going to define the structure that the urls of our blog entries will have. It is therefore a vitally important aspect, since a bad construction of the url can be a bad start and a heavy burden in the future if we want to change it.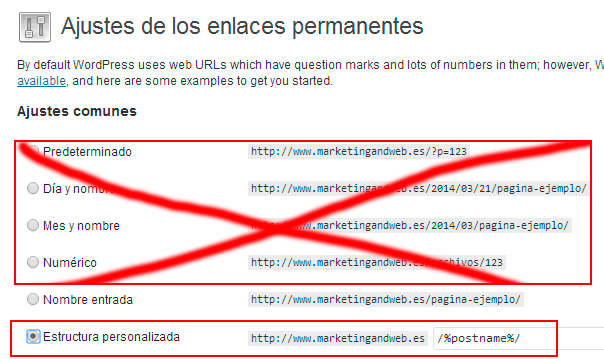 In the image you can see how I have literally crossed out the first 4 options that WordPress offers us, the most recommended options are "Entry name" or "Custom structure", and in this case that shows the image in both they will obtain the same result as url.
8.- Install and configure the most essential plugins
WordPress is without a doubt the best tool to create a blog. There are many advantages that this CMS gives us, but perhaps one of the most important are all the benefits that its plugins provide us when optimizing the blog.
Next I will briefly explain the 10 essential plugins to create a blog in WordPress:
This plugin cannot be missing in any WordPress and we could say that they are several plugins in one, due to its great and varied virtues, both at the SEO level, as a sitemap, using the breadcrumbs or also known as breadcrumb, and a long etc.
I leave you a fantastic video of the great Iván García, where you can surely answer any questions about the configuration of WordPress SEO by Yoast.
2.- WP Super Cache and W3 Total Cache
2 Fantastic plugins for cache management and that our blog loads much faster. The first is the easiest to configure and start up, but the second is much more complete, but requires some technical knowledge when setting it up.
Forget about putting the "alt text" or alternative text and let this plugin do it for you.
You will not be able to live without it, since it will send us an email every time it detects broken links on our blog, and in this way it makes it much easier for us to locate and eliminate it.
5.- BJ Lazy load
If you do not have a CDN, it is important that you configure your blog so that it downloads only the images that the user is viewing and in this way make the blog go much faster (speed equals better search engine positioning).
6.- Digg Digg
It adds a floating bar with the bookmarks of the social networks that we choose, thus allowing our articles to circulate more easily through social networks.
It is highly recommended to add a box with author information and links to social networks at the bottom of each blog entry for them to follow.
8.- Cookie Law Info
One of many cookie plugins so that we can comply with the change in the law regarding the use we make of the famous cookies on our website.
9.- Contact Form 7
It allows us to add contact forms to our blog very easily.
Replace the basic WordPress comment system with this much more attractive and integrated with social networks.
9.- Customize your blog
To personalize your blog, the first thing you must define is the number of sections that the menu will make, as well as the content of each one of them.
On the home page we must decide the structure and content that we want to appear.
You must know how to differentiate between the pages of the posts; We use the pages to upload static content, and where we do not want to interact with users, such as (who we are, services, contact, etc.), and the entries are the articles that we are going to upload to the blog.
You should also take into account when deciding what information you want to appear in each widget or sidebar. Depending on the template, we can customize this bar uniquely for each page, giving the blog a sensational look.
It is important to have your own image (logo and style manual) to publicize our brand through that image.
In this regard, I always recommend that you hire the services of a good designer so that the image of our blog is unique and very attractive.
If you do not have the budget to find a designer, try to customize the theme you have chosen as much as possible, so that you make it yours.
10.- Define the category structure
Google has repeated ad nauseam of the importance of generating a good tree structure for a blog.
How do we do this? Should my blog be more specific or more diverse?
We must think carefully and calmly about a structure of categories and subcategories (if necessary) so that we send a clear message to Google, and it is easy to distinguish in which subject or classification it should include us. It is not highly recommended to diversify a lot, it is preferable to take 2 or 3 topics and go deeply into them, as my grandmother used to say "Jack of all trades, master of none".
Creating the category structure is a preliminary step before starting to write and publish articles.
Normally in this section there are usually many doubts about it, if this is your case, leave me a comment and I will answer you as soon as possible.
11.- Create a Google Webmaster and Google Analytics account
Once we have created our blog and we want to present it in society, before starting to show it to acquaintances or friends we must present it to Mr. Google. For this we will create an account of Google Webmaster and we will define if the objective of our blog is a national audience or not, as well as we will add our sitemap so that Google indexes our contents before.
If I don't create the Webmaster account, won't Google index my content?
As long as we allow it from our website's own configuration, Google indexes practically everything, but the time it takes to do so is far away when we do not inform you of where you should read our website map.
We must verify that we are the owner of the website before starting to work with it, for this we will upload a file to the root and click on verify.
Create an account Google analytics It will help us measure the results our blog is getting.
It is also interesting because it will help us when it comes to seeing which content is having the most success on the blog.
12.- Integrate your blog with social networks.
If you are going to create a blog and integration with social networks is essential, it is not about putting the links to the different social network accounts of the blog or the author, far from it, the objective of integrating is that we add boxes in our blog with the latest Twitter tweets or the latest Facebook or Google+ posts, so that in this way a reader of our blog can access the content that we are publishing on any of our social media profiles.
Social networks are a fantastic window to create and retain a community of users, and an element that we must use whether or not, if we want our content to reach a certain virality. Social networks are also one of the main factors of SEO, so if they help us improve our visibility on Google this will allow us to receive a greater number of visits.
Don't just limit yourself to creating social media profiles and starting to publish tweets and posts, since the ideal is that we carry out a Social Media strategy.
13.- Create your author's brand. The copyright mark is the way in which we communicate the authorship of our content to the Google search engine. Because it is important?
Mainly it is important for 2 reasons:
A) It gives us a more attractive result and with different links that can increase clicks on the search result.
B) Minimize the possibility of another user taking over your content or generating duplicate content.
How do we do it?
1.- Create a Google+ account. For this we will need to have a gmail account, in the event that you do not have a gmail account, you must access www.gmail.com and create it.
2.- Once the gmail account is created, you can click on our name in the upper right corner to access Googe + or click on https://plus.google.com/?hl=es
3.- Upload our photo to the Google+ profile. We click on the gray circle and attach our photo.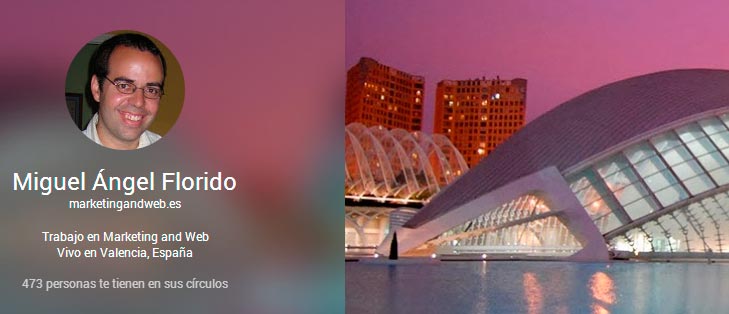 4.- In the next step we are going to tell Google that we are a contributor to our blog, for this we click on http://plus.google.com/me/about/edit and then we click again at the top on links, until we reach this image.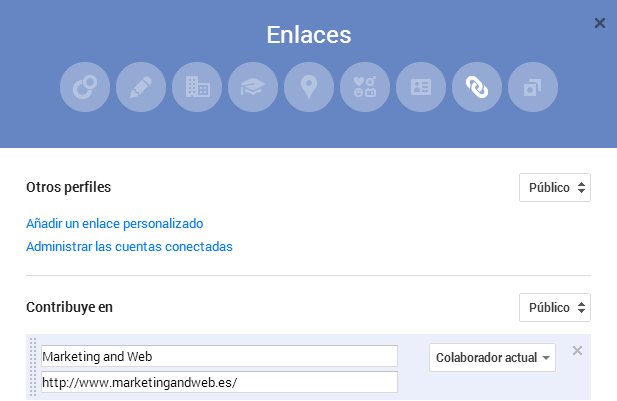 You must click on adding a personalized link in the Contribute in section, writing the data as they appear in the previous image. Finally we click save.
6.- Once all the changes have been made, you can verify if the Google+ profile has been linked well with the blog content, for this it is as simple as clicking on https://www.google.com/webmasters/tools/richsnippets, and add the url of any of your entries, to see if our Google+ image appears.
14.- What and how to write articles on your blog.
Are you ready to start your journey on the blog?
Before I start writing I would like to give you some advice:
1.- Analyze your target
The first thing you should think about and analyze is the audience you want to address, or in other words, think about what group of people you would like the readers of your articles to be.
2.- The search for your own style
There are many people who talk about the search for a style and a personality when writing, but that style surely underlies each one of us, so be yourself and do not imitate anyone, and in this way you will create your own style .
3.- Write for your users or for Mr. Google?
It is always advisable to write for people, although it is worth knowing some tips on how to optimize the SEO of the content so that our article reaches a good position in the search engine, and our work is rewarded with thousands of visits.
4.- Is it enough to write articles of 300 to 400 words?
In my opinion it is a mistake to reduce or limit the size of the articles so much. The best thing you can do is not to set limits and not even a specific size, write the article, whatever its length, although I can tell you that Google rewards a content above 1000 words more than one of 400 words, so you decide what extension you are going to give it. An example, this post began with the idea of being an article and has ended more with a guide format and with more than 4,500 words, which I believe to date is the longest article I write on this blog.
In short, I recommend that you dig deeper and provide a lot of useful information in your articles, it is difficult to delve into an article if we are always limited to a specific extension.
5.- The image and the title
Pay close attention when choosing the title of the article and the main image of the article, since both are two key aspects for virality and attracting many visits through social networks. Choose a title that captures attention and / or curiosity to attract their reading.
6.- Viral Effect
Share your article through social networks, for which it is important that you have a community of followers large enough to have a viral impact in a few hours.
It is not the same that you have 60 followers on twitter to have 6,000, although we must bear in mind that the quality of the follower is always far ahead of the number of followers, so I recommend that you have followers related to the topics you are going to share and in this way it is easier for the blog's content to spread.
7.- User loyalty
You must place the users who read your blog as the most important element of it, since without your followers the blog would have no meaning;
Do not believe yourself the king of the mambo and reply to your readers, either through comments or email.
Contribute something that is useful to your followers.
Create a list of subscribers to del Mailchimp and you can have up to 12,000 subscribers for free.
Encourage interaction with your readers by being very close and accessible.
15.- Planning
After many hours of work and effort, we will have already created our blog, and we will be able to create or plan our work in the same 3 months ahead.
Why is it important to work in an organized way?
Because we will generate confidence in our readers and we will accustom them to visit us with a certain frequency. To this end, we must establish a number of weekly articles that should be a minimum of 2 weekly up to 5, this last figure could be said to be the most optimal value. Logically, not everyone has the opportunity or the time to write so many articles a week, so very few people allow themselves to publish an article almost every day.
What time is it more convenient to publish my articles?
To answer this question you have to know your readers well and know what are the hours of the day that they are most active on the Internet, and in this way associate this time of publication with the time that more followers are connected to the network.
16.- Conclusions
Like any project that starts, the first months of working with a blog are the bittersweet, because the feedback that we will have from our readers will be very low or practically none, but we must not get discouraged, and continue working day by day, and week after week, until suddenly a week it seems that the blog wakes up, as if it were an erupting volcano and you start to receive thousands of views per month.
It is essential when we are going to create a blog that it is very well built and optimized.
Be yourself when writing your articles and put a lot of passion into it, your readers will appreciate it.
If you have any questions or want me to expand a specific section further, do not hesitate to contact me, it will be a pleasure to help you.
I wish you the best of luck with your blogs.
Infographics: jpccomunicacion.wordpress.com | startingdecero.com
If you are thinking of creating a blog step by step and have any questions, you can leave me a comment
If you liked this guide on how to create a blog step by step, you can share it with a friend.
Did you like this post? Rate it
This may interest you ...