Among the different software oriented to the business sector is WebCRM, a CRM aimed at SMEs and designed exclusively for customer relationship management. Its main objective is to facilitate sales by relying on registered information and carrying out daily tasks. Below you can read our analysis and review in WebCRM.
What is WebCRM?
To understand what WebCRM is, you only need to know the definition of a CRM. WebCRM is business software which simplifies the work of commercial teams. This enables you to have a history of potential clients and the portfolio. All this information is useful to personalize the deal with customers, know their needs in advance and increase the conversion rate.
Your data storage is Cloud based and integrates functions such as calendar management, segmented mail delivery or interaction monitoring. But it also offers analysis tools with financial and commercial projections, to know exactly the behavior of the target audience.
One point in favor of WebCRM is that it has been developed with the advice of sales representatives who know better than anyone the challenges they face every day.
Regarding integrations, all the information can be synchronized with different ERP and accounting systems such as Reviso, NAV or C5; with the CMS for Prestashop online stores and with marketing solutions such as Leadfeeder and Mailjet.
WebCRM Features
Various features depending on the rate plan
Depending on the chosen monthly payment plan, WebCRM provides basic functions such as designing email templates, getting temporary sales forecasts or financial reports. Up to advanced options such as the generation of graphs to visualize the results, determine itineraries of visits to clients or the administration of events and surveys.
It makes it possible to export data directly from an ERP
If you already use an ERP program in your company, you can export all customer information to WebCRM for direct management.
Follow-up of the sale procedures until closing
WebCRM, enables you to follow any sales procedure from start to finish. This is feasible thanks to an efficient centralized database in which all the information obtained from the target audience is compiled and which enables segmentation to achieve more precise results.
Offers technical assistance in Spanish anywhere in the world
If you have a problem with your WebCRM account, you can receive technical support in Spanish anywhere in the world. Their team of professionals is ready to help you solve any problems related to the software or its related functions.
WebCRM Price
the plans offered by Web CRM are structured in three blocks with different functionalities. The price is per month and per user: Standard Plan € 23, Plus € 31 and Enterprise Plan € 50. You can see the detail in the next image: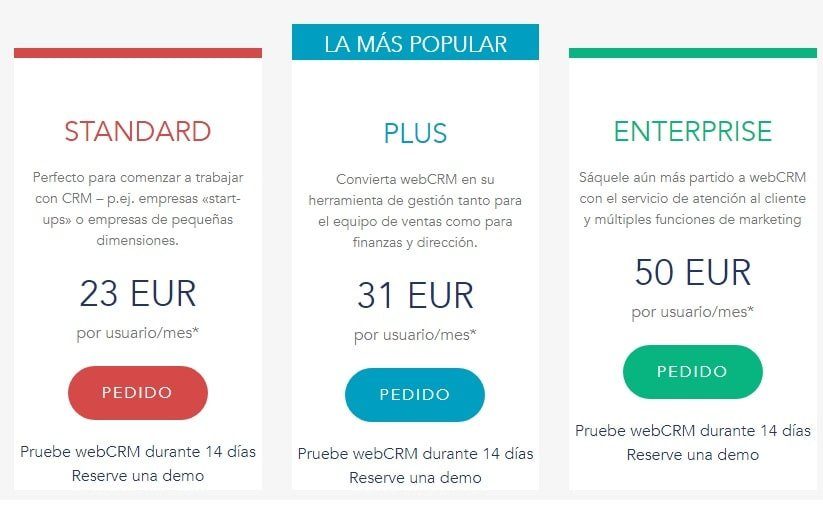 In our opinion, the rates do not seem cheap if we compare them with other options aimed at SMEs such as SumaCRM, whose basic plan costs € 49 per month but includes three users and the medium plan € 79 with 8 users included in this amount.
Either way, WebCRM offers a 14-day no-cost period to test its features and choose for yourself if this is the option your business requires.
conclusion
WEBCRM is a good solution for SMEs, but not the cheapest. It stands out for its ease of use, which shows the role that ads played in the design. Perfect for those who want to go from a free option to a paid one.