A CRM system in the cloud enables companies to determine and maintain customer relationships providing a 360 degree view of their profiles and interactions with the company.
The business benefits of an online CRM are concentrated in how to manage these types of platforms: profitable, easy to use and innovative. Now, do you need this kind of software? If your answer is yes, here you will find a top 10 CRM systems in the cloud that help freelancers and companies to continue growing. In addition, you will know what factors to pay attention to before selecting one, its general functions and the objectives to be met.
Factors to Pay Attention When Selecting a Cloud CRM
Before selecting an online CRM, you should weigh a few Relevance factors for you to make the best decision according to the profile of your business. Only in this way, you will ensure that you have the right system that provides you with all possible solutions.
1. Technological resources available
Before obtaining a license or purchasing a software of this type, you have to be clear about the technological resources available in your company like browsing speed, hardware, etc. Otherwise, you may face a complex and unnecessary configuration procedure that obscures the functionality of the system. Evaluate this aspect with an expert and determine if a CRM in the cloud fits or not what you need.
2. Company budget
Important! To select a CRM online, you have to be clear about the available budget. Even though it is true that there is a wide list of alternatives, the best thing is that the configuration costs can be borne by the company without imbalances. It will be of no use if you choose an expensive system with advanced functions when you are starting your business.
And with regard to the budget, it must also be said that you shouldn't skimp if the CRM achieves the company's goals. It should be seen as a long-term investment that pays great benefits for your business plan.
3. Business objectives
Another factor to consider when choosing a cloud CRM are the medium and long-term business objectives, apart from the size of the organization. Only in this way can you have a clear vision of which is the best system to meet these objectives, since there are countless options with simple and advanced functions.
If your company is still in its infancy, a CRM is recommended open source or open source, those that are scalable and whose functions can be expanded as business needs grow. But if we are talking about a consolidated company with a large commercial flow and a wide portfolio of clients, the best thing will be an online CRM with advanced functions.
4. CRM accessibility
Better a system to install on the PC or a CRM in the cloud? Accessibility is an important factor, since the connectivity of your company's users simultaneously or remotely depends on that. Mainly, it will be beneficial to be able to have access to the data at any time and place, to fulfill the work without interrupting the operation of the organization.
TOP 10 Best CRM in the cloud
1. noCRM.io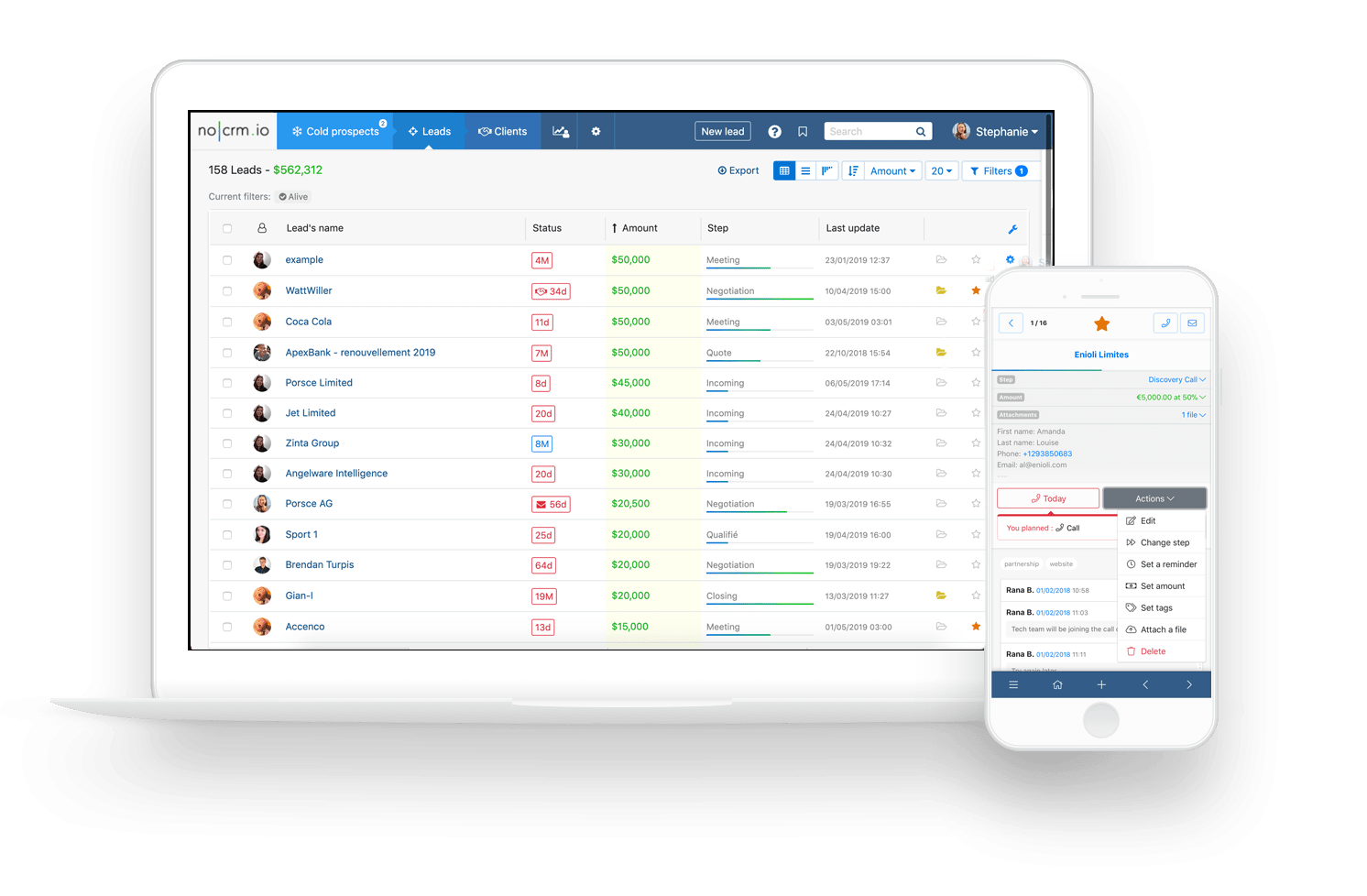 noCRM.io offers a Online CRM with total control of the sales procedure. It consists of a CRM aimed at SMEs, in which up to 500 workers work. Companies from more than 80 countries trust the noCRM.io initiative to improve their conversion rates.
The most prominent feature of noCRM.io is that its pipeline sales is absolutely customizable, which contributes to achieving a 360º view of each client. In addition, each salesperson can generate leads from a list of prospects previously analyzed by the system. In addition, it includes basic functions for monitoring team performance, evaluating sales metrics or categorizing customers.
2. Wolf
Another alternative in our Top 10 is WolfCRM, a fairly complete online CRM that has tools for business administration, customer service and marketing. It is presented at the same time with three versions that integrate specific functions: WolfCRM Business, WolfCRM Professional and WolfCRM Marketing.
WolfCRM has a intuitive interface and a dashboard that shows you all the information in real time. From there it is feasible to view reports, metrics, design the workflow or develop marketing campaigns, all at once. In addition, it has semantic search engines so that you can find the data you need with just one click. WolfCRM can be used to organize the workflow of your company.
3. Teamleader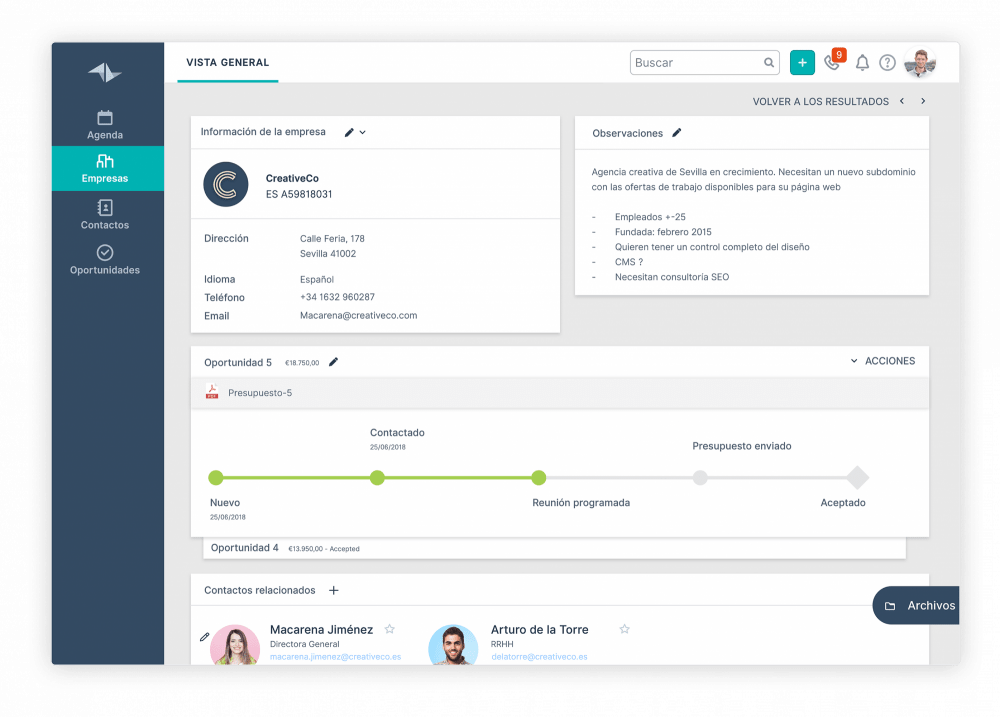 CRM Online Teamleader
Do you intend to simplify all the work? With Teamleader it is viable. It includes a wide variety of functions that make it possible to speed up each task. In its administration panel, you can manage your clients' database efficiently or answer their questions from a centralized inbox.
This cloud CRM can even be integrated with more than 200 applications like G-Suite, SAGE or Stripe, all to get the most out of your results. At the same time, it should be noted that Teamleader has its own module for project management, through which it is possible to mark milestones and tasks, emphasize information, and monitor deadlines. Its functionality is enough to make any SME grow from scratch.
4. Sum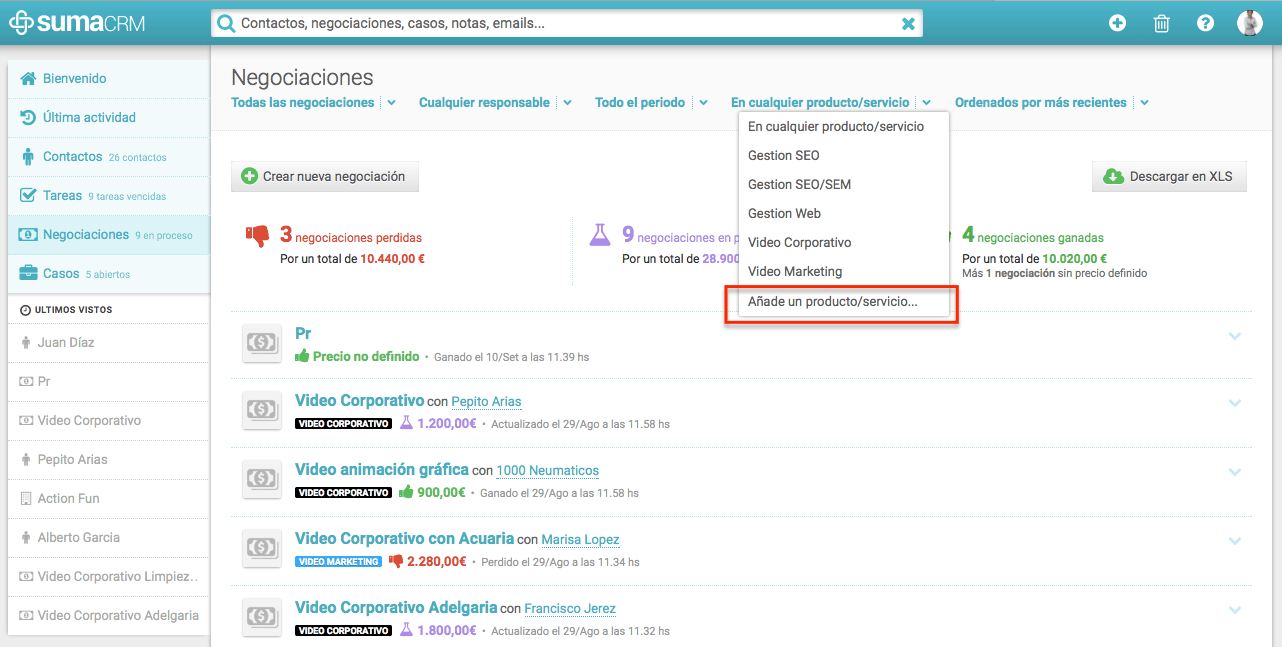 SumaCRM is based on the concept that the starting point for sales is the lead. Its functions are aimed at maximizing sales through different tools such as its "Email Tracking" or its characteristic sales funnel.
With your Email Tracking, it is feasible to know when customers read the information to be managed by phone, thus converting leads into effective sales possibilities. Besides, this online CRM shows a very illustrative sales funnel that places the client according to the administration that has been carried out. SumaCRM also has the basic functions that help you organize calendars, meetings, create reports and everything else necessary to make your planning more productive.
5. Zoho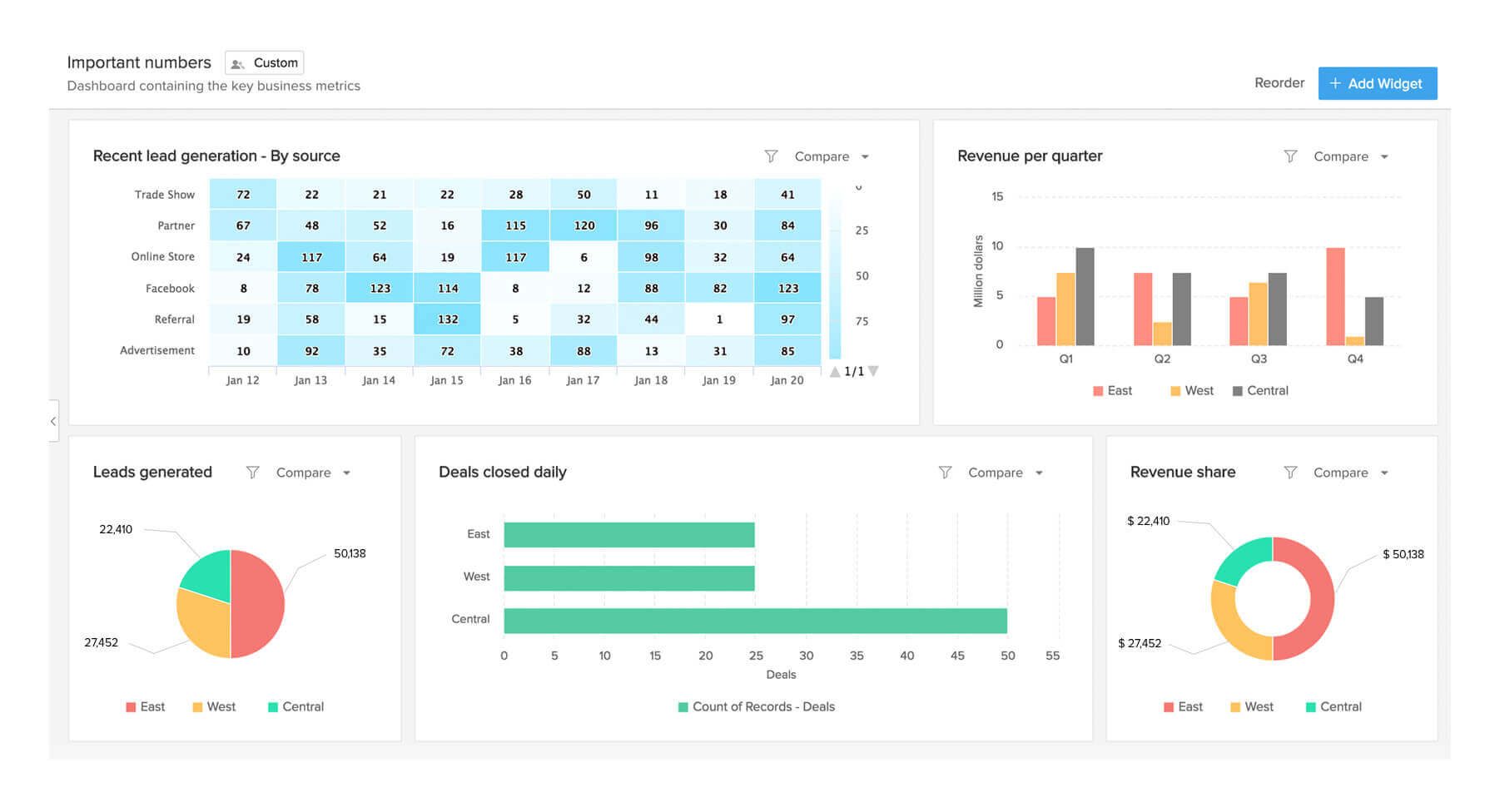 Zoho is a Online CRM that has earned the trust of nearly 150,000 companies worldwide. Its software is highly valued in the market since it integrates functions to cover every aspect of the company and improve its productivity. At the same time, its omnichannel platform makes it possible to connect with customers in real time from anywhere.
Zoho is able to automate repetitive tasks and generate instant actions, so the team only focuses on making more sales. But If something should be noted about this CRM in the cloud is the way it makes use of AI, because it has its own virtual assistant: Zia. It helps you in finding information, shows forecasts and indicates those customers most likely to close a sale. Zoho is an effective CRM that is worth trying.
6. CentralStation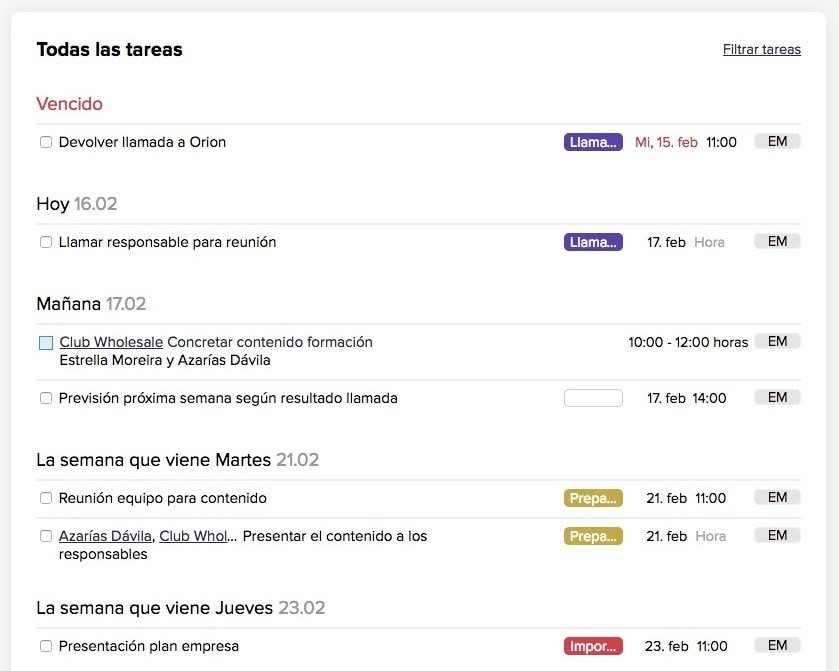 If what you are looking for is a CRM in the cloud For small companies, CentralStation can serve your corporate purpose. The functions of this software are divided into focused modules and its interface turns out to be very intuitive and simple to use. It even provides immediate technical assistance to solve any problem and has its own app for smartphones and tablets.
CentralStation is a powerful tool for organization with functions for sending emails, entering contacts to the directory, recording history, etc. East CRM online It also offers help in budget control and billing, which can increase the efficiency of the organization in a short time. One point to note is that it has a cost-free CRM plan.
7. Retail
Retail CRM in the cloud is a product oriented to online stores to carry out an omnichannel strategy. Manage orders and calls and make better use of the day by increasing productivity.
Retail integrates a platform to serve customers through multiple channels, stores a catalog of products, shows reservations in stock and even makes orders and reservations with your suppliers automatically. Its functions are as diverse as they are efficient to manage your online store and that you can achieve the business objectives set.
8. Clientify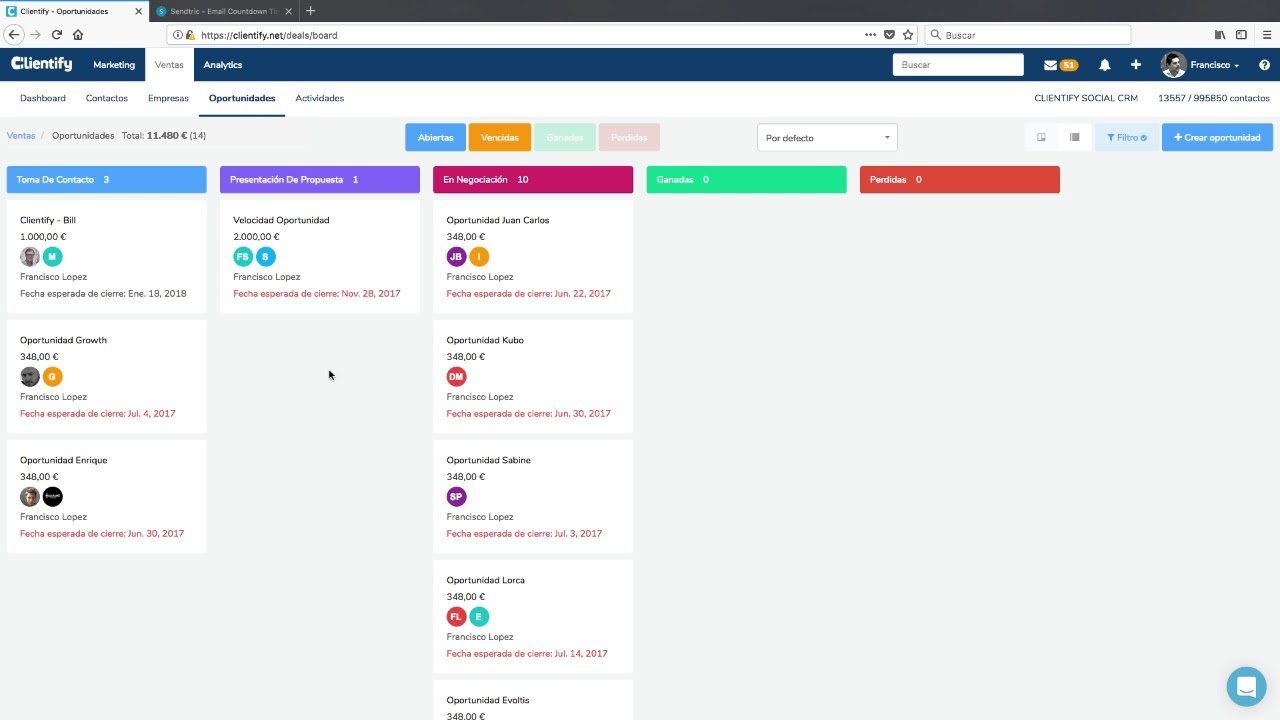 Clientify is a tool that gives you control to manage the client and generate more sales by customizing your funnel and the rest of the internal processes. The functions of this online CRM cover the area of marketing, sales and intelligence and help to grow your business quickly.
Clientify puts at your disposal pre-configured sales funnels, chatbots, makes it possible to create campaigns for mailing or offers its own platform for the development of web pages. It integrates a powerful and simple client administration system. From the creation of a contact, the CRM locates the information available on the internet and automatically loads it in its file.
9. CAS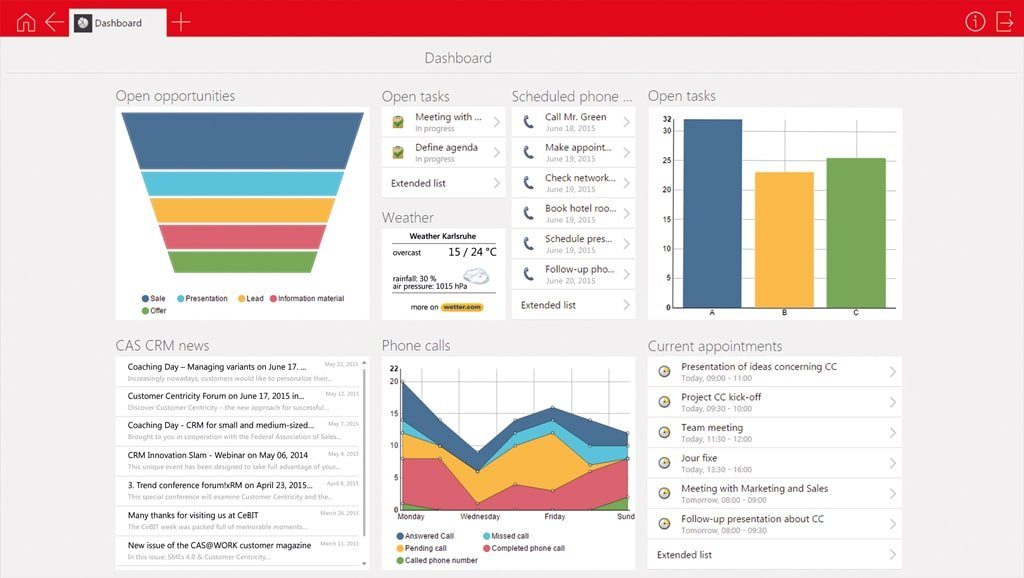 Cas offers a proven efficiency solution for midsize companies in different sectors. Its functionality includes marketing, sales and customer service to achieve greater audience loyalty. Besides, it consists of a Cloud CRM that can be easily deployed and centralizes all important business data in one place.
Cas tools are used to create marketing campaigns that reach the target audience, while evaluating their impact on generating sales. Likewise, it automates routine tasks so that the sales team improves their performance and response times. Inclusive, your online CRM is scalable and can scale based on growth of the organization.
10. Hubspot
HubSpot is more than an online CRM, it is a complete suite of tools for business administration. In its platform you have at your disposal various functions for the organization, monitoring and enrichment of customer relationships to achieve sales.
Among its basic functions, HubSpot provides the opportunity to send and track emails, schedule meetings, or automate the sending of information. Generates detailed reports in relation to each administration in the area of marketing and sales. To point out your Service Hub module, Through which it is intended to convert each client into a promoter of the company, examine their level of satisfaction and offer a knowledge base to explain their doubts. The technical assistance of this CRM is a faithful support to ensure the momentum of the entire business.
Benefits of an Online CRM
Automate the processes related to the sales force.
It enables technical mobility and access to information from any device.
Analyze sales and customer information to improve results.
Optimize payments and billing procedure.
Link the marketing and sales functions to achieve a better strategy.
Show a clear pipeline sales.
It integrates functions to streamline daily tasks (sending e-mails, calendar, etc.).
Objectives to achieve with a CRM in the cloud
Every company must have outlined the objectives it wants to achieve when implementing a CRM online so that its implementation is valid and to be able to analyze the profitability. Learn about some of these possible goals:
Automate your workflow
Many institutions decide to implement a CRM in the cloud to automate the workflow in many ways. And is that these systems include functions that serve to streamline from the simplest tasks to some of the most complex in a short time.
Do you have to send a lot of e-mails? Chances are, the CRM you choose includes the option to schedule your shipment without much more to do. Or if complex analysis of some metrics is required, the system also does it.
Attract new customers and retain existing ones
Another objective to achieve with an online CRM may be to attract new customers. It should be noted that this type of software is designed to improve the way in which each client is managed, so it is feasible to cover a greater number of them in a personalized way if you want. Undoubtedly, this way you can expand the current portfolio of your company and increase the number of effective sales.
A satisfied customer is a loyal customer, which implies recurring income for the company. At the same time, it is much cheaper to market to an existing customer than to get a new one. They are users more receptive to cross-selling and open to increasing the ARPU.
Improve sales team performance
The improvement in the performance of the sales team can also be a goal to be achieved with a CRM. But how is it achieved? In reducing response times, streamlining some tasks and providing functions that serve to close more sales. At the same time, many CRMs show a pipeline chart that each team member can guide themselves to precisely determine their next move and get the most out of their work.
Determine an effective marketing strategy
Some institutions see their sales results affected by a poor and deficient marketing campaign. In those cases, implementing a CRM can help determine effective marketing guidelines that contribute to generating more sales and achieving customer loyalty with the company. It consists of a viable objective to achieve if the CRM tools are used properly.
conclusion
The business benefits of CRM Online they translate into higher worker productivity, deep customer insight, and the ability to save time and resources with less investment in both the short and long term. With a cloud CRM system, customer engagement has a solid foundation in a modern, forward-thinking system that will evolve as your business evolves.