Like a super powerful version of your contacts app Android or iOS, the CRM software manages all the information from your customers, suppliers, and everyone else your team interacts with, from emails to the last conversation they had with the company.
They are precious tools and why not say expensive. In a market driven by solutions like Salesforce (starting at € 75 per month per user), CRMs can seem inaccessible to SMBs.
It turns out that you can have a CRM solution at a great price and even, if you don't need many functions, free. After trying several CRM applications on Google Play and App Store, we offer you the best CRM apps for Android and iOS.
HubSpot CRM
One of the best if you want to have a CRM without costs.
Offers all the usual functions of a CRM And you can include as many members as you want on the team you create, as long as you don't have more than a million contacts.
It is powerful, but also extremely easy to use. Add contacts basically by entering their name and email address, HubSpot CRM will find the photo and automatically show you the details of their business. Keep track of all contact information through custom fields and connect to Gmail or Microsoft Outlook 365 to schedule emails.
As we said with the no-cost plan, you have all the main functions of a CRM to manage contact information, create deals and track sales, list tasks and appointments with contacts.
Hubspot CRM Applications: Android, ios
Google Contacts

An easy way to have a CRM in Gmail.
The new design Google Contacts includes many features that you would expect from a CRM, more focused on personal use.
Google Contacts automatically tracks everyone you email and adds them to your Frequent Contacts list. You will find photos, job details, web links, city of birth and more with Google+. You can organize your contacts into groups and add all the details you want, including notes.
We only see one downside: you can't share your contact lists with other people and your emails without forwarding them. That is why we classify it as Personal CRM in its basic version.
Google Contacts Price: Free with a personal Gmail account; From € 4 / month per user, with the G Suite Basic plan for custom domains that includes team sharing features.
Google Contacts app: Android
Bitrix24 CRM

A good set of tools for teams.
It requires keeping track of your team, planning your next projects, sharing documents, and managing data. Bitrix24 offers you all this in its CRM.
With its set of tools you can easily add a contact, offer your services, transform it into a project, discuss the current project with your team, etc.
Bitrix24 Price: Free with basic functions for 12 users; from $ 39 / month Plus Plan for 24 users.
Bitrix24 CRM application: Android, ios
Fresh sales

Freshsales has a CRM application which can be used absolutely free of charge for basic contact management in the office, on iOS or Android phones. Your calendar shows all your tasks and appointments in one view and you can make calls or send emails without leaving the application. Its low price and excellent features make Freshsales one of the best alternatives if you want it. a good CRM on your mobile.
Freshsales price: Free for 10 users with the opportunity to manage mobile contacts. Additional features, including advanced analytics and transaction management, are available on your paid plans, starting at $ 12 per user per month.
Freshsales Applications: Android, ios
Zoho CRM

A compilation of office tools integrated into your smartphone application.
The Zoho CRM mobile device app works with iOS or Android phones, but it is not as well programmed in its tablet version. It enables you to manage sales through online billing. It gives you access to customer data, information on offers, product prices, invoices, documents, voice memos and activity logs, which also includes interactions on social networks. Therefore, Zoho is the best app for teams looking to manage their entire sales process through a single app.
Zoho CRM pricing: Free for 3 users in its basic edition; Starting at $ 12 / month per user, you can enter the standard payment plan.
Zoho CRM Applications: Android, ios
CRM streak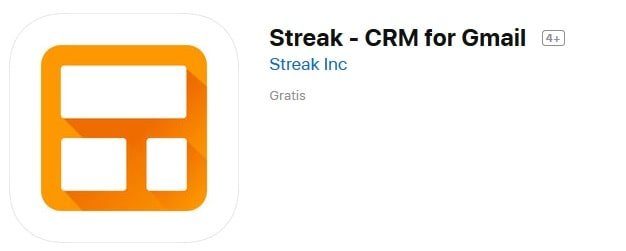 The streak is a CRM created specifically for Gmail users. the app Streak Mobile is designed at the same time as the web version and this makes it easy for you to access and update your customer data using your smartphone. You can view emails, tasks, files, and share information with your team.
It should be noted that the iOS application works much better than the Android version.
Streak CRM pricing: Free with the basic functionalities of a CRM and tools to take advantage of Gmail; From $ 49 / month Professional plan with full CRM integrations and functions.
Streak CRM Applications: Android, ios
It may also be of interest to you:

The best software to make invoices
ECRM: meaning, evolution and benefits
How to create an online store with Shopify
Cloze relationship management

Cloze is a personal assistant that provides you with all the information. About the contacts you have in different applications.
The Cloze app connects to your inbox, checks your messages, and creates a smart contact list with details about your conversations and other people on your list who have interacted. It aggregates data extracted from the call log, notes and social networks and presents it in an organized view. That way, when someone contacts you, you know precisely how to refine your message and who else to include in the conversation.
Cloze price: Free with your basic plan and from $ 13.3 per month for your professional plan that includes integration with Evernote, LinkedIn, etc.
Cloze application: Android, ios
Pipedrive CRM

Pipedrive offers a cloud-based CRM application starting at € 12.50 per user per month. The mobile device application includes the note log with active synchronization, call tracking, contact mapping and call management. tracks. The offer view on the mobile device version of Pipedrive makes it easy to manage your ads on a daily basis.
Pipedrive Price: The Pipedrive mobile device app is free to download for iOS and Android, but you must have an active Pipedrive subscription. Their plans range from € 12.50 per user per month to € 49.17. Pipedrive offers a free trial version so that you can thoroughly examine the software before purchasing.
Pipedrive APPS: Android, ios
Copper CRM

A CRM for G Suite.
Copper is a CRM mobile device with a starting price of $ 19 per user per month. Formerly known as ProsperWorks, Copper integrates with tools like G Suite and Slack to give users access to recent project documents and updates, facilitating group collaboration. Although other mobile apps also include team chat functionality, Copper is the best solution for teams that work with G Suite and want to integrate with other third-party apps like MailChimp.
Copper price: The download of the Copper application is free for Android and iOS, but it only works with a paid subscription to one of the CRM plans available on the web. There are three pricing plans to select from, ranging from $ 19 per user per month to $ 119. They offer a 14-day free trial period.
Copper applications: Android, ios
CRM Insightly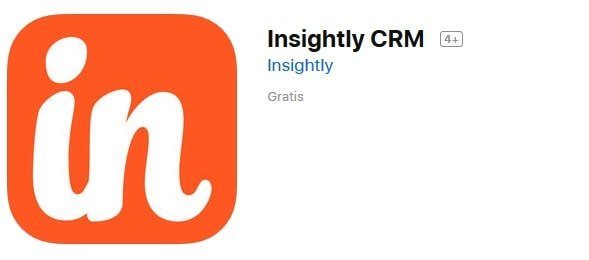 Insightly to CRM application based on monthly subscriptions They start at a price of $ 29. Works with iOS and Android devices. The Insightly mobile device application enables you to manage customers, as well as supplier relationships, agreements, and projects, all in one tool. Therefore, it is an ideal solution for those who want a more complete contact management and project management mobile device application.
Insightful pricing: The Insightly mobile device app is free to download, but you need a subscription to one of their plans. Insightly offers a no-cost plan for two users with access to basic features. Paid plans cost between $ 29 and $ 49 per user per month in their professional editions and are free for 14 days.
Insightful application: Android, ios