If you don't live under a rock, which you probably don't, you've heard of Face Swap apps. Social media is boiling over with Face Swapping images, thanks to these apps, as people from all over the world join the trend and want to have fun. In case you haven't tried it by now, it's about time you did. So what is a Face Swap app in the first place? Basically it is an application that allows you to exchange your own face with another person and many more. The end results are mostly hilarious. However, you must get it right.
The Internet is full of a large number of applications of this type. However, it can get overwhelming very quickly. Among these thousands of applications, which do you choose? Well that's where I'm about to tell you. In this article, you will get to know the 8 best Face Swap apps for both Android and iPhone. I will share detailed descriptions of each of them. So, without much ado, let's continue with the article. Read the article.
8 Best Face Swapping Apps for Android and iPhone (2020)
Below are the 8 best Face Swap apps out there on the internet today. Check them out.
#1 Snapchat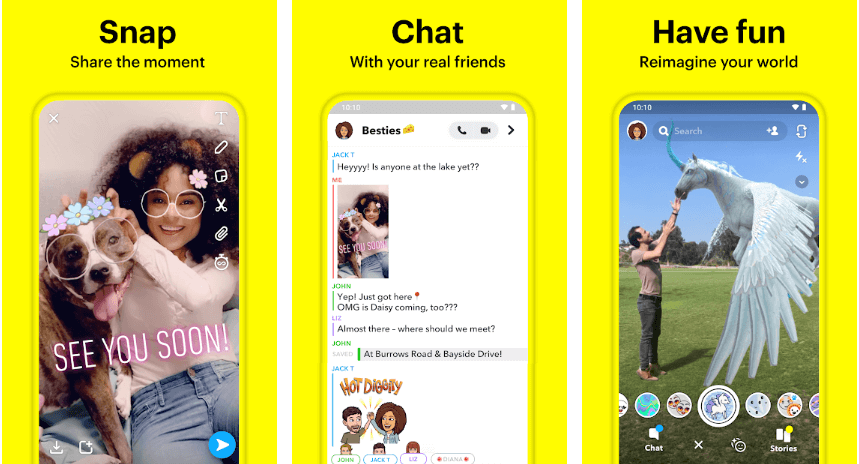 I know, I know. It's not a Face Swap app, I've already heard you say it. But bear with me, please. Although it is not a Face Swap application in itself, Snapchat is one of the most popular social networks that allows its users to exchange their faces with someone else - friends, for example - with a simple filter. And since it's not just a face swapping app, you can also access all of its other amazing features. You don't have to try all the new trends in case you are not interested. But one thing you have to admit is that the face filters that the app comes with are pretty good.
Keep in mind that using Snapchat's face swap filter is going to take some work on your part. The face filter is one of the many features that you will find on the platform. However, rest assured that it is the best you can find on the Internet right now. The application is compatible with Android and iOS operating systems.
Download Snapchat
#2 Microsoft Face Swap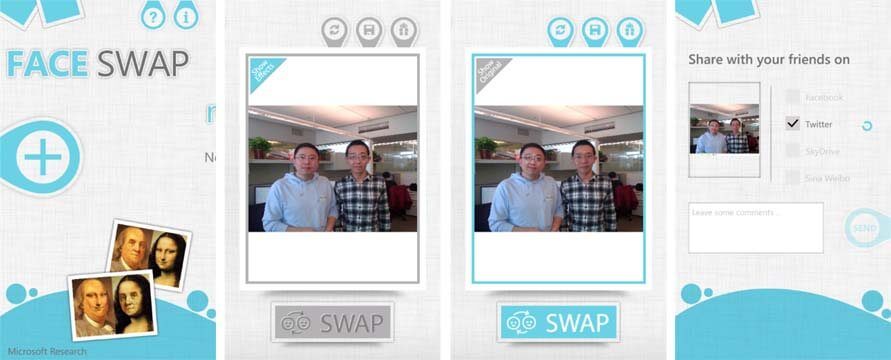 The brand surely does not need any introduction. The division of the company that specializes in experimental projects has developed such an application for you. The application is called Face Swap. One of the most useful features of the app is that you can extract one face from one image and then superimpose it on another. The end results are pretty amazing too, unless the angle is pretty tricky.
You will simply have to upload the source as well as inspiring images. The Microsoft Face Swap takes care of the rest of the process. However, this feature has a drawback. It only works one way. Which means that you can only extract a face from the source image and superimpose it on the target image. In case you want to do the opposite, you will have to redo the whole process.
Besides that, there are also a wide variety of other features that are quite good. Face swapping allows you to choose another image from your stock photos instead of just another image of yourself. Not only that, annotation tools are also available to add texts on the image. The application comes with free and also without ads, adding to its benefits.
Download Microsoft Face Swap
#3 FaceApp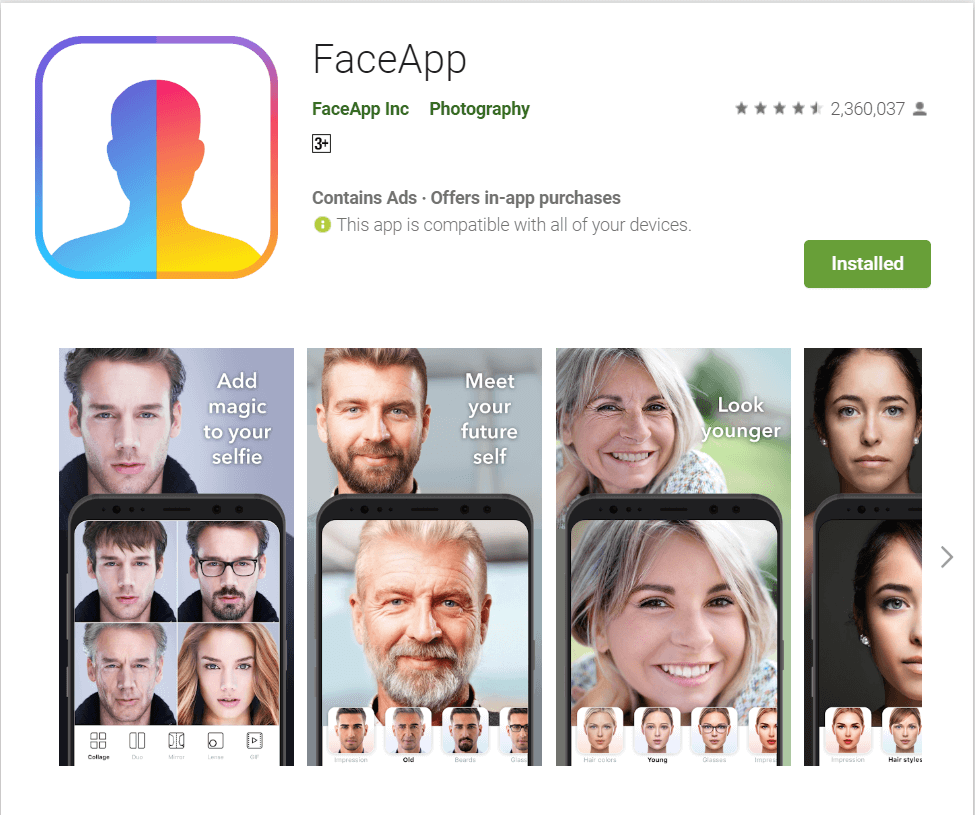 Remember a few days earlier when Facebook was filled with old photos of your friends and family, and literally everyone else? FaceApp was the face swapping app that was responsible for the same thing. The face swap app was already popular, but since adding an aging filter to its app, its popularity has skyrocketed. Other than that, the app comes with quite a few features that many other apps don't provide at all.
The operation of the application consists of taking a photo of yourself and applying the functions to make you look older, younger, smiling and much more. You can change your hair color, see your appearance with glasses, and even change your gender. Machine learning and AI work together to perform the aging filter. This, in turn, ensures that each filter is sewn according to the necessary procedure. As a result, the end result is authentic, as well as an authentic image.
The application has two versions: free and paid. The free version has limited features and some of the features that you can only access in the pro version of the app. However, even the filters available in the free version are of high quality, and therefore you can get away with it. The app is ad-free and comes with in-app purchases.
Download FaceApp
#4 Cupace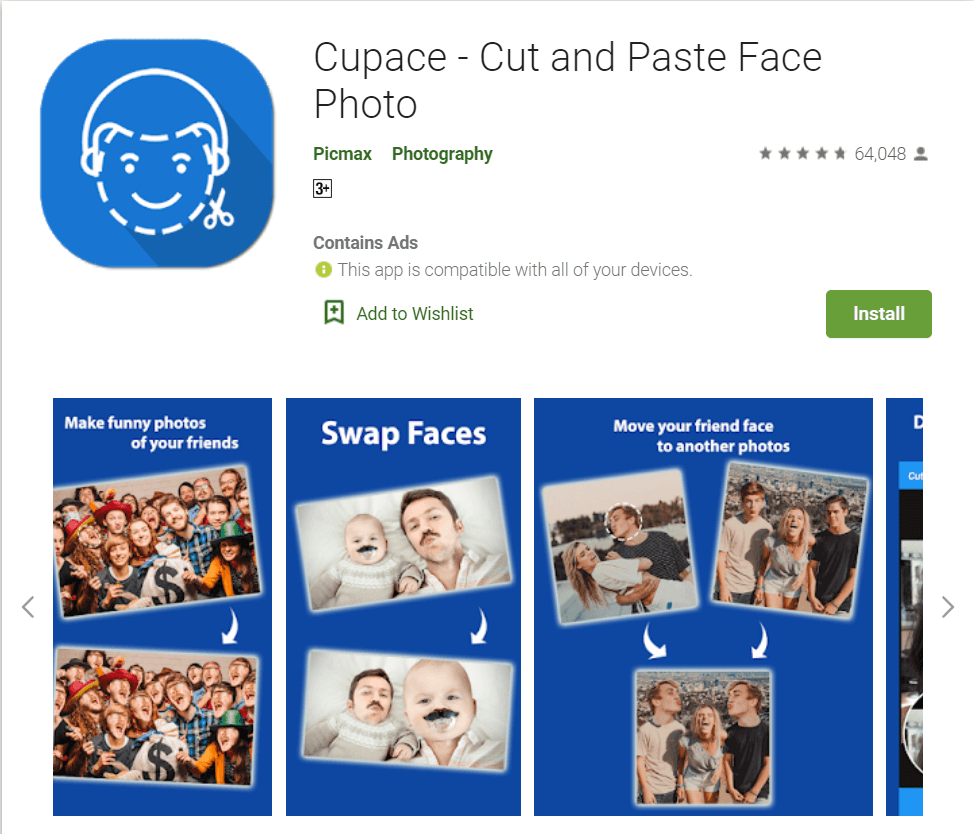 Cupace is basically a photo editing application. The app comes with an amazing feature called Paste Face. With the help of this feature, you can extract any face from a photo and paste it onto someone else's without much trouble. The feature works very well as Cupace manually extracts the faces from the selected image. It's also useful if you don't want to do a face swap and instead add the face to an inanimate object of your choice.
Also read: 3 Ways to Update Google Play Store
The application's user interface is straightforward and extremely easy to use. You can learn the process in minutes, even if you are a beginner or not a tech-savvy. You can also enlarge the selected image to be able to paste the face accurately and without errors. After cropping a face, the app saves it, and then you are free to paste it into multiple images if you wish.
Download Cupace
#5 MSQRD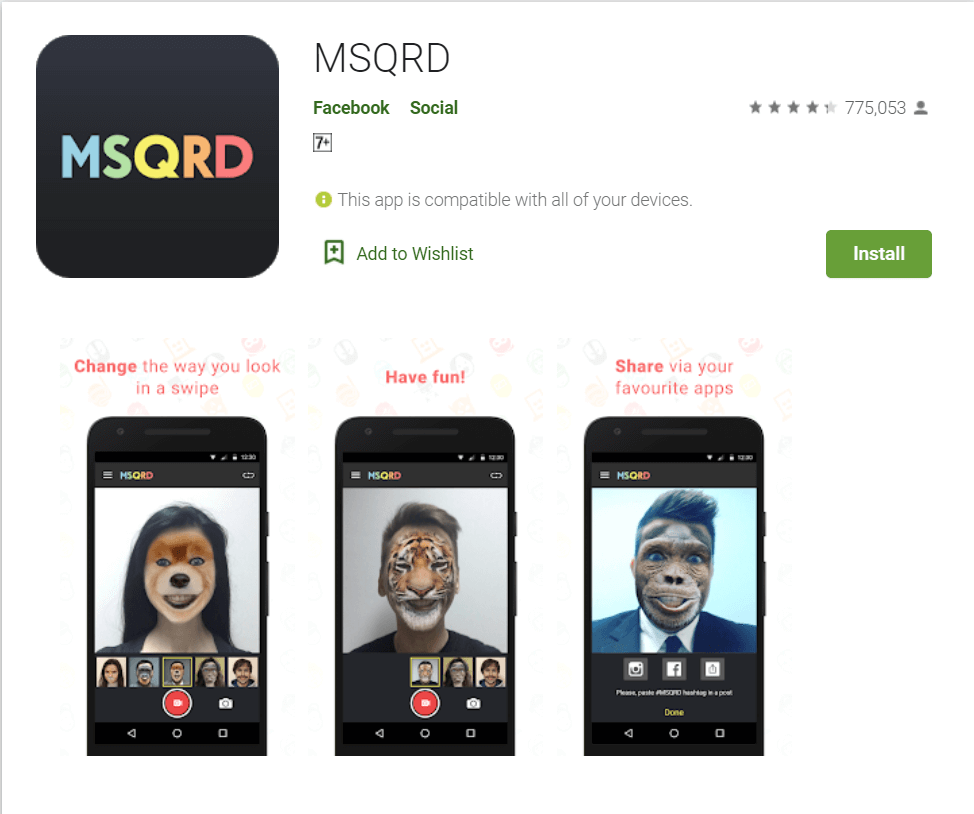 MSQRD is a face-swapping application owned by Facebook. With the help of this application, you can superimpose multiple masks on your face that are silly. One of these masks allows you to sew the faces of two people in real time. Therefore, you don't even need to upload the photos at first.
Besides that, you can face video and photo sharing. That is something that makes this app particularly popular with users. You can use photos and videos from both the front and rear cameras. In addition to these features, MSQRD comes with a wide range of functions, as well as live filters. You can and should try each of them to make fun clips.
The only downside to the face swap app is that the app works only in live mode. Which means that the faces of any existing media on the smartphone cannot be swapped at all. The app is completely free, which saves you money in the process as well.
Download MSQRD
#6 Face blender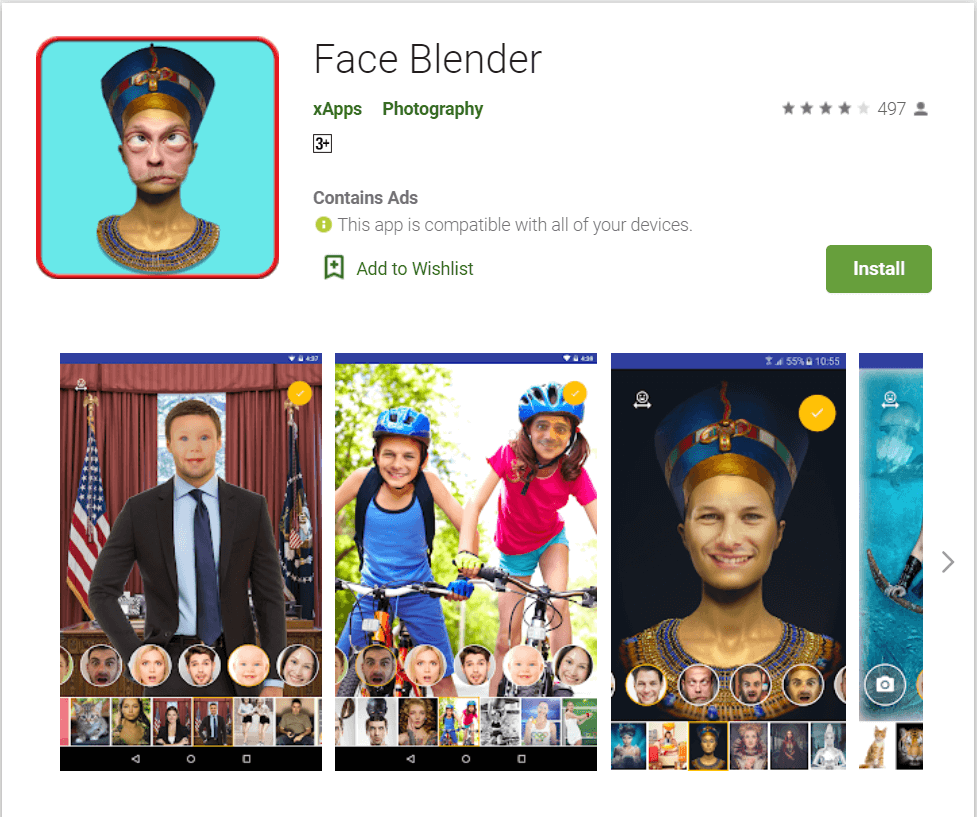 Another face swap app that you should consider is the face blender. It is basically a poster creation application that allows you to create funny images by mixing your face with any image you want. The user interface (UI) is extremely simple, making sure you don't spend hours trying to learn the tips and tricks of it. Therefore, all you need to do is click on an image. Now in the next step, select a template to blend your face into that particular template. You can choose from hundreds of templates that can make you a gymnast or an astronaut.
Once you choose the photo and template, the app will detect your face on the template itself. Then you will adjust the orientation as well as the angle of the face to fit the frame. In case you think the templates are not good enough and you want more, you can have it too. Just create your own face swaps. To do this, all you need to do is add an image. You can choose one from the Gallery app or from the Camera Roll. Face Mixer is available for free on the Play Store. It does not have a version compatible with iOS for now.
Download Face Blender
#7 Face Swap Live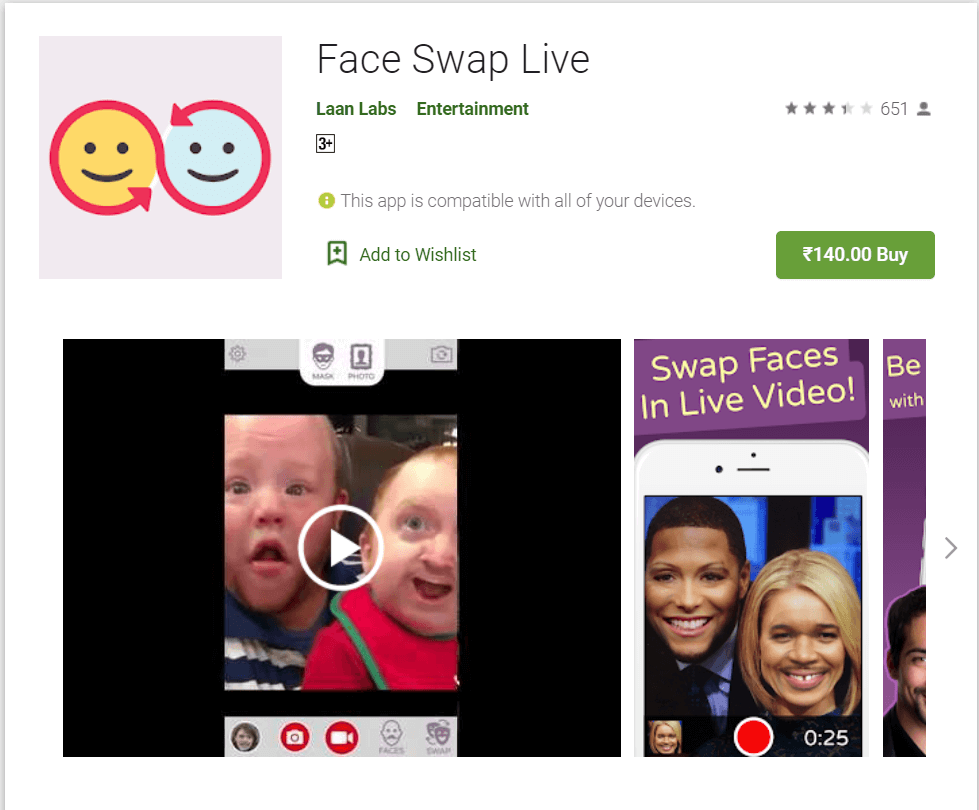 Now, if you don't like the mentioned apps and want to try something else, don't be disappointed. I present to you another face swap application: Face Swap Live. It is one of the best face swapping apps out there right now. What makes this face exchange app unique is the fact that it allows its users to exchange their faces with their friends and family in real time. The process is also very simple. All you have to do is step into the camera frame and take your friend with you. The app will instantly show your faces swapped at that moment. This is different from most applications on the market as they use static images and nothing else. In addition, you can also record videos on it, of course, with the faces swapped. Keep in mind that it is essential that you and your friend fit perfectly in the camera's viewfinder. That's when the exchange works.
Apart from these features, you can also add filters to your solo picks, which are quite impressive. For example, you can mix your face with any child or even any celebrity. This results in a funny image or video in most cases. Face Swap Live is an application that currently only has the iOS version, however, if you are an Android user and want to use this application, do not be discouraged. The developers have promised to release the Android version of the app very soon.
Download Face Swap Live
#8 Photo montage collage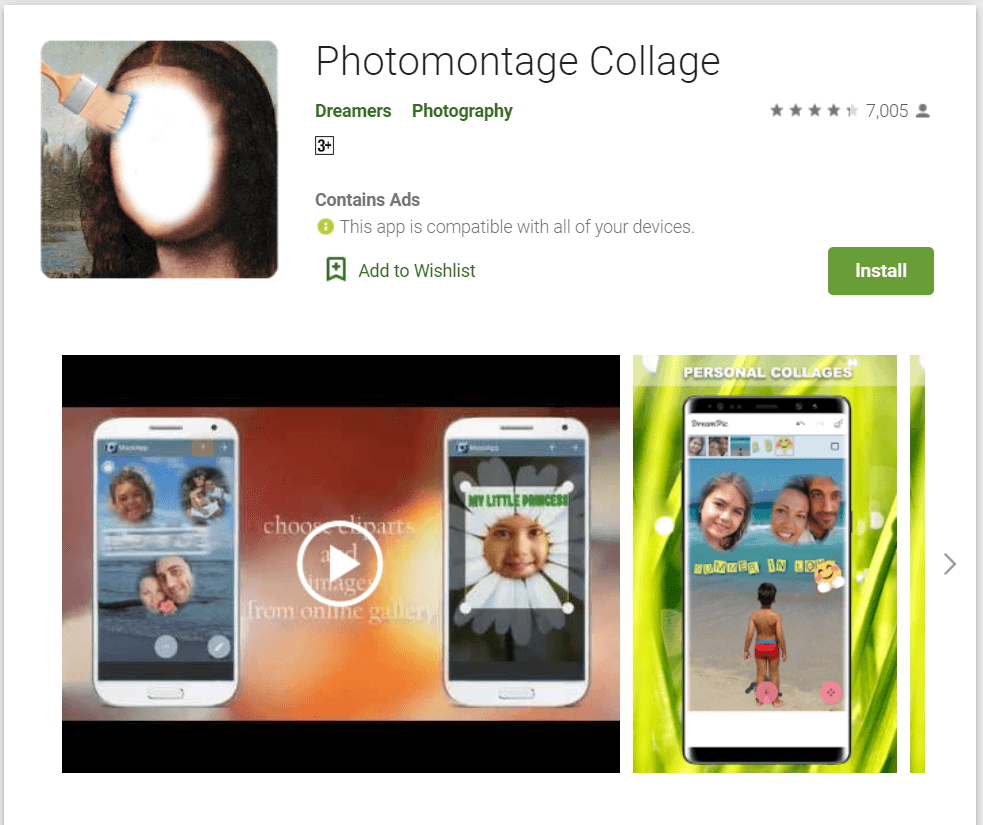 Download Photomontage Collage
Last but not least, you can also consider collage photo montage when talking about face swapping apps. It is basically a photo editing application that allows you to create very high quality photo swap images. The user interface is straightforward and you'll be an expert in it in a matter of minutes, even if it's your first time using it. The app is not standalone, however, and you will have to do it manually. You can choose between two different modes, namely Assistant and Expert. These modes are basically an easy mode and a professional mode, to tell the truth.
To create a face swap, all you need to do is upload an image first. You can do it in the experts tab. Once you upload it, you will have to remove the face with the help of the rubber tool. Now, insert another image of your choice, make sure to crop the face, and once you're done, move the image behind the original so that it only shows the face. You can also adjust the area, just pinch and zoom. That's it, you're done. By now, you will have a perfect image of the face swapped in your app, as long as you got it right. A major advantage of the application is that it returns control to your hands, whereas many other applications rely on algorithms during real-time face changes. As a result, errors tend to be minimal. The app is only compatible with Android at this time. However, I hope that the developers will also release an iOS-compatible version soon.
Also Read: 7 Best Battery Saver Apps For Android With Ratings
This is the 8 best face swapping apps for Android and iPhone. I hope the article has been of great value to you. So now that you know, put it to the best use. Immerse yourself in this world of virtual enjoyment and live a life full of fun.