Best PDF Editing Apps on Android: Portable Document Format or PDF is a file format used for saving documents. The PDF file is used to present documents and preserves the exact appearance and content of the document when accessed on different devices, operating systems, etc. This is one of the reasons why the PDF file format has become so popular these days. A PDF file cannot be edited directly and requires the use of a third-party application to do so. At the same time, with the era of cell phones, most of us depend on our cell phones even more than our computers and we prefer to handle our daily things on our own phone. There are many applications available on the Play Store that allow you to edit PDF files on your Android device, without the need to touch the PC at all. Some of the best PDF editing apps have been discussed below.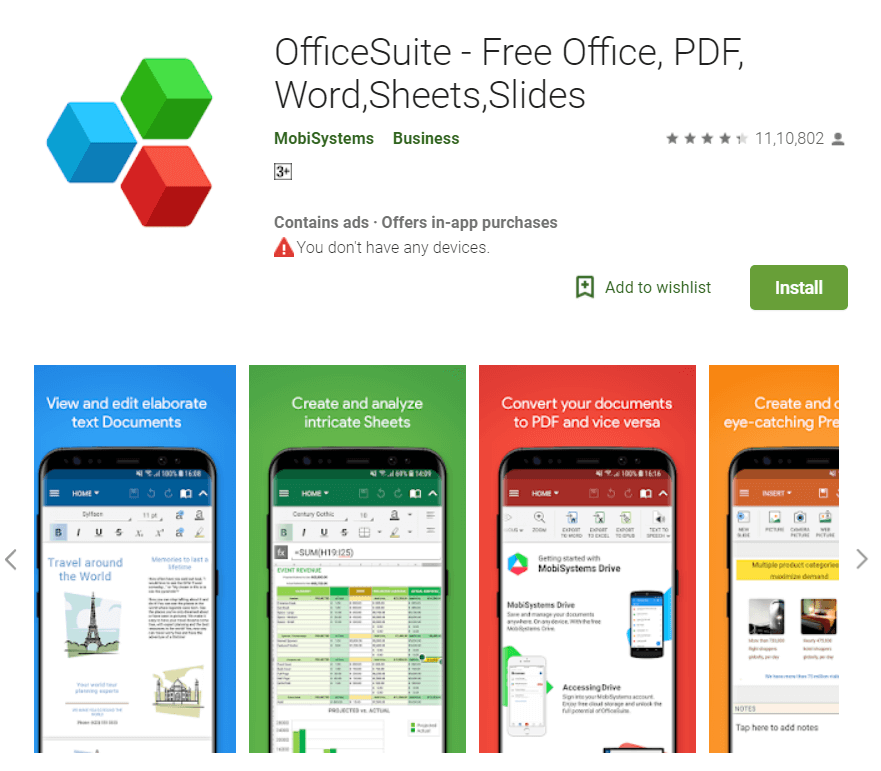 4 best apps to edit PDF on Android
OfficeSuite - Free Office, PDF, Word, Sheets, Slides
OfficeSuite is a free application that you can use to easily view, create, and edit office documents such as Word, Excel, and PowerPoint, and also perform advanced PDF operations in the same way that you do on your PC. It is the most downloaded office app, famous for its powerful features and easy-to-use interface. It was also declared the "Editor's Choice" for Google Play. It supports a wide variety of file formats such as DOC, DOCX, DOCM, XLS, XLSX, XLSM, PPT, PPTX, PPS, PPSX, PPTM and PPSM. It is one of the best applications if you want to edit PDF on Android. Some of its main features for PDF files include:
It allows you to scan your physical documents directly to a PDF file using your device's camera.
You can convert the PDF to Word, Excel or ePub.
Export different office files to PDF.
Support for digital signatures. Quick Sign to easily sign a PDF using your digital signature.
Text to speech support.
Custom autocomplete forms.
Automatically check the spelling of your documents.
Connect to the cloud using Box, Dropbox, Google Drive, OneDrive, etc.
Incorporation of File Commander for easy access to local and remote files.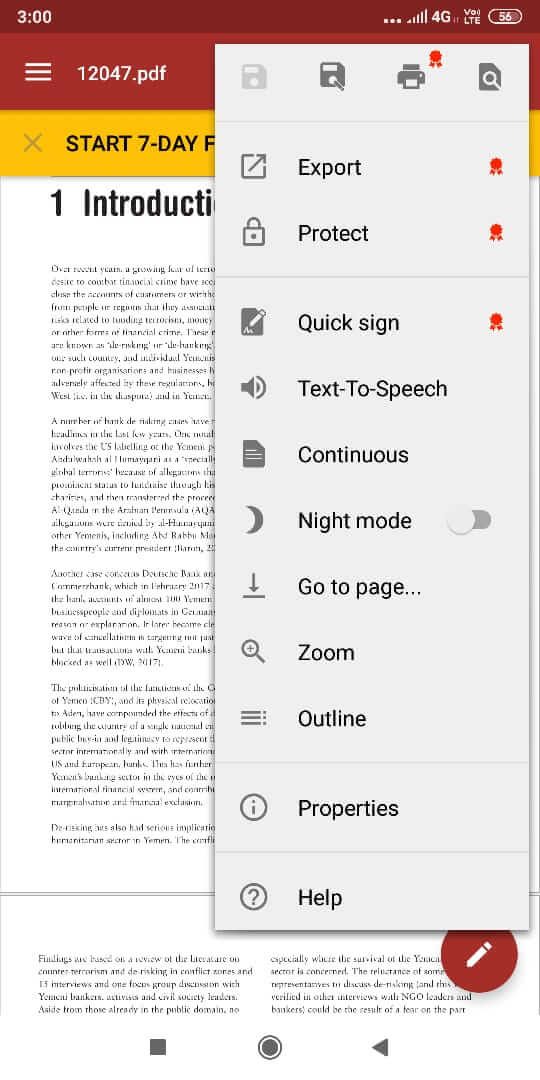 Xodo PDF reader and editor
This is another very useful application for editing PDF files. With Xodo, you can view, edit, annotate, and share PDF files. It has many great features that can make handling your PDF files very easy. If you want a PDF editing application that allows you to do literally everything with your PDF, this application is for you. Some of its characteristics are:
Allows you to scan a physical document directly to PDF.
You can also point to or underline the text.
You can bookmark PDF pages for future use.
The Night Mode function makes it easy to read the PDF in low light.
Reflow the reading mode to view the PDF text at the specified size.
Multiple tab support to allow you to quickly switch between different documents.
Allows you to rotate PDF pages.
It allows you to fill out PDF forms and sign them digitally.
You can even merge or spill PDF files.
Change the order of pages, insert blank pages or remove pages easily.
Support for Samsung Multi-Window.
(*4*)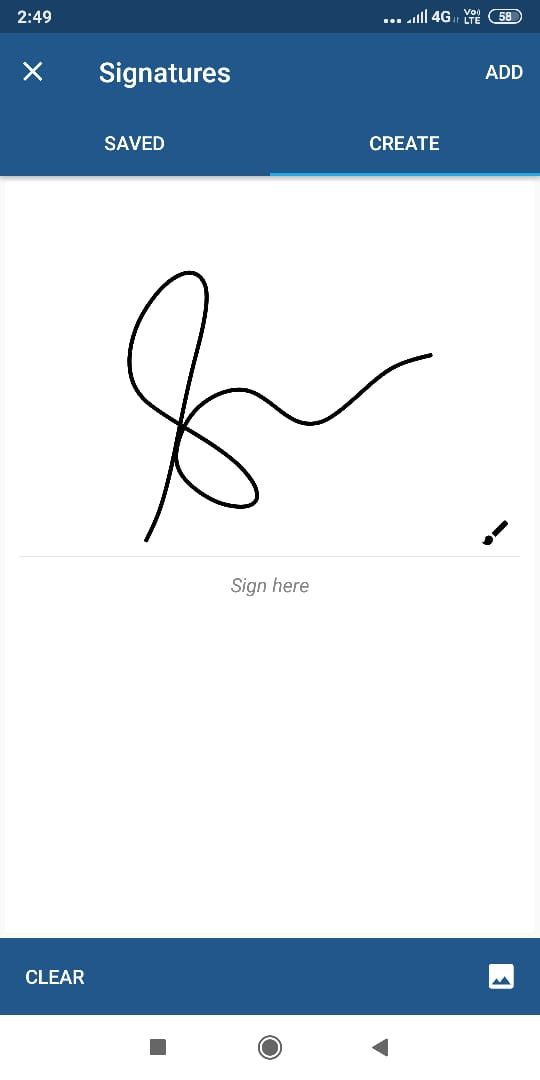 Fill out and sign with Adobe
This app is for those of you who don't require a fully functional PDF editor with tons of features and just need an app for basic form filling and signing. It is a fast and easy way to manage your forms and documents. It saves you from having to fill out multiple forms manually. With the Adobe Fill and Sign app, you can scan a physical document with your device's camera or easily import a file from your email. This app offers the custom auto-fill input feature to quickly fill out the forms. To add text or mark the fields of a form, you just have to press. You can easily create your signature and add it where necessary. The app also offers suggestions for auto-completing the text. You can create your profile, adding your name, address, email address, etc., so that as long as you tap on a profile field, the details will appear directly. So, simply put, this is the app you can turn to if you want to manage a large number of forms.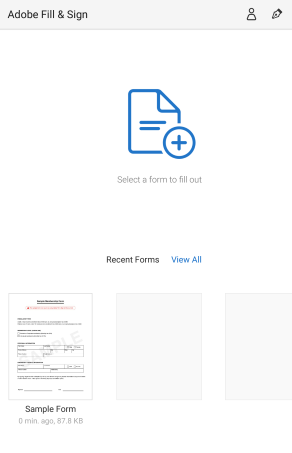 Foxit MobilePDF
This is another PDF reader and editor that allows you to view, annotate and protect PDF files on Android devices. Foxit is another great addition to this list as you can easily edit PDF on Android using this app. Foxit offers many features including:
Supports the view of various tabs.
Capable of scanning physical documents to a PDF file.
Supports PDF read aloud function.
Convert PDFs into office files.
Able to sign, seal or annotate files.
Reflow PDF files for comfortable reading.
Share the PDFs with the file link.
Protect PDFs with passwords, certificates, etc.
Insert and play audio / video in PDF files.
Organize your PDF pages.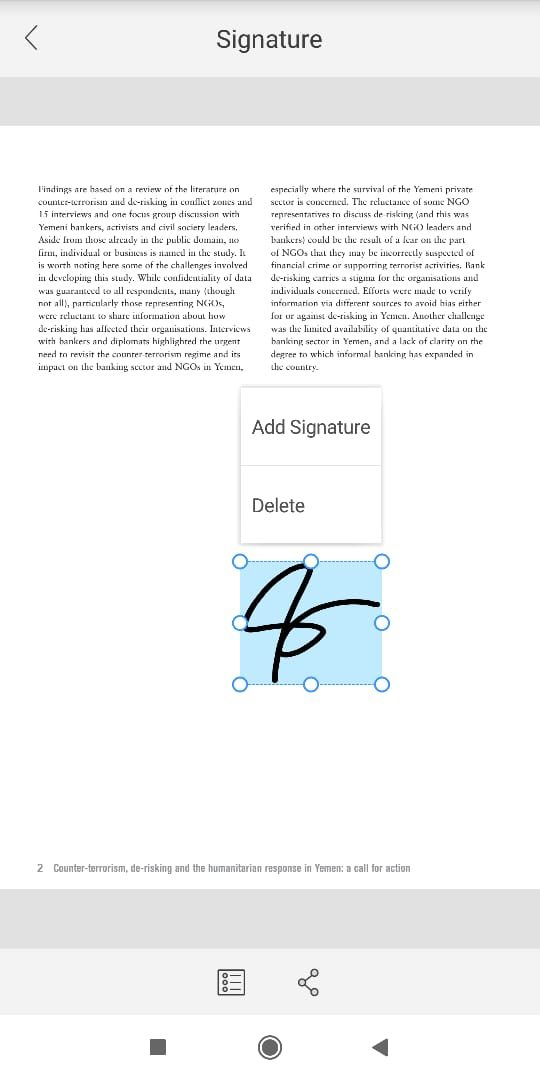 With Foxit's ConnectedPDF, you can access cloud-based services for your PDFs. You can easily share files with your colleagues, set who you want to give access to, receive notifications about updates made to your file, and track activity. You should definitely give this app a try if you have a professional need.
These are some of the different applications that you can use to edit PDF files on your Android device, depending on your specific needs, but if you still have any questions about this guide, feel free to ask in the comments section.